High Notes
Loyalty is hard to come by in the fickle world of fashion brand support of charity circuit events. Quick, can you name the last four sponsors of New Yorkers for Children's annual gala? How...
---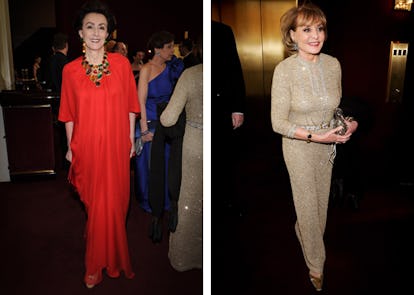 Loyalty is hard to come by in the fickle world of fashion brand support of charity circuit events. Quick, can you name the last four sponsors of New Yorkers for Children's annual gala? How about the New York Botanical Gardens' Winter Wonderland? I'm guessing no. But if you were referring to the Metropolitan Opera's opening night gala, the answer would be simple: Yves Saint Laurent. The French house has forged a multi-season partnership with the Met since 2008, a friendship that came to a close Monday night when it sponsored its fifth and final gala, the premiere of "Manon." (Shrewd observers would note that this coincides with the departure of Stefano Pilati as designer.)
The YSL mark on opening night was apparent from the very beginning of the six plus hour marathon event (despite the absence of honorary committee chairs Salma Hayek and Francois-Henri Pinault) that began with cocktails on the Met's balcony level. Alongside usual operatic suspects like co-chairs Mercedes Bass and Ann Ziff, and Barbara Walters, was a smattering of actresses, more likely to be seen at the Independent Spirit Awards than the opening of what to many might be considered a more mature art form. Chloe Moretz arrived with older brother Trevor. And though the 15 year-old wasn't a total neophyte (she's seen "Madame Butterfly") the outing marked an initiation of sorts. "It's my first actual formal dress, like a full, full red carpet dress," she gushed of her long navy dress (YSL, naturally, as was Trevor's matching suit). "It's great! It's comfortable, except for the shoes."
Her contemporary, Emma Roberts, experienced some wardrobe issues of her own. Just before cocktails ended, the petite actress was rushed to the bathroom, stylist by her side brandishing a large pair of scissors. Turns out the inner zipper in Roberts' strapless jumpsuit had broken and needed to be cut out. Problem solved, she headed downstairs to the Grand Tier for a pre-performance supper of smoked salmon and sautéed sole. There she, Moretz, January Jones, Emmy Rossum, Dree Hemingway and a dollop of models were sprinkled amongst fuchsia-peony bedecked tables like fairy dust amongst the editors and society doyennes in attendance.
Patricia Clarkson, a longtime fan, divulged that in her post-college days she used to buy $15 tickets for seats "waaay up."
"Now I can buy the real thing," she laughed, as she brushed off a waiter's generous hand with the champagne. "No more, I have five hours to go," she told him.
Indeed. Dinner began around 6pm, a rather geriatric hour considering the youth blooming across the room. As the non-VIP opera goers made their way in, they gathered on the upper tiers, observing our meal, iPhones in hand, not unlike curious onlookers peering into an aquarium.
"It's like we're on the Titanic with all these people staring," quipped one girl. Then it was off to the first third of "Manon" starring Anna Netrebko as the titular role. Next came a trip back to the Grand Tier for dessert, before three more acts and another intermission. A rather hefty endeavor, to be sure, but some like Amber Heard were relishing the occasion.
"I get embarrassed because I love it so much, perhaps it's one of those things chemically that connects to you as a human and you don't know why. I admire the guts it takes to get up and open yourself up to that experience. Because it's so unlike my work with cuts, where you get cuts and you get a small crew," said the actress, who added a few nights to her NYC stay so she could indulge her theater fix with "Death of a Salesman" and "Venus in Fur." "It's such a luxury being from LA where's not really part of the culture," she offered.
Or as the New York-born Rossum put it, glancing at her boyfriend Tyler, "Our normal date is bowling in the Valley."