W Does the Globes
W's pre-Golden Globes party Friday night celebrating the Best Performances Issue photographed by Juergen Teller
---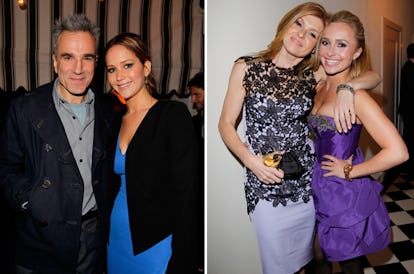 With awards season officially in full gear, nominees and those hoping to bask in their glow will spend the next six weeks in a dizzying Groundhog's Day of step and repeats. So W's pre-Golden Globes party Friday night celebrating the Best Performances Issue photographed by Juergen Teller came as something of a balm. The event, hosted by Andre Balazs and W's Stefano Tonchi and Lynn Hirschberg, and sponsored by Cadillac and Dom Perignon, was held in the intimate Chateau Marmont penthouse. And with nary a red carpet in sight, celebs, photographers, models and artists were free to hang out.
The morning's Oscar nomination announcements cast an extra glow on Bradley Cooper and Jennifer Lawrence who looked ready to faint when she was introduced to Daniel Day-Lewis. (The tall actor was apparently so ready to celebrate, he arrived at the party fifteen minutes early.) Kirsten Dunst showed up hand-in-hand with her boyfriend Garrett Hedlund, while Adam Levine proved to be quite popular with the single females in the room who followed him around the party like so many puppy dogs.
But the belle of the ball was not whom you might expect, especially given the A-list movie stars in attendance: Nashville star Hayden Panettiere. The petite blonde actress was deluged with introduction requests from everyone from Dunst to Rodarte designer Laura Mulleavy.
Click here for more exclusive photos from the party.
Photos: WireImage