After the Afterparty, Charli XCX Still Just Wants to Party
With her new track "After the Afterparty" featuring Lil Yachty, Charli XCX is living the party girl life she sings about.
---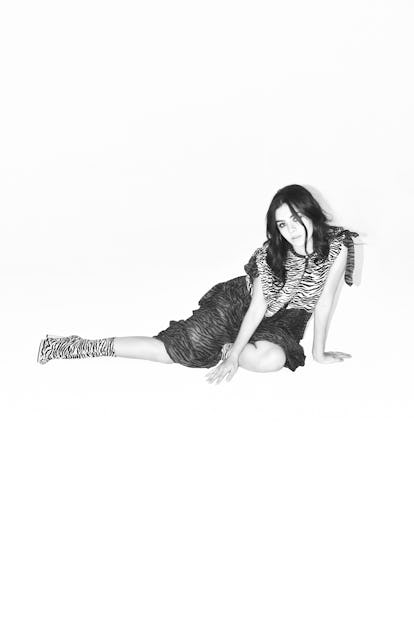 Photo by Alex Hodor-Lee.
Charli XCX had a late night. On a recent Thursday, she started her evening at the runway-turned-dance party celebrating Kenzo and H&M's new collaboration; by the end of the night, she was at a dive bar on the Lower East Side. The next day, when she stopped in to discuss her new single, "After the Afterparty," featuring Lil Yachty, she was wearing an ethereal, tiger-striped dress from the collection — a fitting spiritual successor to the black and pink shearling she had selected for the previous night's festivities.
"I'm on this party tip," she said later. "I started making music and performing music in warehouse parties in London and came from the club scene, really, but I've never made a club record." Her last full-length, 2014's Sucker, was a bold and brash collection that opens with the sound of a heart monitor flatlining and moves on to a revamped version of The Fault in Our Stars soundtrack's "Boom Clap." (Charli volunteered that, these days, she hates Sucker.) More recently, she released a four-track EP, Vroom Vroom, a collection of clanging, industrial tracks released in collaboration with the electronic musician and producer SOPHIE. So her upcoming record, for which "After the Afterparty" — out now — is the first single, is an attempt to embrace those club kid roots.
"The party doesn't stop. That's the vibe," she said of the first single, and its title. "Next line is, 'We're going to keep it going.'"
"After the Afterparty" features a verse from Lil Yachty, the 19-year-old Atlanta-based rap wunderkind, in a virtual collaboration born of a Twitter exchange ("slid into his DMs," Charli recalled) and executed via email. Charli's no stranger to working with other artists: She co-wrote, and featured on, Icona Pop's hit "I Love It"; Rita Ora sang on the Sucker track "Doing It"; and SOPHIE, BloodPop, and Stargate all worked on her upcoming record. But this was the first time she'd done so before ever meeting her collaborator. She and Yachty didn't meet until they arrived on the set of the track's accompanying "fashion-zombie video," as Charli described it. The video, directed by Charli's former creative director Diane Martel, of both "Blurred Lines" and "What a Girl Wants" fame, drops, fittingly, on Halloween.
"It's very pink and goopy and light-gory," she said. (Sometimes, much as she loves being a Brit — she was born in Cambridge and briefly attended art school in London — she wishes she were American, because Halloween.) They shot "After the Afterparty" over the course of two night shoots at the end of Charli's three-month health kick; on set, she determined "the day is here that I have to stop exercising like a psychopath every day." So she knocked back a couple drinks, and by the time she shot her scenes around 3 a.m., she was pretty tipsy — just the thing to truly channel a zombie stumbling around the set. Then, after the shoot wrapped, Charli and her creative director hit a 10 a.m. pool party, because after the afterparty, there's always another party.
"I'm going through a phase in my life where I just want to party," she said. "I don't want to think about things too much, and I want to feel alive when I listen to music."