Aidy Bryant and Conner O'Malley Are Married
The SNL star shared the happy news on Instagram.
---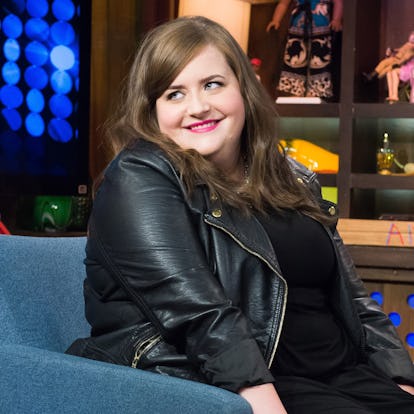 Charles Sykes/Getty Images
There was no new Saturday Night Live this weekend, but it seemed a good amount of the cast had other engagements on that day anyway. On Monday morning, Saturday Night Live star Aidy Bryant shared a photo to Instagram from her intimate nuptials to longtime partner and Late Night with Seth Meyers writer Connor O'Malley, captioned only with a simple pink heart emoji.
The happy pic shows Bryant and O'Malley, both beaming, walking back down the aisle together. Based on Bryant's photo tags, her tea-length, three-quarter-sleeve lace dress was designed by Sam Bennett, whose designs have appeared on SNL; her hair and makeup were done by Joseph Maine and Cassandra Garcia, respectively; her gorgeous pink and ivory bouquet came from Brooklyn-based florist Saipua; and her strappy satin purple sandals are Prada originals. According to wedding planner Jove Meyer's repost of Bryant's pic, the ceremony took place at the Wythe Hotel in Brooklyn, in front of an exposed brick wall decorated with a huge pink and ivory flower arrangement to match Bryant's bouquet, underneath a skylight strung with twinkly fairy lights.
Several of Bryant's SNL costars were in attendance. "Weekend Update" host Michael Che can be seen in the left foreground of her snapshot, former writer and cast member Mike O'Brien is standing back near the brick wall, and current cast member Beck Bennett appears to be clapping for the bride and groom across the aisle from Che.
During an April 2017 appearance on Late Night With Seth Meyers, Bryant revealed that O'Malley had proposed to her in October 2016. In the interview, the I Feel Pretty star shared the hilarious story of how O'Malley, her boyfriend of nearly a decade, proposed by dressing their dog up in a bowtie. "I was like, 'My dog doesn't wear a bowtie! Where is he going tonight?' Basically, the second I shut the door, a man—who I discovered was Conner—frantically came around the corner and was just like, 'Will you marry me?!' No box. No 'I love you,'" she said.
"Just a man in full terror, standing very far from a dog in a bowtie, just holding a loose ring, going, 'Will you marry me?'" the 30-year-old recalled. "I was like, 'What?' I truly couldn't comprehend what was happening, and I kept saying, 'Is this a joke? Are you doing a joke?' And then I said, 'Of course I'll marry you. I love you.' And it was really nice."
It's been a pretty momentous year for Bryant all around. Not only did she co-star in I Feel Pretty, but it was recently announced she'll star in the upcoming Hulu show Shrill. It's like our lil' baby Aidy is all grown up.
Related: The Women of Saturday Night Live Welcome Men To Hell with a Catchy New Song
Photos: Live from New York
Bumper photo of Steve Martin by Edie Baskin, 1976. © Edie Baskin
Patrick Swayze and Chris Farley's iconic 1990 Chippendales sketch. © Edie Baskin
Jan Hooks as Nancy Reagan backstage, late 1980s. © Suzy M. Drasnin
The storage room in the makeup lab, 2009. © Mary Ellen Matthews
Edie Baskin's hand-tinted portrait of Gilda Radner as Baba Wawa, 1977. © Edie Baskin
A personal note from John Belushi to Lorne Michaels. © Courtesy of the Belushi Family
Gilda Radner's Roseannadanna with Jane Curtin, 1979. © Edie Baskin
Steven Spielberg, Bill Hader, and Andy Samberg shooting "Laser Cats 7" in Lorne Michael's office, 2012. © Dana Edelson
Bill Hader as Stefon with Seth Meyers during Hader's farewell show, 2013. © Dana Edelson
Saturday Night Live. the Book. by Alison Castle, $50, taschen.com.