Alber Elbaz Thinks Fragrances Shouldn't Smell Like Food: "If You Want Chocolate, Go Buy a Chocolate"
When Alber Elbaz and Frédéric Malle teamed up to create their new scent, "Superstitious," a beautiful friendship was born.
---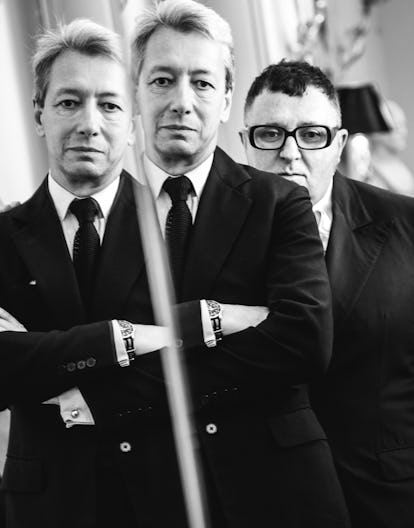 But Sou Lai
Former Lanvin designer Alber Elbaz may not be at the helm of a fashion house at the moment, but that doesn't mean he isn't flexing his creative muscle. "I asked Frédéric Malle if we could make a perfume that smells or feels like a dress," he says, recalling his early conversations with the Editions de Parfums founder. The resulting aldehyde floral, dubbed Superstitious ($370, available in April at fredericmalle.com), certainly wears like an Elbaz creation, with its voluminous trail of layered notes (jasmine, apricot, labdanum), some of them subtle to the point of being indecipherable. And it's just that sense of mystery that the duo was after. "In a time when we think we know everything, there's always one thing that is almost magic," Elbaz muses. "Which is the one thing you don't know." Here, Elbaz and Malle open up about how they developed the scent:
Superstitious feels really special, like all of your creations.
Alber Elbaz: Thank you. It was a special process, actually, a very special process. When we finished the whole process, when Frédéric and I were looking at each other, we said how easy it was, and usually, when you do some sort of collaboration, one takes it to the right, one to the left, but it was easy because we both had a very similar taste. Frédéric was really big help because I'm less elegant, you know.
It was all about freedom, since we didn't do anything in an office. We did it through lunches, and I think that the whole idea of making a work like that which is doing it in a kitchen, in a restaurant, but maybe this is something that are missing today in fashion. I mean, too much is done with a remote control in beautiful palaces. We went to fabulous restaurants. As you know, I'm not one of those that eats a green salad and something on the side. So that was that, and the second thing, it was just him and myself, you see? And we didn't have to follow anything but our heart, and we talked, and we talked, and we asked question, and we had many doubts about many things, but it was easy. Usually, I don't use the word fun or cool often, but I'm using it at this time.
Frédéric Malle: We had fun. It's true. As friends, you know, you have to eat. And no, Alber didn't want to come to see me the first time we met. He thought, oh, I'm not sure I want to have lunch with this guy, and then we fell in love.
AE: And I think there's a moment of truth to sit in a kitchen and make it happen, and work around the round table and give ideas, take ideas, and it wasn't right or wrong. It wasn't yes or no. It was just happening, and we tried. I mean, I had an idea that we liked sometimes, he had one that we liked. When Frédéric called me, he said, if I want. I was like, yes, but when? And then just when I was announcing that I'm going to get my Légion d'Honneur that I'm wearing.
Congratulations!
AE: Thank you. I called him, and I was like, I think end of July, and I said, can you make a perfume in a month? Now that's amazing, because you know that it takes much longer, and he came to Paris. When you have scents that is so abstract, that it's not just, you know, I want a flower that is with that scent or I want to be that specific…I mean, when I tell somebody like, go and let's work around the idea of a smell of a dress, it's really about memory.
So it can go anywhere, and that was the beauty of it, that we had no frame that we could go and fly, and how rare and how lucky it is that you can do it this way still, especially in the perfume business that tends to be also square in marketing and focus group. We had no marketing. We had no focus group. It was pure intuition. It was pure dialogue and never a monologue.
It was just that, and I thought that, at the end of the day, the whole thing was so easy, and it reflects in the product itself. We made it happen, and we were not even ready with the perfume bottle.
We kind of thought it's very rare to open the whole story before it's done, and that's why we also called it Superstitious, and we kind of made everybody always share the whole process and the smell only, and we gave him so many people, and in the end, we went with what we liked and we didn't, and that was the beauty. So there was a lot of love in this project, and Frédéric, he's a person that I feel is like my brother, you know? We met. We kind of enjoy each other, and every time I see he leaves me a message, I smile, which is a nice thing.
Looking Back at Alber Elbaz's Best Lanvin Moments in W
All clothing, accessories, and jewelry Lanvin.
Photographer: Juergen Teller Stylist: Edward Enninful
Lara Stone in Lanvin's silk lamé dress with beads and feathers. Janis Savitt earrings, Lanvin necklace, Dior bracelet (right hand), Solange Azagury-Partridge ring, Wolford hosiery.
Beauty Note: Erase eye creases on come-hither lids with Strivectin-SD Eye Concentrate for Wrinkles.
Demi Moore in Lanvin's beige polyester and polyamide dress, at Barneys New York, New York; Bergdorf Goodman, New York, 800.558.1855. Lanvin necklace.
Hair by Recine; makeup by Gucci Westman/Revlon; manicure by Deborah Lippmann/Lippmann Collection. Production by LaLaLand; digital imaging by D-Touch; post­production by Dreamer Post. Photography assistants: Gareth Horton and Maurizio Bavutti. Fashion assistants: Kathryn Typaldos and Sarah Schaub.
Photographed at Milk Studios, Los Angeles.
Amy Adams on the cover of W's February 2015 issue.
Watch a video interview with Amy Adams here.
Amy Adams wears Lanvin jacket, $2,985, and trousers, $1,145, Saks Fifth Avenue, 877.551.SAKS; DO-Paris swimsuit, $392, do-paris.com; Lanvin scarf (worn as suspenders), $175, lanvin.com.
Jane Fonda wears a Lanvin dress, $15,500, Lanvin, New York, 646.439.0380 David Webb gold, platinum, ruby, diamond ring, $46,000, and gold, platinum, crystal, ruby, and diamond ring, $135,000, davidwebb.com.
Hair by Guido for Redken; makeup by Pat McGrath for Covergirl; manicure by Jin Soon Choi for JINsoon at Jed Root. Produced by Steven Dam for PRODn at Art + Commerce. Digital technician: Noah Esperas. Photography assistants: Ned Rogers, Stas May, Nick Brinley. Fashion assistants: Ryann Foulke, Dena Giannini. Hair assistants: Sandy Hullett, Benjamin Muller. Makeup assistants: Mimi Imanishi, Erin Parsons.
Christy Turlington, Model and humanitarian; Alber Elbaz, Creative director of Lanvin; Michael Kors, Designer.
Lanvin's polyester and polyamide dress, at Lanvin, Las Vegas and Bal Harbour, Florida. Western Costume hat with Lanvin belt attached; Lanvin necklace; Burberry belt.

Hair by Jimmy Paul/Bumble and bumble; makeup by Lucia Pieroni/Streeters for Clé de Peau Beauté; manicure by April Foreman/The Wall Group. Production by Kyd Kisvarday and Ricardo Martins at North Six; digital technician: Stowe Richards. Photography assistants: Chris Ferretti and Huan Nguyen. Fashion assistants: Kathryn Typaldos and Katie Casamassimo.

Photographer: Craig McDean Stylist: Alex White
Peaches Geldof wears Lanvin's teal and black silK dress, at Kirna Zabete, New York. Chanel headband; Tom Binns earrings.
Beauty Note: An uber femme-fatale eyelid is dramatically lined with Cle de Peau Beaute Intensifying Cream Eyeliner.
Gwyneth Paltrow in Lanvin silk top with pearl buttons and silk pants. Impasse 13 by Alexis Mabille headband.
Hair by Orlando Pita for Kérastase Paris at Orlo Salon; makeup by Peter Philips; manicure by Deborah Lippmann / Lippmann Collection / The Wall Group. Production by Tracy Doyle. Prop stylist: Andrea Stanley / The Wall Group. Photography assistants: Sharif Hamza, Sebastian Mader and Chris Bisani. Fashion assistants: Kathryn Typaldos and Martha Violante. Special thanks to Brent at Briese.
Jourdan Dunn wears a Lanvin jackets, Amelia Toro turtleneck, Marni earrings, Monica Rich Kosann necklace.
Hair by Shon for Bed Head by Tigi at Julian Watson Agency; makeup by Frankie Boyd for Dior at Tim Howard Management; manicure by Megumi Yamamoto for Chanel. Model: Jourdan Dunn at Women Management. Photography assistants: Lex Kembery, James Robjant, Nick Brinley. Fashion assistants: Ryann Foulke, Dena Giannini. Hair assistant: Ryuta Saiga. Makeup assistant: Ryo Yamazaki.
Elaine Irwin Mellencamp wears Lanvin's black linen jersey and elastic dress, at Lanvin, Bal Harbour, FL. Chanel shoes.

Photographer: Bruce Weber Styled: Camilla Nickerson
Rihanna wears a Lanvin coat; Candice Angélini mask (worn as headpiece); Yves Salomon stole (in hair); Amrapali ear cuffs; Meadowlark septum ring; Lynn Ban choker and bracelet.
Hair by Yusef Williams for Matrix at Factory Downtown; makeup by Kabuki for Dior at Kabukimagic; manicure by Maria Salandra. Set design by Gerard Santos. Production by Kate Collings-Post for North Six. Digital technicians: Victor Gutierrez, Jeronimo de Moraes. Photography assistants: Matt Easton, Teddy Park, Pavel Woznicki. Fashion assistants: Ryann Foulke, Dena Giannini. Yusef Williams for Matrix Oil Wonders Products at Factory Downtown.
Lanvin dress; Rebecca Taylor top.

Photographer: Mert Alas and Marcus Piggott Stylist: Edward Enninful
Lanvin's beige washed-cotton and silk dress, at Susan, Burlingame, California, 415.922.3685.

Photographer: David Sims Styled: Camilla Nickerson
Craig Lawrence metallic yarn top, trousers, and hood. Lanvin sequin-embellished silk dress. Damir Doma wool and leather cape (on ground). Hervé Léger by Max Azria harness; Rick Owens boots.

Photographer: Tim Walker Styled: Jacob K Illustrator: Kristen McMenamy
Lanvin's black linen, wool and elastic dress, at Jeffrey, New York.

Photographer: David Sims Stylist: Alex White
Alexander Wang rubberized twill jacket. Lanvin silk blend dress. Maison Martin Margiela virgin wool and silk trousers, and gloves.

Beauty note: Clarins Ombre Minérale Mono Eyeshadow in Sparkle White gives brows a cool frosting.

Photographer: Steven Meisel Stylist: Marie-Amélie Sauvé
Lanvin's linen, viscose and elastic jacket and cotton and polyester skirt, at Kirna Zabete, New York. Lanvin earrings and ring; Mulberry bag.

Photographer: Terry Richardson Stylist: Alex White
Lanvin's silk dress, at Barneys New York, New York, barneys.com.

Photographer: Craig McDean Stylist: Alex White
Lanvin's black velour dress, at Barneys New York, New York; Bergdorf Goodman, New York, 800.558.1855. Lanvin headpiece and gloves.

Photographer: Inez van Lamsweerde & Vinoodh Matadin Stylist: Alex White
And did you work with a particular woman in mind?
AE: I always said that I like to work with people I love. I like to work for people I love, and I like to do only what they love. The one thing I was asking Frédéric, the only request I had, is not to have a perfume with a scent of a chocolate or vanilla, whatever, that is very a la mode at the moment, you know? That's all about…gourmandize they call it. Like we can't eat food. It's forbidden, so let's make the perfume smell like a chocolate. I mean, I am allergic to these smells.
If you want a chocolate, go buy a chocolate. Don't go and perfume yourself with chocolate. So it's interesting because at the time when they couldn't have any drugs, they had opium as a perfume. So, today, when nobody can have food anymore because it's like, oh my God, it's food. It's so dangerous, I mean, we have all these smells. So that was one thing, and then we took something that was classic, and then we broke it with different sense that Frédéric added. We went to meet the people that are making the perfumes.
It's like a laboratory, and this is the behind the scenes that we never see, you know, in any of our luxury industry, fashion and in cosmetic. That you always see the end of the process where you see the model fainting from the beauty of the scents and here we went to the behind the scene to the factories. We went to the laboratories. We met the people. So, I don't know, it was really a joy. It was also August, so nobody was in Paris. I mean, Frédéric bought a little motorcycle so he could feel like a messenger boy riding from one place to another. So there was nothing shi-shi about the whole thing.
How was this process different other than the obvious in creating a dress or something physical for you, because you are so visual?
AE: In the end, you know, that the pizza is the same whether you eat it in Milan or in America. The same thing here. It's a process of creation. It start with a blank page. You are questioning…we designers are not like that person, lawyers or accountant. We don't have libraries to find ideas. We have to create them. We're not that lucky that we can find book with answers. So we have to make our own answers. That's why sometimes we're good, and sometimes we're less good, but at least we're trying.
When you talk about irrationality and superstition, you seem to be talking about just celebrating life and the unknown. Why was that so important to you now?
AE: There are changes in life. There is a very strong wind of changes, and somehow the technology people build all these big windmill to go further, and we in fashion get so many walls to protect it, protect the change, and we are all feeling that there are so many changes that are happening today between shows, and pre-collection, and the timing, and the see-now, buy-now. There is almost a confusion, and many people said, oh, it's a disaster, and I think it's great.
The fact that we are asking question and the fact that we're not 100 percent sure and we're changing things, it's great. This is a sign of life. Perfection is one thing that always scares me, you know? Like these perfect people that you ask them, how are you, and it's like, wonderful. I mean, I know there is a big disaster. So there is something about imperfection that I find I can relate to more, and all you always have in your mind is a mission to make it perfect so it's not perfect, and when it's not and you have to make it better, you have a mission. When it's all good, I mean, what is it you have to do? Just be a spectator.
Alber Elbaz's Most Creative Moments
Lanvin Fall 2002.
Photo by Getty Images.
Lanvin Spring 2003.
Photo by Getty Images.
Lanvin Spring 2004.
Photo by Getty Images.
Lanvin Fall 2004.
Photo by Getty Images.
Lanvin Spring 2008.
Photo by Getty Images.
Lanvin 2010 Cruise/Resort.
Photo by Getty Images.
Lanvin Spring 2010.
Photo by Getty Images.
Lanvin Spring 2014.
Photo by Getty Images.
Lanvin Fall 2014.
Photo by Getty Images.
Lanvin Fall 2015.
Photo by Getty Images.
You worked with the nose Dominique Ropion. What was it like?
FM: You know what happened? Alber asked me to work on the fragrance. I had three ideas, and one, he sort of brushed away, and the other two were sort of the opposite of one another. One was very oriental and there was what we chose, which was this floral aldehydic, but there was so much the opposite of one another, that there was a real hesitation, and Alber said that he wanted to meet Dominique, and actually, Carlos Benaim will meet the other one.
So he refused to go on my scooter, so I had to go in his taxi, and we went to the lab. We were very lucky because they were both in town, and we started working together, and then it became obvious that this was the fragrance. After a long hesitation, it became sort of solid, but what happened…and to me, it's a strange coincidence. The perfume that we had made with Dominique was supposed to become the next big Dominique Ropion fragrance.
Right, Carnal and Portrait.
FM: Yeah, Carnal, Portrait of a Lady. He's the most prolific perfumer within our world. He's very good, and we've been working on this for two years, and Alber criticized it and said, "I would like it to be a bit more punk." And then he said that he loved the back, but there was too much on top. That he wanted the smell of a dress.
So it was really the background of the fragrance that he wanted to have coming forward. So we took this almost-finished fragrance and changed the proportions a little bit so that it would fit Alber, but what I'm driving to is the fact that it's a bit like the tales that I heard about Miss Dior or the tales that I heard about Chanel No. 5 where a perfumer and me…but we are one with Dominique, literally. Came with a finished product to a couturier and then tweaked it a little bit, but it's a finished product, and it's literally a gift to Alber. So that's how that worked. How do you see it, Alber?
AE: You know, Frédéric is more used to going and meeting the perfume people in their laboratory than me. So, for me, I have been there a few times, but it's not something I do often. So just to go into a laboratory and meet a scientist, I mean, that's how I saw it, and then you know how people hypochondriacs like doctors. It all felt very much like hospitals of perfumes, and then you tell him a story, and he's imagining how words can be transformed into scents, and I think that this is the beauty of creation. When you have words that you translate into scents…because there are many copies in our industry that they tell you, "Here it is. We love it. Redo it."
And here it was about creating, and telling a story, and the story that was being translated by a nose. In the beginning, there was something very perfect about it, and I was asking Frédéric if we could make it a bit…like to break it a little bit, break this kind of amazing imperfection. It's like one time I think I went with another one to Frédéric. He's like, I told you that every time we put a perfume…I mean, every woman around me that I try it on, it smells better on her later, and I said, can we have a scent that is smelling like an hour later?
FM: Alber wanted the smell of a dress. II've been working with Barneys for 15 years and looking at Lanvin for 15 years, and so there are two things about that. First, for some reason…maybe after talking to him for a little while now, you understand now. Alber's someone that you want to be generous with, and it elevates you to work with someone like Alber.
Then I have this images of those dresses that…Alber kept on saying, I want the image of a dress, and of a silhouette. So I tried to portray his world in general, not one collection or anything, but this silhouette, this sort of elegance. So when you say that you see it as elegant, I mean, I was lifted up by Alber towards that elegance. Someone else would have influenced me in a different way, but I was always thinking of that, of someone walking, of the démarche as we say in French. So that's why I believed that Dominique's perfume was quite right for that, and then we agreed.