The Discreet Modernist
Akris's Albert Kriemler is propelling his Swiss fashion house forward using a mix of innovation and simplicity. Valerie Steele gets to the root of his aesthetic.
---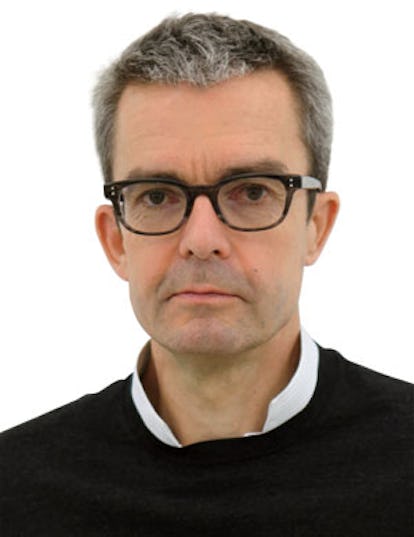 Whether at his home near St. Gallen, Switzerland, or off on another far-flung trip to the other side of the world, Akris Creative Director Albert Kriemler can't seem to stop looking—at buildings and furniture and lighting; at ­paintings, drawings, and sculpture. Some of his closest friends—Pierre de Meuron and Jacques Herzog, among them—are architects, and Kriemler was very hands-on in the designing of his modernist house, collaborating with the architect Christoph Sattler through various iterations.
Albert, 52, part of the third generation of Kriemlers to oversee the label his grandmother Alice Kriemler-Schoch founded in 1922 (the name Akris is formed from her initials), has also built a sophisticated collection of work by artists including Thomas Ruff, Ursula Schulz-Dornburg, ­Lawrence Weiner, Ian Hamilton Finlay, Remy Zaugg, and Paul Thek—whose colors Kriemler compares to those of Yves Saint ­Laurent—and amassed an array of 20th-century furniture (focusing on chairs and lighting fixtures) by the likes of ­Norman Cherner, Adolf Loos, and Richard Riemerschmid. But while Kriemler cops to taking inspiration from anything and everything, it's the high-performance functionalism of modernist architecture and design that has influenced his work most specifically. He is obsessed with developing new fabrics for Akris, which is, in turn, renowned for its couture-quality materials and craftsmanship. (Or as Kriemler puts it rather bluntly: "I cannot work with cheap fabrics.")
The designer is equally fond of saying that it's not enough for clothes to look beautiful—they also need to have "an awareness of individual personality." When these qualities come together, they form what Kriemler, in his native tongue, calls selbstverständlichkeit—best translated as an effortless "just-rightness" that exists on a higher plane than trendy and over-the-top fashions. It's minimalism, yes, but a minimalism that allows for color and decoration—as long as it's the right color and only the kind of decoration integral to the design.
After visiting MoMA's Willem de Kooning exhibition last autumn, I began to read more about the painter Franz Kline, who was a friend of de Kooning's. A few years earlier, I had seen Kline's portrait of Vaslav Nijinsky in Hamburg's Kunsthalle, and it made a lasting impression on me. Kline's wife was a ballet dancer suffering from schizophrenia— much like Nijinsky himself. Kline, a true action painter, used paintbrushes up to 25 centimeters thick for his strong strokes on the canvas. I became intrigued and started to research his work more deeply, which is how I found his dynamic Painting No. 7 (left), from 1952, a major example of the verticals so important in Kline's late work and, eventually, the main point of reference for my newest collection. The painting inspired me to do abstract photo prints in colors—its verticals are represented in the sensual cashmere and silk&nashknit dresses in charcoal, bottle green, and nude. Kline also informed the geometric patchwork in a black and charcoal double-face cashmere-and-leather motorbike jacket and cape.

Stylist: Edward Enninful
Loos felt that modernity meant embracing progress—but always within a cultural tradition. He rejected following trends just for the sake of change and insisted that every form and design have a concept behind it. His vision encompassed much more than architecture, and his mind was way ahead of the times. He wrote scathing fashion reviews, which are as inspiring as they are hilarious. For Loos, whose buildings (left, top) were key in architecture's Modernist movement, a garment was modern when the person who wore it did not stand out. This is what I mean when I say that Akris strives to be 'spectacularly unspectacular.' Loos has always informed my pursuit of clothes that are versatile—for example, when I created a green parka that can be tightened with a zipped insert. He was an early advocate of functionalism and understated elegance. He argued that being normal was the new avant-garde, and I think that resonates today. Being provocative is now a marketing strategy— isn't it more provocative to put the integrity of the human being at the center of economic and aesthetic decisions?

Stylist: Edward Enninful
Akris is and always has been a no-logo brand: You'll never find the name of the house on the outside of a dress or coat. Still, I had to create a certain signature when we developed our first handbag collection, which required a special visual vocabulary expressed in the shape of clasps and other elements. I lost sleep trying to both stick with our identity and find a key visual for the brand. Then, in a stunning moment of serendipity, a picture of a building caught my eye. It was a concrete trapezoidal structure (left) by Tatiana Bilbao, a young Mexican architect—one of the 17 pavilions in the Jinhua Architecture Park in China commissioned by Ai Weiwei. I realized that the building's shape resembled an A—as in Akris and as in Alice, my grandmother and the founder of the house. The trapezoid communicated Akris without directly saying it; the walls Bilbao created to frame the structure inspired a wool embroidery, and we made trapezoids in lacquered knit and other advanced materials. We also launched the Ai bag (left)—our first ever—in 2010. It's a simple tote with a trapezoid buckle, and it's become something of an iconic piece.

Stylist: Edward Enninful
One of the signature elements in the architecture of my friends Jacques Herzog and Pierre de Meuron is their unprecedented way of rendering surfaces. Their multidimensional approach to facades always makes me think that they actually "dress" their buildings, and I wanted those kinds of surfaces—for instance, that of their Ricola storage building (top) in Laufen, Switzerland— to be reflected in the surface of new fabrics we developed. Soon we were working with crushed aluminum foil wrapped in chiffon, sliced panels of goatskin on layers of tulle, and a three-dimensional quilted fabric that evoked the facade of Herzog and de Meuron's de Young Museum in San Francisco; meanwhile, an asphaltlike fabric embroidered with Lurex was inspired by their Walker Art Center Expansion (above) in Minneapolis. I have always sensed an important connection between architecture and fashion, but here I referenced quite literally two of the world's most influential contemporary architects.

Stylist: Edward Enninful
Wiener Werkstätte artists such as Gustav Klimt were among the first to liberate women from corsets—the ladies in Klimt's famous paintings wear long, loose gowns in ornamented fabrics (see his 1902 portrait of couturiere Emilie Flöge, above, center) that give them freedom to move. At first, the opulence of the workshop seemed anti-Akris—but I liked the idea of experimenting with decoration in a discrete way, and the lush nature of Klimt's fashions helped me create clothes that play on the tension between refinement and simplicity. I was also moved by the metalwork and Japanese-inspired wallpaper of Dagobert Peche, which I translated into a gown with lingerie details worn with an embroidered cardigan. And the duck blue sweater in Egon Schiele's Seated Woman With Bent Knee, 1917 (above, right) inspired a striped turtleneck and a skirt with stitched-down pleats. My Wiener Werkstätte collection was about richness of materials and colors.

Stylist: Edward Enninful
I had seen Morandi's work in Switzerland at the Sammlung Hahnloser in Winterthur and traveled to the Giorgio Morandi Museum in Bologna, Italy, in 2004 to learn more about him. I was moved by the way in which he seemed to articulate a significant visual language throughout his lifetime. The Morandis, in all their pastel glory, absorbed light in a very gentle way—like the sunlight on a summer morning piercing through layers of dew. In his paintings (such as Blue Vase and Other Objects, 1920, top right), you have smoky pastel lemons, watery blues, dusty beiges, taupes, and greens. I wanted this otherworldly mood in my fabrics, so I created dresses with layers of chiffon and open seams. We also showed our first ever photo print in this collection, rendered in two layers of fabric, and created the Amulette dress, for which leather amulets were molded on nude organza. Since then, such prints have been a key component of my work—a kind of continuation of the Akris heritage of embroidery—and a way of combining art and technology.

Stylist: Edward Enninful
Hair by Oribe for Oribe Hair Care; hair color by Anthony Palermo for Anthonyleonardsalon.com; makeup by Pat McGrath for Cover Girl; manicure by Jin Soon Choi for Jin Soon Natural Hand and Foot Spa. Models: Joan Smalls at IMG; Karlie Kloss at Next Model Management. Produced by Steven Dam for PRODn at Art + Commerce. Digital capture: Dtouch. Photography assistants: Stanislav Komarovski, Christian MacDonald, Victor Gutierrez. Fashion assistants: Felicia Garcia-Rivera, Caroline Grosso. Jewelry assistant: Tina Huynh.