How Alessandra Ambrosio Is Preparing For the 2017 Victoria's Secret Fashion Show
"I train the whole year."
---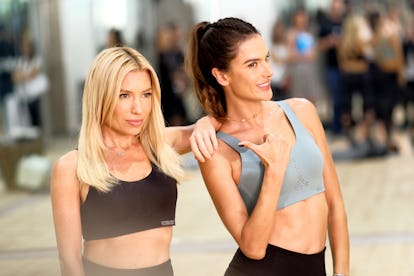 Dimitrios Kambouris
For over a decade, Alessandra Ambrosio has been one of the biggest names to walk the Victoria's Secret Fashion Show runway, but that doesn't mean her excitement has dwindled over time. This year, Ambrosio is particularly jazzed to be taking the show on the road, namely to Shanghai, where the 2017 extravaganza will be staged next month. "The Chinese really know how to put up a show," she said. "I think this year is going to be unbelievable." In the meantime, Ambrosio was gearing up for the big event by putting in some extra hours at the gym—specifically Tracy Anderson's studio on the Upper East Side. Here, the Angel breaks down her workout regime, best beauty hacks, and what she'll be eating once she touches down in Shanghai.
How is training for the show going?
I train the whole year, and right before I start to train a bit more than the rest of the year. I love to workout, and I love to do Tracy Anderson. I get very focused on being fit and feeling good for the runway.
What does a normal workout look like for you?
I try to go three times a week to Tracy Anderson, then I will for a hike one day of the week or do yoga. Sometimes I feel like I need to do more yoga, and other times I feel I need more toning, which is what Tracy is all about. It really depends how I feel and the strength I have at the time. Sometimes you wake up and you are like, 'Okay, I can only go to yoga.'
How did you first meet Tracy?
I went to her studio many times before I got to meet her. From time to time she'll come to Los Angeles to teach classes, and I'm like, 'I need to go to her class.' She's just a master. Her workout is so feminine. She's a dancer and it is all about body movement. And she always plays amazing music.
What is your go-to music to listen to at the gym?
All kinds, from Eighties to electronic. It depends what is playing in the moment. Usually at Tracy's, the music they are playing is so good that I keep Shazam-ing all of the songs. Music really gets me going. If the workout has no music, I'm like, 'I'm not coming back.' Music gets you in the state of mind to enjoy the moment.
Do you and the rest of the Victoria's Secret Angels share workout tip leading up to the show?
Yes. Throughout the year, we talk to each other about it, and I've tried many of the workouts that the other girls do or beauty treatments they like. There's always something new. It is fun to share and it fun to try other things. Especially when you are in different cities, and you can ask what is good there.
Are there any beauty tricks that you are obsessed with right now?
I like to hydrate. I think it is all about taking care of your skin and moisturizing. And there are these Victoria's Secret Matte Lips, which I really love and am wearing right now, because they are sheer and stay on all day long.
It will be a long flight to Shanghai for the show—do you have any pre- or post- flight rituals?
I love putting on a mask right after a flight and getting a massage. I usually take a swimsuit with me so that I can go for a swim to get the jetlag off.
Are you excited for the show's new location?
When I first heard, I was so happy because I always wanted to explore China. Since we started with the whole thing for the show, I've been three times, which is amazing. I've gotten to see different cities and experience the culture. I love the food there.
What's the best thing you've eaten there?
The duck from Beijing with the little pancakes. They slice it very thin and have this sauce that you eat with it. It's really amazing.
Related: Tracy Anderson, Gwyneth Paltrow's Fitness Guru (and Best Friend), Loves Working Out with Jennifer Lopez
Find Out Some of the Top Model Beauty Secrets: