Alessandra Ambrosio Pens a Heartfelt Victoria's Secret Retirement Letter
"I can't even believe that I'm here still."
---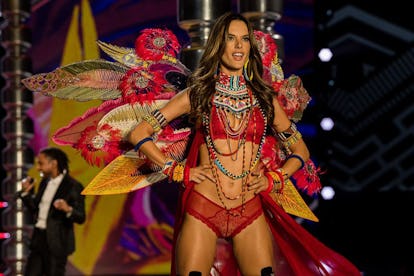 Xiaoxi Ka
Even Angels need to retire at some point, and Alessandra Ambrosio is now ready to hang up her wings. Reports had been swirling that Monday's extravaganza will be the Brazilian model's last time walking down the runway at the Victoria's Secret Fashion Show. In fact, yesterday, People asked the 36-year-old model backstage at this year's show in Shanghai, China, if the rumors were true, but it seems even Ambrosio wasn't ready to confirm what the future holds at the time.
"I don't know," she said. "I can't even believe that I'm here still. Never in my life would I dream of doing 17 shows, but I'm very happy to be here in China because it's definitely the biggest show we've ever done. We're on the other side of the world. The venue is so incredible and culturally it's so different and to be here I feel so fortunate."
Now, however, she's confirmed her retirement in a heartfelt message posted on Instagram:
"Words cannot describe how grateful I am to have been working for this amazing brand that inspires me and women all over the world. In my wildest dreams I would have never imagined doing 17 Victoria's Secret Fashion Shows. Thank you Ed, and all my Victoria's Secret family for making these memories unforgettable. Last night was so emotional to say goodbye to my #angel sisters but we put on the biggest and best show ever. I could not have done this without all the love and support from my fans. It gives me great pride to be part the Victoria's Secret movement! I will always be cheering for you! Love you forever"
Ambrosio is one of the most iconic Victoria's Secret models; she made her debut at the VS Fashion Show in 2000 at the age of 20 and has worn the coveted Fantasy Bra two times (once in 2012 and again in 2014). She has even broken the record for wearing the heaviest wings the brand has ever created—a 30-pound Swarovski-encrusted pair that she wore while pregnant in 2011.
One of Ambrosio's closest companions (and the only VS model ranked more influential), Adriana Lima, will thankfully continue on for a few more shows. Adriana told People backstage that she won't retire until her 20th show. Shanghai is the 36-year-old's 18th time at the VS Fashion Show, so we can count on at least two years. "I plan to be at 20. Two more years. Maybe more, I don't know," Lima said. "It's nature. I'm working out, I'm being healthy, so let's see how the body is going to turn out. But I enjoy it. So let's say 20."
Related:Bella Hadid Was "So Excited" to Walk the Victoria's Secret Fashion Show, Even Without Gigi
How to Take a Selfie Like Alessandra Ambrosio and other Supermodels: