Will This Be Alessandra Ambrosio's Final Victoria's Secret Show?
And who, exactly, runs fan accounts for the VSFS?
---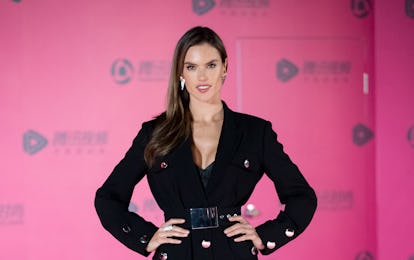 Photo by VCG/VCG via Getty Images
Fashionista reported on November 18 that the upcoming Victoria's Secret Fashion Show might be model Alessandra Ambrosio's last. Their sources? Unverified Twitter account @THEIMONATION, "A London based, anonymous fashion blogger," per their bio with over fourteen thousand followers, and the Instagram account @vsfs.daily, which posted a series of pictures of Ambrosio in victoria's Secret shows and a screenshot of what appears to be a Brazilian news article (Ambrosio is from Brazil) announcing that she would not renew her contract with the company. A preliminary Google search by an expert (uh, me) was unable to find this article (although the autor of the article, João Batista Jr., definitely exists insofar as I found his Twitter account. Suck it, Sherlock Holmes). So, what's the deal here?
First off, let's just establish that leaks do happen, and fan accounts often predict these sorts of announcements before more official sources will (neither Victoria's Secret nor Alessandra have issued a statement about her future at the company). Fan accounts speculated that Harry Styles would perform at the show and boom, he is. We're definitely not calling anyone out for reporting this as fast, or quasi-fact, or even just a strong rumor; we report rumors too. And this is a pretty believable rumor. Ambrosio's been in the show since 2005 and has recently taken on acting projects. She may be ready to move on. At 36, she is by no means old, but she is part of a generation of angels — Miranda Kerr, Adriana Lima — who have moved on from the show. Kendall, Bella and Gigi rule the runway now.
But it's still worth wondering, if the queen of Pink really is retiring, how do these random bloggers know before anyone else? And besides anonymous fashion bloggers, who exactly runs accounts dedicated to…stanning Victoria's Secret? We've reached out to Victoria's Secret for comment.
Related: Katy Perry Has Been Denied Entry to China, Just When It Looked Like Things Couldn't Get Worse for the Victoria's Secret Fashion Show
All the Victoria's Secret Angels Are Working Out and Sightseeing in Shanghai
Lais Ribeiro and Pharrell Williams pose together in Shanghai, China, a few days before the annual Victoria's Secret Fashion Show, November 2017.

@laisribeiro
Maria Borges snaps a selfie immediately after arriving in Shanghai, China, for the Victoria's Secret Fashion Show, November 2017.

@iammariaborges
Lais Ribeiro tries on the $2 million "fantasy bra" in Shanghai, China, just days before the big show, November 2017.

@laisribeiro
On her first night in Shanghai, China, before the Victoria's Secret Fashion Show, Gizele Oliveira, naturally, wore her Victoria's Secret pajamas.

@giizeleoliveira
Frida Aasen also opted for Victoria's Secret pajamas in Shanghai, China, November 2017.

Frida Aasen / Instagram
Maria Borges wakes up with a cup of coffee in Shanghai, China, November 2017.

@iammariaborges
Gizele Oliveira in Shanghai, China, before the Victoria's Secret Fashion Show, November 2017.

@giizeleoliveira
Gizele Oliveira fits in a late workout ahead of the Victoria's Secret Fashion Show after landing in Shanghai, China, November 2017.

@giizeleoliveira
Kelly Gale touches down in Shanghai, China, a few days before the Victoria's Secret Fashion Show, November 2017.

@kellybellyboom
Lais Ribeiro and her family take in a traditional tea ceremony in Shanghai, China, as part of their time exploring the city in advance of the Victoria's Secret Fashion Show, November 2017.

@laisribeiro
Josephine Skriver emerges from her final fitting for the Victoria's Secret Fashion Show in Shanghai, China, November 2017.

@josephineskriver
Estelle Chen, the Chinese-French Victoria's Secret rookie, is returning to China with her mother, who will also attend the Victoria's Secret Fashion Show, November 2017.

Estelle Chen / Instagram
Alessandra Ambrosio gets a last-minute workout in ahead of the Victoria's Secret Fashion Show in Shanghai, China, November 2017.

@alessandraambrosio
Bella Hadid poses with the rest of the Victoria's Secret Shanghai models at the Mercedes-Benz Arena, November 2017.

@bellahadid
Models Ming Xi and He Sui in Shanghai, China, November 2017.

@mingxi11
Josephine Skriver explores Shanghai, China, before the annual Victoria's Secret Fashion Show, November 2017.

@josephineskriver
Josephine Skriver and Adriana Lima, in matching Victoria's Secret uniforms, take the bus while sightseeing in Shanghai, China, November 2017.

@josephineskriver
Maria Borges, doubled, poses in her Victoria's Secret Shanghai t-shirt in Shanghai, China, November 2017.

@iammariaborges