Katy Perry Has Been Denied Entry to China, Just When It Looked Like Things Couldn't Get Worse for the Victoria's Secret Fashion Show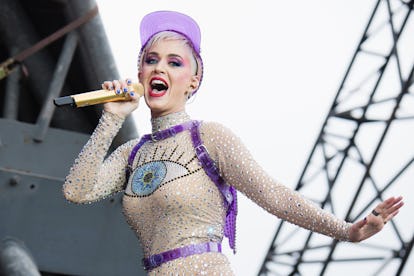 Harry Durrant/Getty Images
After Gigi Hadid had to bow out of the Victoria's Secret Fashion Show, it looked like things couldn't get much more complicated for the globetrotting annual show, which has already found media outlets struggling over access to the Mercedes-Benz Arena and event staff struggling to get their press releases approved—and yet, on Thursday evening, Page Six reported yet another setback. Katy Perry, who had been slated to perform on the runway, has apparently found herself unable to acquire a visa, and it all comes down to a performance in Taipei, Taiwan two years ago.
According to the report, Perry had initially been granted access to Shanghai, but that was rescinded—and Perry's visa unfulfilled "indefinitely"—when government officials learned of her maybe-subversive, definitely sunflower adorned show in Taipei in 2015. Perry slipped into a sparkling chartreuse dress dotted with sunflowers, just one of the array of technicolor looks she's brought on her Prismatic tour, and performed in front of a microphone stand in the shape of a giant sunflower. The sunflower had been adopted the previous year as an emblem of the Sunflower Student Movement, a resistance group who opposed what they perceived to be mainland China's overreach in Taiwan.
It was a major incident at the time, with Chinese officials working to scrub the image from social platforms in the country, though Rolling Stone pointed out Perry had worn the dress on several other occasions during the tour—including in Shanghai. However, in Taipei, unlike in Shanghai, Perry also wrapped a Taiwanese flag around her shoulders. When she applied for a visa to perform at the Victoria's Secret show, Perry included a memo outlining that she would adhere to the Chinese Ministry of Culture's guidelines—"I promise not to say or do anything religious or political," according to a copy of the memo posted to the Chinese social platform Weibo, and "I promise not to participate in any activities that jeopardize China's unity and integrity"—but this, apparently, was insufficient.
"For every artist who wants to perform in China, officials comb through their social-media and press reports to see if they have done anything deemed to be offensive to the country," a source told Page Six. "Maroon 5 was banned a few years ago because one band member wished the Dalai Lama happy birthday on Twitter."
In addition to Katy Perry, several other models, including Hadid, Irina Sharipova, Kate Grigorieva, Julia Belyakova, and Dasha Khlystun, were also denied entry, reportedly because of posts on social media. Adriana Lima's visa has apparently also been delayed due to "an ongoing 'diplomatic problem,'" according to Page Six. It's been speculated, for example, that Hadid's visa was denied as part of the fallout from a video posted on her sister Bella's Instagram that ostensibly depicted Hadid imitating a Buddha-shaped cookie by squinting her eyes. Observers were quick to call out her offensive gesture, and the post was promptly deleted.
Harry Styles, pop's least scandalous rock star, will apparently still be playing at the Victoria's Secret Fashion Show, even if his former bandmate's current girlfriend won't be in attendance. Before the performers had been announced, rumors indicated Taylor Swift might also be part of the lineup; now, it seems, there's an opening. (Of course, she hasn't entirely bypassed the scrutiny of the Chinese censors, seeing as 1989—the title of her last album, and her birth year—is something of a taboo subject in China.) Perhaps Swift is still out there as Victoria's Secret's pinch hitter.
Katy Perry admits she cries to some of her own songs: