Gigi Hadid Is No Longer Walking In the Victoria's Secret Fashion Show This Year
An angel loses her wings.
---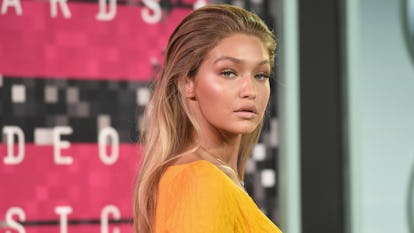 Jason Merritt/Getty Images
There's going to be one less Angel in China this year.
Today, Gigi Hadid announced on Twitter that she will no longer be walking in the 2017 Victoria's Secret Fashion Show, as previously announced. "I'm so bummed I won't be able to make it to China this year. Love my VS family, and will be with all my girls in spirit!! Can't wait to tune in with everyone to see the beautiful show I know it will be, and already can't wait for next year! 🙂 x" the model wrote to her over seven million followers.
While Hadid did not reveal what will be keeping her for donning a pair of wings this time around, the news of her sudden absence follows several reports that the annual extravaganza's move to Shanghai, rather than the traditional New York-set show (or in past years, Euro-centric London and Paris), had caused a number of logistical errors for the show's producers. Yesterday, Fashionista reported that four models originally from Russia and Ukraine—Julia Belyakova, Kate Grigorieva, Irina Sharipova, and Dasha Khlystun—had been denied Chinese visas and would not be able to walk in the show, despite nabbing spots in the coveted lineup. Hadid's American peers—Lily Aldridge, Taylor Hill, et al.—seem to already be en route to the show's location, so that doesn't seem to be the case here, but surely no less a wrench in the brand's carefully laid plans.
Perhaps Hadid just has too much on her plate this year. Yesterday, the model debuted her brand new collaboration with Stuart Weitzman, a pair of backless mules, and promoted the collection with an appearance on The Tonight Show With Jimmy Fallon. Or, maybe she's just being overly cautious about her standing in Taylor Swift's squad; the show's musical guests are rumored to be Harry Styles and Katy Perry, Swift's ex-boyfriend and nemesis, respectively.
Either way, rest assured that come Monday's taping, you'll still have one Hadid in her underwear: little sister Bella is still scheduled to walk.
Related: All the Drama Surrounding This Year's Victoria's Secret Fashion Show Spectacle in Shanghai
Gigi Hadid Dramatically Reads "Popular"