Gigi Hadid Does Her Best Basic Instinct Impression While Promoting Her New Shoe Collection
Albeit, a rather PG-version.
---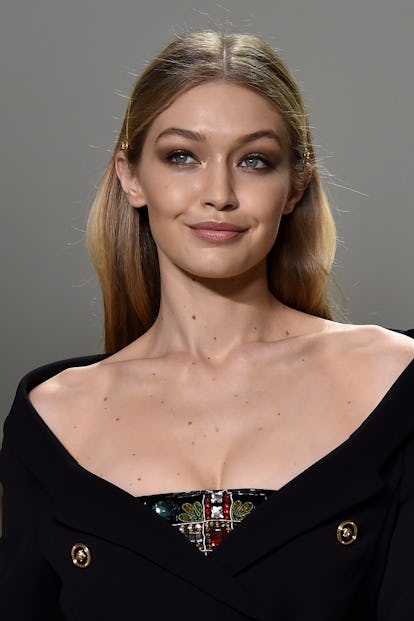 Getty.
Gigi Hadid is one of the busiest women in fashion. This week alone, the supermodel appeared on Good Morning America, and later accepted her Glamour Women of the Year award with a rousing speech where she declared, "I want to let you know that just because I'm standing here, winning this award, doesn't mean that I have it all figured out. I'm so grateful for every opportunity, but that doesn't mean that I wake up feeling like the Gigi that the world expects me to be on a daily basis."
But that Gigi, or any alleged version of the supermodel, is surely no less a hustler when it comes to side-gigs. Today, Hadid unveiled her latest design collaboration for Stuart Weitzman, a pair of flat, slip-on mules called the EYELOVE and the EYELOVEMORE; the former features an evil eye embroidery on one shoe, while the latter has the design on both sides. "The evil eye is a powerful symbol meant to protect those who wear it from negative energies. It's emotionally comforting and beautiful and captivating to look at," Hadid said of the design, which comes in suede and retails for $498 and $595, respectively.
To show off her new design, Hadid also stars in a new short film by music video director Cameron Duddy, titled "The Season for loving." The video, which clocks in at under two minutes, showcases the model traipsing around the city in her new shoes, taking a quick break to dole out some tarot cards—apparently very hot in fashion right now, as Maria Grazia Chiuri recently debuted a Dior collection inspired by the mystical past-time.
But the true highlight of the film comes towards the end, as Hadid posts up seductively in a lounge chair, draped in leather trench coat, crossing and uncrossing her legs, not unlike Sharon Stone in Basic Instinct. Of course, this is a commercial, so it is all very PG. But hey, that's one way to sell shoes.
Related: Gigi Hadid Shares Her Secrets to Getting Over Insecurities and the Blues
The Gigi Hadid Runway Workout: