Harry Styles, Pop's Least Scandalous Rock Star, Featured Children and Puppies in New Music Video for "Kiwi"
In his "Kiwi" music video, the former One Direction member shows off his soft side.
---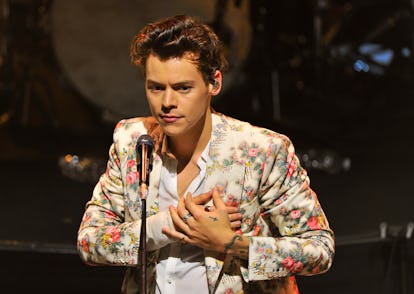 Steve Jennings/Getty Images
When a former teen star breaks out on their own, there can be a overwhelming desire to immediately shed that chaste image. Justin Timberlake eschewed sleeves for a good portion of 2002, Christina Aguilera got dirrty, Miley Cyrus did… a lot.
The boys of One Direction aren't immune to the pattern, either: both Liam Payne and Louis Tomlinson are fathers now, with musical careers led heavily by decidedly non-saccharine pop influences of hip-hop and EDM, respectively; Zayn Malik has all but Eternal Sunshine of the Spotless Mind-ed his time in the band, trading in the other four members for a supermodel girlfriend, a Versace collaboration and sultry singles.
But Harry Styles, on the other hand, is just as scandal-free as the day he auditioned for X Factor, save for a few dozen tattoos are so. Rather than slip into the party scene, or collaborate with the rapper du jour, Styles took a role in Christopher Nolan's Dunkirk, and put out a '70s folk rock-inspired album, pandering more to the dads of One Direction's fanbase than the besotted teenage girls themselves. What's more, the singer is currently in the midst of a worldwide tour promoting the record, where he is selling merch that literally says, "Treat People With Kindness."
This is why Styles' new track "Kiwi," the raucous song off his album, caused such a stir. The song shows Styles finally tapping into his inner Mick Jagger with suggestive lyrics that reference chain-smoking, illegitimate children, and excessive drinking. Not exactly on-brand—at least, as far as his record executives seem to think. At a recent tour stop at New York's Radio City Music Hall, Styles revealed that he was heavily pushing for the song to be the record's second single, though his label was not so enthralled with the idea.
It seems like Styles won at the end, as today the singer released the official video for the song. And it seems like his record label had nothing to worry about. Rather than fill the clip with video vixens and bottles of Champagne, as his contemporaries might be wont to do, Styles instead enlisted a class of very cute, and Gucci-clad, children, who spend the duration of the song embarking in a tame, bakery-fueled food fight. Eventually, Styles himself pops in—with an armful of puppies, no less, just to drive the point home—clad in his own Gucci suit, of course, to partake in the festivities. The whole thing ends with a messy class photo. And don't worry: the whole thing begins with a disclaimer reading, "No children or animals were harmed during the making of this film."
Related: Why Taylor Swift's Fashion Choices Are Only Adding to the Problem with the "New Taylor"
Riverdale's Lili Reinhart Talks Boy Bands, Lizzie McGuire, And Other Pop Culture Obsessions