Why Taylor Swift's Fashion Choices Are Only Adding to the Problem with the "New Taylor"
It is time to bring back the sparkly dresses and authenticity.
---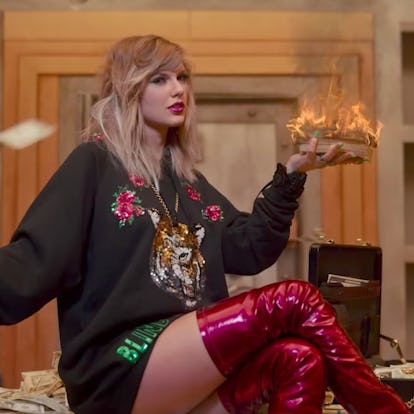 "Look What You Made Me Do" by Taylor Swift, courtesy of @taylorswift.updates
We need to talk about Taylor Swift. More specifically, we need to talk about Taylor Swift's clothes.
Today, the singer posted a video chronicling her latest round of Secret Sessions, ahead of her new album, Reputation, which will be released on Friday. For those not privy to the Swift-lexicon, a Secret Session involves the singer hand-picking her most die-hard Swifties to visit one of her many homes around the world—this time around, we get a glimpse inside the London, Los Angeles, and Rhode Island Swift estates—to hear her new music before anyone else, all while in the presence of Swift herself.
The clip sees fans dutifully freaking out around the singer, as she does her best "Aw, shucks" routine, dancing around to her own tunes, and doling out plenty of hugs. It's a longstanding tradition for the singer ahead of a new album, one intended to connect with her fans; to show them that she is also just another human, just like you, who just happens to make music for a living and have enormous mansions around the world. Except, hey, check out these cookies she baked and her cats.
In this particular video, however, Swift is seen dancing around in a striking pair of boots—a pair of snake-emblazoned, black leather Gucci boots, which go for $2,400. Not exactly the footwear you might think to choose to promote an event that is essentially intended to be the moving-image version of US Weekly's "Stars, They're Just Like Us" page.
Therein lies the problem with Taylor Swift—and, in turn, her wardrobe. For a singer who has built her career based on relatability, she's long lost her way.
Think back to the first time you ever saw Taylor Swift. Back in the days where every red carpet appearance involved some sort of spangly cocktail dress and mismatched pair of cowboy boots. She looked, then, like a teenage girl who had the opportunity to dress herself for a major event, be it the Country Music Awards or the sophomore year homecoming dance. It was also a look befitting of a teenage girl singing about first crushes and heartbreak. It was endearing.
Cut to 2017, and endearing is not the first word that comes to mind with Swift. Instead of singing about unrequited love, she's singing about Snapchat-fueled feuds with Kim Kardashian and Kanye West. It's not exactly the type of lyrics that stab you with a familiar feeling of longing or anguish, like Swift songs of the past. (No one has ever doubted Swift's ability as a songwriter; seriously, listen to Red's "All Too Well," around the three-minute mark). And gone with those lyrics are the spangly dresses and delightfully cheesy ringleader costumes from the Red era; even the vintage sundresses and limitless supply of crop-tops from 1989 are no longer part of her repertoire.
Instead, Swift has morphed herself into a sleek, manufactured pop star of her own creation. The narrative of Reputation is Swift as a phoenix, rising from the ashes of a witch hunt led by Kardashian. But in the few glimpses the singer has given us since her resurfacing in August, the "new Taylor" happens to greater resemble Kardashian than the "old Taylor"—all designer clothes, Mert and Marcus imagery, and highly produced aesthetics. Swift has re-imagined herself as a snake—the very slippery icon Kardashian once used against her—but along with her skin she has seemingly also shed the last bits of relatability and, maybe, the last bits worth rooting for.
Reputation-era Swift wants it both ways: to be the victor, and the victim. It's a mentality that stretches beyond the clothes that she's wearing, and into the clothes that she's hawking, as well. Swift's new merch includes plenty of that snake imagery, as well as some pieces that bear more than a passing resemblance to West's Life of Pablo merchandise. And in the land of Swift, nothing is a coincidence.
Take, for example, her most recent offering: a keyhole neck maroon sweater with the word "Rep" across the neck. As die-hard Swifties were quick to point out, the piece is a response to one of Swift's public outings where she mistakenly wore a maroon sweater backwards, resulting in what was intended to be an open back becoming a keyhole sweater. She later acknowledged that she had made a hilarious mistake. Now, that's endearing. But by selling her mistaken version as the now correct version, Swift is no longer just in on the joke. She's merchandised the joke. And that's not so funny anymore.
Now, this all comes before the singer has even released the damn album. She has yet to make a public appearance to promote it (she'll make her grand re-entrance this week as the musical guest on Saturday Night Live). There's still time to rewrite the narrative. Rather than continuing to cosplay as her character in the "Bad Blood" video, this is the time to show some vulnerability—ditch the armored leather and camouflage print in favor of something less guarded. Of course, pop stars have always used their clothing as tools for showmanship—look no further than Swift's other targeted nemesis, Katy Perry. But unlike Katy Perry, or Rihanna, or Miley Cyrus, Swift has made a career on being herself above anything else. And at this crossroads in her career, as someone who clearly cares about her public image, at times painfully so, now is the time to use fashion as a tool, rather than a weapon.
Related: The Old Taylor Swift Seems to Have Come Back to Life, Because She's Already Trademarking the Fact That She's "Dead"
Kanye West Just Wants to Bring Joy to the World Like Will Ferrell in 'Elf'