The Old Taylor Swift Seems to Have Come Back to Life, Because She's Already Trademarking the Fact That She's "Dead"
Soon, only Taylor, dead or alive, will be able to tell you she "can't come to the phone right now."
---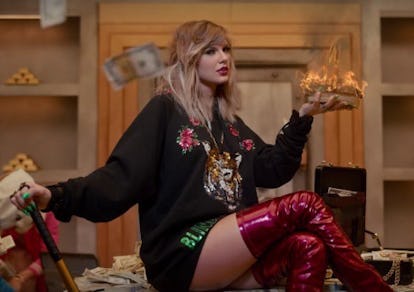 "Look What You Made Me Do" by Taylor Swift, courtesy of @taylorswift.updates
For most of the country, Labor Day weekend is an opportunity to relax; tens of thousands of people, including Paris Hilton, for example, let loose in the desert of Nevada as Burning Man came to an end, while models like Bella Hadid and Adwoa Aboah made the most of their free time pre-Fashion Month, jetting off to Beijing and Berlin.
Taylor Swift, on the other hand, took the the three-day holiday as an opportunity to get busy: While attending a wedding in Martha's Vineyard, and even delivering a slightly raunchy bridesmaid speech, she also broke the weekly streaming record for a song by a woman—and made her debut as a rapper when she surprise-dropped the latest single from her upcoming album, Reputation, titled "…Ready for It?"
Swift's latest seems to be pretty explicitly about Swift's new boyfriend, the actor Joe Alwyn, given that it's about keeping a relationship secret, as opposed to her absurdly public fling with Tom Hiddleston—a stronger indicator than any that the old Taylor Swift really is dead, as she famously proclaimed in the album's first single, "Look What You Made Me Do."
Except it turns out the consistently productive Taylor isn't as "new" as you may think. Also while the rest of the country was on holiday, Swift also took the opportunity to file to trademark the titles and catchphrases that have so far emerged from Reputation, including, "look what you made me do," and its most famous line so far, besides pronouncing herself dead: "The old Taylor can't come to the phone right now."
She may not be able to come to the phone, but the old Taylor would certainly approve of Swift's latest moves. When she released her last album, 1989, she also trademarked the phrases "could show you incredible things" from her song "Blank Space," and "this sick beat" from "Shake It Off," as "Swifties" no doubt remember. (By the way, she's trademarked that nickname for her fans, too.)
The latest phrases are supposedly set to end up on the t-shirts, guitar picks, etc. that make up Swift's usual cornucopia of merch, which she's definitely bumped up a level this time around: She's also selling "I Heart T.S." crop tops—yes, like the one Hiddleston famously wore—as well as rose gold, bedazzled snake rings that retail for $60.
Not that any of that has stopped the Swifties from showing their support. They may need her permission to explicitly do so from now on, but her fans are definitely allowed to go to the phone right now in other ways: Two months before the album's release, the black phone stands that Swift is also selling, emblazoned with her name and the word "REP" in a Gothic font, have already sold out.
Related: All the Homages and Ripoffs in Taylor Swift's "Look What You Made Me Do" Video
Gigi Hadid Talks About Her Squad: