Taylor Swift's "Look What You Made Me Do" Video: Homage or Ripoff?
Taylor Swift's "Look What You Made Me Do" video seems to reference Michael Jackson, Madonna, Nicki Minaj, Katy Perry and Kylie Minogue. Is it an homage or a ripoff?
---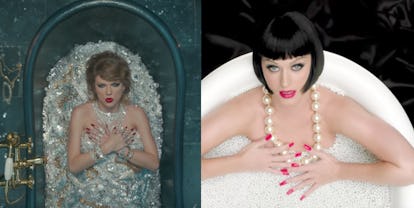 Before its official release, the internet was abuzz with the idea that Taylor Swift's "Look What You Made Me Do" video would rip off Beyoncé's "Formation." As it turned out, that was one of the last videos on people's mind when they actually saw the completed video.
Premiering during the VMAs, a celebration of music videos as an artistic form, and opening with an unmistakable homage to Michael Jackson's most famous video "Thriller," people couldn't help but see all sorts of references to other music videos in Swift's latest. And not just the videos from Swift's own back catalog, either.
Music videos are heavy with visual references to past work, not just other music videos but film, ads and fine art, and Swift certainly isn't the first pop star to lean on well-known iconography. "Thriller" was, after all, an homage to horror flicks, and over the years Madonna has drawn inspiration from the syllabus of so many "Intro to Experimental Film History 101" courses ("Express Yourself" drew heavily from Metropolis, while "Cherish" riffed on Maya Deren's seminal At Land) that she could by now be taught as her own sort of auteur. Lady Gaga and Beyoncé's "Telephone" as noted for its celebration of Quentin Tarantino and several '70s B-movies. More recently, Katy Perry's "Swish, Swish" was a visual blender of internet memes and Space Jam.
So, if you've been playing a game of "Where have I seen that shot before?" since the video premiered last night, here's a rundown on the other music videos, commercials and films Swift may have referenced.
Michael Jackson's "Thriller"
You can't be a pop star who turns into a music video zombie without drawing comparisons to the greatest music video of all time.
Britney Spears YM Cover and Katy Perry's "This Is How We Do"
It seems to be law that all pop stars have to do at least one music video that involves them soaking a in a bath tub, but Swift bathing in jewels is at least a twist on the formula. Except, well, it's kind of been done before. Britney Spears posed for the cover of YM magazine in a bath tub full of diamonds, while, more recently, Katy Perry soaked in pearls in her "This Is How We Do" music video.
Madonna's "What It Feels Like For a Girl"
Madge's 2001 video for "What It Feels Like For a Girl" (directed by then husband Guy Ritchie) was deemed so violent and controversial at the time that MTV only played it late at night. In any event, the video's climax featured a graphic car crash shot from the same angle as the car crash in Swift's latest.
Katy Perry's "Waking Up in Vegas"
A reach? Maybe. Still, the internet thinks Swift's blunt blonde bangs here are reminiscent of Perry's latest do. They've also noted that Swift is holding a Grammy here—an award Perry has not won. There's also the matter that Perry cruised down the streets in a gold sports car in her "Waking Up in Vegas" video.
Vanessa Paradis's Chanel Ad
Long before she was Lily-Rose Depp's mother, Vanessa Paradis was a Chanel It girl herself. She even starred in an iconic, Jean-Paul Goude ad for the brand's Coco fragrance in which she swings in a golden cage. For what it's worth, the "pop star in a golden cage" territory has also been covered, albeit slightly differently, in Gwen Stefani's "Sweet Escape" video.
Kylie Minogue's "All The Lovers"
Kylie Minogue does not get enough credit as the true pop genius and innovator that she is in this country, but damn it, she is going to get credit for being the first pop star to stand atop a pile of human beings in a music video.
I, Robot
"This shot of Swift's girl squad clone army instantly reminded everyone of the one shot they remember from Will Smith's I, Robot film.
Nicki Minaj's "Only" Lyric Video
This particular set up isn't new. You might recall it as similar to one from Nicki Minaj's controversial lyric video for "Only." Of course, Minaj certainly didn't invent it, and many people criticized the video at the time for recalling Nazi imagery and propaganda films.
Beyoncé's Pepsi Max commercial and Madonna's 1999 VMA Appearance
The idea of a popstar meeting their old iconic selfs is a really, really fun idea, so it's no wonder it's been done before. The two examples that immediately came to mind were Beyoncé's "Mirrors" ad for Pepsi Max and Madonna's appearance at the 1999 VMAs, where her other selves were played by drag queens.
Related: Katy Perry's 'Swish, Swish' Video: A Guide to All the Memes and References
See What's Trending in W Video: