Lily-Rose Depp Ever So Subtly Shades Donald Trump
In a relatively rare interview—with Natalie Portman, no less—the budding actress gets political.
---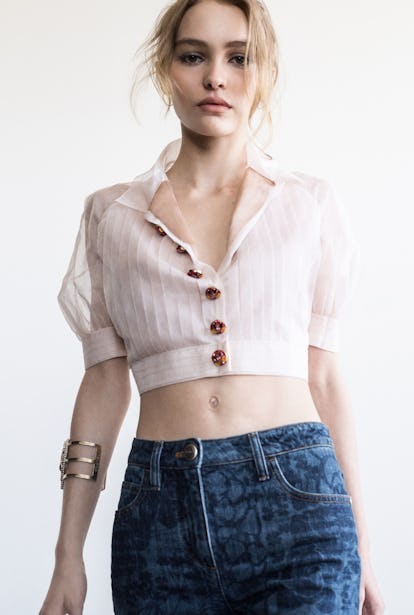 Victoria Stevens
She may be only 18, but in the last few years, Lily-Rose Depp has emerged as an actress high-profile enough to play the sister of Natalie Portman (in the upcoming film Planetarium); become the youngest face ever of Chanel No. 5, as well as a favorite of Karl Lagerfeld's; and a model successful enough to not only land magazine covers, but enlist a seasoned Oscar winner like Portman to write the accompanying story inside.
The story appears in the latest issue of CR Fashion Book. In the interview with Portman, Depp addresses what you're probably already thinking: that all that success has of course come so early and so easy because she's not just any budding teenage actress, but also the daughter of movie stars Vanessa Paradis and Johnny Depp.
"A lot of people think I'm only acting because of my dad, that I have not had to work as hard to be seen or recognized in the industry," Depp told Portman. "So I think because of that it makes me want to work twice as hard to prove to everyone that I'm not just doing this because it's easy to do. I'm not just doing it because it runs in the family."
As a French-American—Paradis was born in the suburbs of Paris, and Johnny Depp in Kentucky—Depp, who says she can both "seem fully French" and be "totally like a Valley girl," has been able to corner the market in both countries, though it's definitely clear where her preferences lie: "I like movies that spark your imagination and your curiosity and I find that the kind of depth that French scripts and characters have often leads to that," she said.
Instant and Infinite, Lily Rose Depp's Best Looks in 2016
Lily Rose Depp started 2016 off by attending the Yoga Hosers premiere wearing 2016's favorite effortless bomber trend.

Getty
She then effortlessly showed off a colorful look at The Samsung Studio at Sundance Festival 2016 in Park City.

Getty
Lily Rose Depp arrives in LAX channeling her inner 90's kid with low-rise denim and a classic moto-jacket.

Getty
Chanel muse, Lily Rose Depp stuns in white.

Getty
Glowing on the red carpet, Lily Rose Depp for the premiere of her own movie, 'La danseuse'

Getty
Lily Rose Depp brightly arrives at 'The Dancer' at Cannes Film Festival.

Getty
Lily Rose Depp in Chanel for at Venice Film Festival.

Getty
Depp continues her to wear classic Chanel for the premiere red carpet of 'Planetarium'

Getty
Lily-Rose Depp on the red carpet for 2016's Toronto International Film Festival

Getty
Depp makes her way to Paris at Cinema Gaumont Opera in Paris in a black A-line dress and t-strap heels.

Getty
Head-to-toe in Chanel for the celebration of the brand's N°5 L'Eau in West Hollywood, California.

Getty
Lily Rose Depp sits front row at Chanel's Spring/Summer 2017 show in Paris.

Getty
Depp wows in a tailored look for the Paris premiere of 'Planetarium'

Getty
"There's something more personable in Europe than there is here. In the States, there's more of a façade that I see people putting on. For me, the French culture is richer," she continued.
Of course, there's a reason for that outside of the way the French make films, too: "It's also easy to prefer Europe given the present state of things," she said. "I would have been nicer to America a year ago. The way politics is going, it's hard for me to sit down and point out all the things that I love about America."
That last year, of course, has seen the country dominated by the election cycle, which prompted Portman, who spoke out against Donald Trump at the Los Angeles edition of the Women's March earlier this year, to ask Depp if she was able to vote last November. As it turned out, though, Depp, who celebrated her 18th birthday in Tokyo with Chanel just a couple of months ago, "just missed" the cut-off.
"It was really frustrating," Depp said. "Of course I'm not even seeing the half of it. I'm not feeling the effects that so many other people are feeling. I can't even imagine actually living it and feeling these changes."
Her words were definitely not as explicit as, say, her father's, who earlier this summer joked (and later apologized) about assassinating Trump, but without even saying his name, Depp managed to express her discontent with the president, still achieving a level of shade like a true Frenchwoman.
How Celebrities Protest in the Streets: A Visual History of George Clooney Getting Arrested, Kanye Occupying Wall Street, and More
Related: Johnny Depp Reportedly Bought His Daughter a $7,000 Couch from the Keeping Up With the Kardashians Set
Rupert Friend on How He Made Out With Johnny Depp In His First Movie Role: