Johnny Depp Casually Wonders If "Maybe It's Time" An Actor Assassinated a President Again
But he's not insinuating anything.
---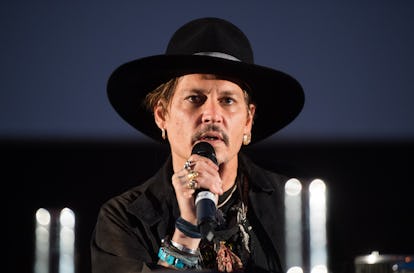 Samir Hussein/Getty Images
As he introduced a screening of his 2004 film The Libertine at the Glastonbury Festival on Thursday, Johnny Depp turned to the audience and asked, "Can you bring Trump here?" Predictably, the audience at the music and arts festival just south of Bristol, England, greeted Depp's proposition with jeers—Trump hatred is borderless—but as the boos died down, Depp continued, "You misunderstand completely. When was the last time an actor assassinated a president?"
Cue the collective gasp of horror. Depp, of course, was referring to the 1865 assassination of Abraham Lincoln at the Ford Theater by John Wilkes Booth, an actor. And, as he was quick to clarify, he was definitely not referring to himself. "I'm not an actor. I lie for a living," he said. "However, it's been a while, and maybe it's time."
Depp seemed to know he was trolling, adding that this moment would no doubt be picked up by the media, and predicting it to be "horrible." And he's not the first to entertain thoughts of violence against the president in the name of satire. (Though, to be honest, do any of these stunts count as satire?)
We've already been through this with TV host and comedian Kathy Griffin, who came under fire for a photo shoot depicting her holding up a bloodied Trump mask; she was eventually fired from CNN, publicly apologized, and worked to have the image removed from social media. Madonna, too, was widely criticized for telling the crowd at the Women's March on Washington she had "thought an awful lot about blowing up the White House."
And given his own checkered recent history, Depp might not be the ideal envoy of such violent thought experiments. Last year, Depp split with his then-wife, the model and actress Amber Heard, who later alleged he had been violent towards her throughout their relationship. "I live in fear that Johnny will return to the residence unannounced to terrorize me, physically and emotionally," she wrote in a restraining order issued against Depp in 2016. They settled their divorce at the end of the year, and Heard donated her $7 million settlement to the ACLU and Children's Hospital Los Angeles. It was finalized in January this year.
Depp is clearly not embarking on a Justin Bieber-style apology tour with his latest appearance. He's an avowed critic of the president; at Glastonbury, he said, "I think he needs help and there are a lot of wonderful dark, dark places he could go." Last year, Depp took to impersonating Trump, playing the then-candidate in a Funny or Die sketch and on appearances with Elle DeGeneres and Graham Norton. Earlier this year, he volunteered to take over for Alec Baldwin playing the president on Saturday Night Live!
But death threats and assassination jokes, even the most sarcastic, don't really serve anyone's interests—least of all those threatened most by the president. They simply fan the flames of Trump's paranoia. It's not a witch hunt, but you can make it look that way with a few choice pull quotes. Depp's comments serve little purpose but to perpetuate the endless outrage cycle—as he gleefully predicted at Glastonbury. Let us now wait for those late-night tweets in response to this coming soon to a feed near you.