Amber Heard to Hollywood's Closeted Men: Come Out, Already
Amber Heard says she doesn't regret coming out as bisexual so early in her career and implores some of Hollywood's leading men to do the same.
---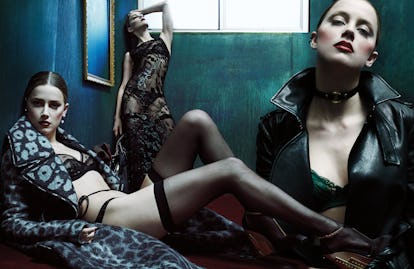 Photographer: Steven Klein Stylist: Edward Enninful
In 2010, Amber Heard was still an up-and-coming actress with just a few big credits to her name when she decided to casually mention that she happened to be dating a woman at the time. In hindsight she recently admitted that might not have been the smartest publicity move, but it certainly didn't derail her career. In fact, her next big role is joining the DC Comics universe as Mera, Aquaman's female counterpart.
In fact, Heard just thinks it's about time that everyone in Hollywood, particularly male actors, get it over with and come out already.
Heard made the remarks at The Economist's Pride & Prejudice conference (and, just to pause, what a time to be alive that 173-year-old hallowed economy magazines are now holding LGBT summits) while recounting her own matter-of-fact coming out as a bisexual. She said she never really considered herself in the closet in the first place and didn't consider it a big deal to confirm her relationship with then-girlfriend, the photographer and artist Tasya van Ree, at a GLAAD event.
"Even though everyone around me strongly advised me against it, I just, it was just wrong," she said according to The Daily Beast. "I would rather go down for being who I am than to have risen for being something I'm not. I was in a relationship and I just never hid it…an outlet specifically asked me who I was there with that night and what that person was to me, and I just answered honestly."
Heard, whose divorce to Johnny Depp was finalized in January, said that the only downside is that she suddenly got labeled—"I watched as I quickly became not actress Amber Heard, but out lesbian Amber Heard"—and that some in Hollywood thought coming out might damage her ability to play female romantic leads in traditional Hollywood fare. "I was asked, 'How is anyone going to invest in you romantically if they think you're unavailable?'" sh said, according to Vulture. "I said, 'Watch me do it.'"
Of course, Heard is now not the only out actress who still continues to successfully play straight romantic lead roles. Kristen Stewart, Sarah Paulson, Anna Paquin and Evan Rachel Wood, amongt others, have all managed to come out and hold on to successful careers without trouble.
Heard just wishes more male actors would follow suit.
"If women can do it and we can change the way that this conversation is had on a large scale, then men should be able to do it with as much or more efficacy," she said. "With all of the power and authority and representation—I mean, women are so severely underrepresented in film as it is, and that's just white women, I'm not even speaking of other minority groups—if white men can't change this, then I don't know who can."
"I think, If every gay man that I know personally came out in Hollywood tomorrow…we'll have a day of it, national 'you know who you are day'—if all of the gay men I knew personally came out tomorrow, then this would be a non-issue in a month."
Heard's comments will undoubtedly lead to a bundle of think-pieces, reaction posts and tweet threads parsing her view. It certainly would help the situation, for instance, if Hollywood cast an already out actor in a primetime straight leading man role (Neil Patrick Harris in The Smurfs doesn't count, but who wouldn't watch him in a rom-com opposite, say, Reese Witherspoon?). So the current situation isn't squarely on the shoulders of closeted actors, but a noted name who regularly plays straight roles opening up about their personal lives would go a long as well.
As Heard put it, "while my private life is valuable to me, I knew that being in Hollywood I had a particular responsibility, the burden was on me in a different way than if I had a different kind of job that had less public attention around it. And I saw myself as being in this unique position, and as with any unique gift, it comes with a unique responsibility."
Related: Amber Heard: The Model-Actress Getting All Kinds of Attention
Emma Stone, Matthew McConaughey, and Amy Adams Remix "I Will Survive":
Amber Heard Brings the Glamour
Amber Heard can make even the most basic ensemble sparkle. Here, the actress worked her magic on a plain white button-down top and black skirt, with wild hair and an orange-red lip at an event in London.
Photo by Getty Images
A plain white tee, wide-leg pants, and a few choice accessories were all it took for Heard to turn heads on an April stroll in New York.
Photo by Getty Images
Later that day, the star turned things up a notch with a peach silk dress from The Row's Pre-Fall 2015 collection and Tiffany & Co. gems for the jewelry brand's dinner at ABC Kitchen in New York.
Photo by Getty Images
Promoting her new film "The Adderall Diaries" at the Tribeca Film Festival, Heard looked cool in a Stella McCartney Pre-Fall 2015 suit, accessorized only by a red manicure and voluminous hair.
Photo by Getty Images
Heard slipped into a shimmering Temperley London slip dress for her second appearance at the 2015 Tribeca Film Festival—this time pairing it with black Jimmy Choo pumps and oxblood beauty accents.
Photo by Getty Images
Though Heard and fiancée Johnny Depp's Australian romp was riddled with controversy, her arrival ensemble—a plain white tee, high-waist jeans, and loafers—was simply chic.
Photo by Getty Images
Wearing a long navy dress and Christian Louboutin pumps in New York, Heard was the definition of summertime ease.
Photo by Getty Images
Heard harkened back to the Old Hollywood days–and landed a spot on our Best Dressed list—with this violet Monique Lhuillier dress at the "Magic Mike XXL" premiere.
Photo by Getty Images
Landing at LAX, Heard showed off more of her famous off-duty style in black jeans, printed loafers, and a tan hat.
Photo by Getty Images
Heard may be the master of casual-chic, but that doesn't mean she can't dress up, too. Wearing a dramatic Emilio Pucci Fall 2015 gown to the London premiere of "Magic Mike XXL," the actress truly stole the show.
Photo by Getty Images