Johnny Depp Reportedly Bought His Daughter a $7,000 Couch from the Keeping Up With the Kardashians Set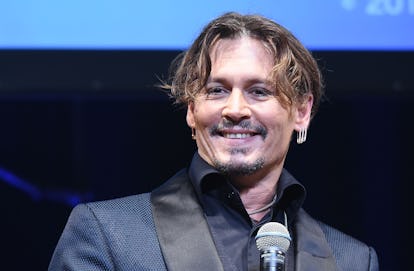 Jun Sato/WireImage/Getty Images
For nearly 10 years, E! viewers all over the world have been striving to keep up with the Kardashians, and, apparently, even Johnny Depp is not immune to the Kardashian-Jenner clan's charms.
According to The Hollywood Reporter, the Management Group, Depp's aptly named former management team, filed a claim against the actor on Thursday in which they listed some of Depp's most outrageous expenses. One of the most interesting purchases listed, however, is a $7,000 couch that apparently had appeared on Keeping Up With the Kardashians that Depp reportedly purchased for his daughter, burgeoning actress and model Lily-Rose Depp.
Other expenditures from Thursday's complaint at the more extravagant end of the spectrum include $500,000 for storage warehouses for his "Hollywood collectibles" and $17,000 for luggage and purses from Prada—both of which pale in comparison to the $3 million TMG previously claimed Depp spent on an especially made cannon to shoot Hunter S. Thompson's ashes over Aspen, Colorado.
The new documents are part of Depp's ongoing legal battle with TMG, which he sued in January for at least $25 million, claiming negligence and fraud, among several other allegations. "Mr. Depp is one of the most sought after and highly paid actors in the world," his attorney Matthew Kanny wrote in the original complaint, according to THR. "He is also the victim of the gross misconduct of his business managers—the Management Group and attorneys Joel and Robert Mandel—who collected tens of millions of dollars of contingent fees, purportedly based on an oral contract, all at Mr. Depp's expense."
However, TMG has since claimed that Depp's financial troubles are his own fault, and have filed two subsequent cross-complaints (including the one revealing the Depp family's appreciation for furniture previously owned by Kardashian-Jenners) listing Depp's alleged expenses in an effort to prove his out-of-control credit card use.
"After terminating TMG in mid-March 2016, Depp continued to make the minimum payments on the CNB Visa card for a time but then refused to pay anything further, forcing TMG to pay off the approximately $55,000 that was still owing on the CNB Visa card," TMG attorney Michael Kump wrote in Thursday's complaint, which was published in full by THR. "Depp knows all of these expenses were incurred by and/or on his behalf, but simply refuses to pay his debts."
No matter who's at fault, at least Johnny Depp has a Kardashian-approved couch on which he can curl up and forget about his many legal troubles. Weird he apparently never did end up gifting it to his daughter, though.
Related: Johnny Depp Casually Wonders If "Maybe It's Time" An Actor Assassinated a President Again
See What's Trending in W Video: