Taylor Swift Raps About New Love on "…Ready For It?"
Taylor Swift surprisingly debuted "…Ready For It?" a new song that seems to be about her relationship with Joe Alwyn.
---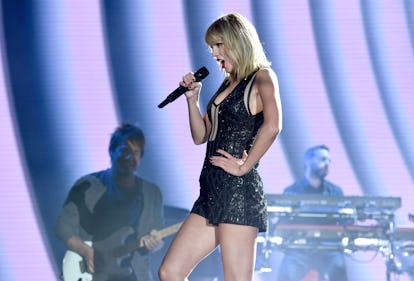 John Shearer/LP5
The old Taylor Swift? Maybe not quite as dead as we assumed. About a week after dropping revenge fantasy anthem "Look What You Made Me Do," the pop star surprisingly released "..Ready For It?" her second single of the Reputation era on Saturday night. It's a lyrical return to her favorite subject: relationships. Naturally, the internet is convinced it's about her new beau, the actor Joe Alwyn, and not without good reason.
It's a song about a keeping a relationship secret—something Swift notoriously did for months before word slipped out that she had been seeing the Billy Lynn's Long Halftime Walk star. "Touch me, and you'll never be alone. Island breeze and lights down low. No one has to know," Swift sings in the pre-chorus.
She makes note of the fact that Alwyn is actually a little bit younger than her. Compare to her two most recent exes, Tom Hiddleston and Calvin Harris. "Younger than my exes but he act like such a man, so I see nothing better, I keep him forever," she raps. In any event, she's totally over all those who came before. "Every lover known in comparison is a failure," she continued to rap. "I forget their names now. I'm so very tame now. Never be the same now, now."
Oh, right, there's also the matter that Swift is sort of rapping on the track's verses. The lyrical wordplay standout here is obviously a reference to the legendary Hollywood romance onf Elizabeth Taylor and Richard Burton: "He can be my jailer, Burton to this Taylor." Like "LWYMMD," Swift forgoes guitar and keeps to a harder (by the standards of her oeuvre, at least) electro beat produced and co-written by Ali Payami, Shellback, and Max Martin.
Swift first teased the song in an ESPN promo during Saturday night's Alabama vs. Florida State game, the marquee matchup of college football's kick-off weekend. She may have moved on musically from her country roots, but she's apparently always going to dance with the fanbase that brought her to fame in the first place. The full track debuted this morning at 8 a.m. sharp.
No word on when to expect a video for the track, but we eagerly await deciphering all the hidden messages and inspirations when it does premiere.
Related: Taylor Swift and Joe Alwyn Are Reportedly "Very Happy Together"
See What's Trending in W Video: