Taylor Swift and Joe Alwyn Have Emerged At Last, Hiding Under Hoodies and Not in a Suitcase
The couple who works out together—and hides out together—stays together.
---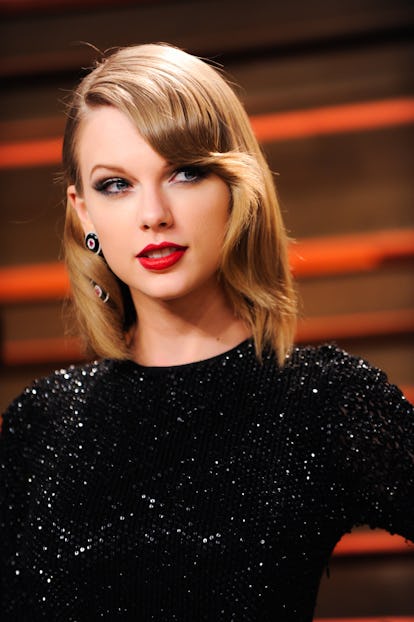 Where do Taylor Swift and Joe Alwyn go when the paparazzi aren't looking? The pop star has been notoriously reclusive since the infamous Kim Kardashian tape broke last year, and since her relationship with actor Tom Hiddleston quickly sputtered out—rumored to be the result of both his desires to take their relationship public, and the watchful eyes of the paparazzi, who refused to leave the blissful couple be. So with her new man, the British actor Joe Alwyn, Swift has been hiding from the spotlight so they can get to know each other on more intimate terms than might usually be afforded one of the most famous people on the planet. This means a lot of covert shuttling from place to place, a cancelled Fourth of July bash (all apologies to her bouncy slide), an alleged ride in a roadie case (a story that, entertaining while it lasted, was since retracted by the photo service Splash News), and, now, a couples' retreat to the gym in matching hoodies to shield their faces from the flashbulbs. (It sort of proves her point, we'll admit, that even this outing was fastidiously documented by the paps.) Alwyn and Swift were seen exiting Swift's New York apartment en route to get their cardio in, having just returned from visiting friends Blake Lively and Ryan Reynolds in Rhode Island.
"She is in a happy place, even though she seems like she is hiding. She is taking care of her body and is really healthy," a source told E! News. (Spoken like a true captive.) "Taylor is just taking extra precautionary measures in this relationship so her life is not out to the world like her past relationships," the source added.
This might be a fantasy, but given Swift and Alwyn have mostly been photographed together over the past couple of months—a coffee date in Nashville, joint outings to visit friends and family, co-excursions to the gym (could Alwyn have fit in that roadie case, too?)—I imagine the couple, when they've retreated from the eyes of photographers, asking each other 36 questions, staring deeply into each other's eyes, sipping tea in a concrete bunker worthy of 10 Cloverfield Lane—a crash course in relationship-ing. (They've already met each other's parents, who "love" them together. From time to time, they surface to restock their PG Tips, get some steps in, and assure family and friends that everything's fine, mom. Which sounds more stressful than simply going about their business—isn't there a middle ground between total seclusion and an "I HEART TS" tank? Not that I've though particularly hard about it.
It must be bleak to be accosted by photographers as soon as you step out of your building, but hey, it beats hitching a ride in a large black case. It does leave one to wonder, where does Swift, who was just nominated for an MTV Video Music Award for her collaboration with Zayn Malik, fit in studio time? Where's the record, Taylor??
Related: Taylor Swift Raps About New Love on "…Ready For It?"
Gigi Hadid had a Kobe Bryant cake at her best birthday ever: