A Quick Update on Lorde, Karlie Kloss and the Rest of Taylor Swift's Illustrious Squad
Lorde isn't phoning up her "idols" for advice, Haim departed for Montauk, and Karlie Kloss is off in Paris. Here's where Taylor Swift's squad is at right now.
---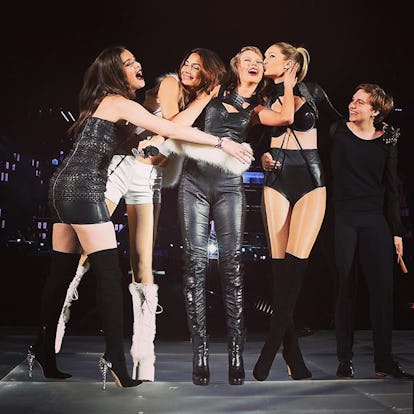 When Taylor Swift's bouncy slide rose up before the Rhode Island waterfront on the Fourth of July, it set off a cascade of speculation that maybe, at last, the fairy godmother of Independence Day might emerge once again. But, aside from a few paparazzi photos of Swift's parents and the pop star with her new boyfriend Joe Alwyn, it was all quiet in Newport—instead, Swift's usual crew scattered across the world. Many of them, like Karlie Kloss, Lily Aldridge, and Lily Donaldson, all descended on Paris, where couture week was underway, while the Haim sisters spent the weekend in Montauk. ("We all took a road trip," Este Haim told me recently, "and just ate a bunch of burgers and fries and watched some fireworks.")
So it's naturally left us wondering where the squad is now, and eager to read into any and all hints about their whereabouts and the status of the crew. In a new interview with the Australian show Sunrise published Friday morning, the musician Lorde indicated the squad might not actually be as solid as it's always appeared. When asked how it felt to befriend the same musicians she looked up to, like Beyoncé and Taylor Swift, Lorde responded, "I don't hang out with these people at all."
Just a couple weeks ago, the pop star likened her friendship with certain high-profile musicians to being friends with someone with severe allergies or an autoimmune disease. The interviewer was asking about Swift specifically, but Lorde said at the time, as the comment made its way across the internet, she was not speaking about her fellow musician.
"But hang on, you're part of Taylor's squad, all the magazines tell us," the Sunrise host continued. Lorde responded, "You make friends in different places, but I think for the most part I'm not like, calling my idols for advice necessarily." But later, Lorde took to Twitter to clarify what was apparently a miscommunication: "Taylor is a dear friend. I love her very much," she wrote. "In the interview in question, I had just been talking about Bowie and Patti Smith—those were the 'idols' I'm saying I'm not friends with, not Taylor!"
Nor, it seems, is Karlie Kloss, once Swift's apparent BFF, still calling up the musician: The supermodel was spotted with Kendall Jenner in Paris during the holiday weekend, which led some to suspect this might have been an overt slight to Swift. (Though Jenner has run in the same circles as Swift, she's also a Kardashian first and foremost, which would likely ally her on the Kanye West-Kim Kardashian side of the "Famous" drama.)
Meanwhile, the Haim sisters aren't saying Swift's name at all—perhaps out of a reluctance to get embroiled in headlines. When Evening Standard writer Jimi Famurewa asked how they were influenced by the 1989 tour, on which they opened for Swift in 2015, they were nonspecific: "Each tour, you always take something from," Alana said. Famurewa pressed on—will they collaborate in the future? "The door is always open," Alana again responded. But, like Lorde in her interview with The Guardian, they never spoke Swift's name outright.
By contrast, actress Ruby Rose of Orange Is the New Black has stood by Swift in grand, social media fashion, defending her on social media early last year when Kanye West dropped "Famous," and then again this year with the release of Katy Perry's "Swish Swish." (When Famurewa asked if Haim had felt a similar impulse to leap into the fray, Este replied, "We can't speak for anyone but ourselves.") We'll wait for Newport next year to see how this plays out.
James Franco, Nicole Kidman, and Milo Ventimiglia sing the Spice Girls' "Wannabe":