How Haim Returned Better and Bolder with Something to Tell You, an Album Full of Summer Jams
The sisters Este, Danielle, and Alana Haim on their new album Something to Tell You, and their collaborations with everyone from Paul Thomas Anderson to Dev Hynes.
---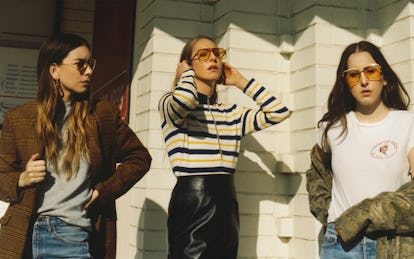 Laura Coulson
Today, July 7, is an auspicious day for the sisters Haim: Danielle, Alana, and Este. They're in London at the moment, the same place where they heralded the release of their debut record, Days Are Gone. And their much-anticipated sophomore record, Something to Tell You, dropped at midnight—marking a decade, to the day, since the trio played their first show as a band in 2007. So when the sisters settled on a July release for Something to Tell You, the seventh was already marked in Alana's calendar. She took it as a sign.
That first show remains vivid: "If I could paint," Alana began grandly, speaking over the phone from Los Angeles recently, "I would paint that show."
Back then, at the California Institute of Abnormalarts in North Hollywood, in front of a crowd of about 50 friends, Danielle (who'd had just graduated high school), Alana (still a sophomore), and Este (headed off to UCLA) launched into their first set.
In the intervening decade, the band has blasted to the moon and back again. ("It's funny," Alana said, "our track record is two records in 10 years.") Their forte, by their own admission, is touring. They spent the four years bookending the 2013 release of Days Are Gone touring the world, playing with the likes of Phoenix, the xx, Florence & the Machine, and Taylor Swift, whom they supported on the 1989 tour in 2015, before they landed back in L.A. to embark on Something to Tell You. (When we spoke, they were already itching to get back out on the road again, having just played one of the first shows supporting Something to Tell You at a pop-up in L.A.—"a very sweaty rager," Alana said.)
Life on the road filtered into the record, which is about both the isolation of being on tour ("Night So Long") and the relationships they experienced in the past four years:. "A lot's changed. We started the last record rehearsing in our parents' living room," Danielle explained, "and now we're able to tour the world and we're also the CEOs of a company. So right now, we really feel like strong, empowered women, and I think the record's just dealing with that."
That attitude is evident in the lyrics. In the brash "Ready For You," Danielle sings, "I promise I'll treat you right, been waiting my whole damn life, baby it's about time." As they told the New York Times in a recent interview, the song is about "knowing what you want," Danielle said, "and going after it," Este added, "and not being apologetic about it."
As with their breakout single "The Wire," from Days Are Gone, Something to Tell You laments the difficulty of communication (consider that title, after all). "It's honestly so hard to verbalize how you're feeling," Alana said. "We kind of felt that was the running theme of our record," Danielle added, "realizing when things sometimes go awry and having enough strength to let it be."
Musically, Something to Tell You colors within the same lines as Days Are Gone, only more confidently and boldly. Haim have received many comparisons to Fleetwood Mac (Stevie Nicks is now a friend), and that sound is maybe most apparent on "Nothing's Wrong." They were also weaned on Mitchell and Joan Baez, both of whom Alana cites as lyrical inspirations. Where the girls have evolved in the past four years is in the nuances of their instrumentation. Each song is deceptively complex, layered with drums and crisp guitars to underline each lyric Danielle sings. No wonder they picked a release date in the heat of summer—the record is festival manna.
The girls produced the record alongside Ariel Rechtshaid, whose credits also include Charli XCX, Sky Ferreira, Solange Knowles, and Madonna and who also worked on Days Are Gone, as well as Twin Shadow's George Lewis, Jr., Vampire Weekend's Rostam Batmanglij, and BloodPop.
"We call Days Are Gone and Something to Tell You sisters, just to bring it around full circle," Danielle said. Este echoed her: "Not to sound cheesy, but I think they're sisters," she said of their two records. "It's kind of an extension."
Everyone—from Lorde, Swift, Kesha, and Dev Hynes, who co-wrote "You Never Knew" on Something to Tell You, to Jay-Z, who signed them to Roc Nation shortly before the release of Days Are Gone—loves Haim, it seems. They're warm and ebullient in person, genuinely invested in their fans: At a recent meet-and-greet in Brooklyn, one young girl who had cut class for the occasion burst into tears when she reached the front of the line, where all three sisters buried her in a hug. This is how they tend to greet most people—friends or strangers, myself included. Even over the phone, they launched into Shania Twain's "I'm Gonna Getcha Good" in two-part harmony.
They've also cultivated a friendship with the director Paul Thomas Anderson and his wife, the actress Maya Rudolph. Anderson filmed a session as the band recorded Something to Tell You at Laurel Canyon's Valentine Recording Studios, where musicians like Frank Zappa and the Beach Boys have laid down tracks. The result is Valentine, a 14-minute short shot on 35mm film that features Haim performing three cuts from the new record: "Right Now," "Something to Tell You," and "Nothing's Wrong." Two days before they released Something to Tell You, Haim hosted a screening of Valentine at Brooklyn's Alamo Drafthouse theater, one of the few theaters in the city still equipped to play 35mm film. The next day, as the sisters headed from New York to London, Anderson hosted his own screening on the eve of the release out in Santa Monica. Haim tweeted an image of the film reel to announce the screening. "PLEASE PLAY LOUD!" it reads across the front.
Their collaboration with Anderson, one of the best chroniclers of Southern California alive, feels right. The sisters grew up watching the sanitized version of Boogie Nights on TBS, Este said, and they share roots in the San Fernando Valley. "He rides for the Valley so hard."
A strong visual aesthetic has also won the girls many fans in fashion, which has recently turned towards the '70s-inflected look the sisters have long favored. They attended the Met Ball this year as the guests of Laura and Kate Mulleavy of Rodarte. "We love being surrounded by sisters," Alana said.
"You have to put on your armor to go on stage and put yourself out there," Alana explained. "We like to wear clothes that make us feel powerful and comfortable and make us feel like we can take on the world."
They went to the CFDA Awards in early June, where they met Planned Parenthood president Cecile Richards: "You feel like a very powerful woman when you're around her. I was so in awe," Alana said. "I just remember shaking her hand and being like, I appreciate everything you do for women—and then I honestly blacked out."
The sisters have recently ventured into more public political engagement: They attended the Women's March on Washington in January, and when they played L.A.'s Teragram Ballroom in early May, they created a special t-shirt, the proceeds from which they donated to Planned Parenthood, the same as when they hosted a pop-up shop and show last month. "A no-brainer," all three sisters said.
"It's an awesome time to be a woman," Alana said at the Drafthouse. "We just need to band together and f— shit up."
See Nicole Kidman, Milo Ventimiglia, and James Franco cover the Spice Girls' "Wannabe":