Is Jay-Z and Kanye's Feud About Complicated Contracts or, Somehow, Kim and Beyoncé?
We know Jay-Z and Kanye West aren't getting along right now, but rumors explaining why aren't anywhere near on the same page.
---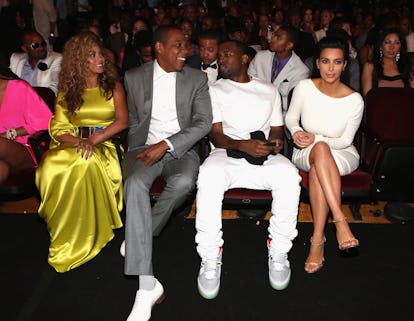 Christopher Polk
It was August 2002. Beyoncé's single solo at the time was a mostly forgotten contribution to an Austin Powers soundtrack. Kim Kardashian was married to some dude named Damon Thomas and presumably working as a closet organizer in Los Angeles. Jay-Z was riding high after what would be the first of his many career resurgences thanks to the success of The Blueprint. Kanye West was then a hungry, up-and-coming producer responsible for four standout tracks on that album, but was otherwise known to few outside of hip-hop and not taken very seriously as a rapper by those on the inside. That changed when Jay brought Kanye onstage during a concert at Madison Square Garden, announced him as the latest signee to Roc-a-Fella records, and presented him with a gold chain.
It would also, as probably no one could expect, be the beginning of a celebrity narrative that would dominate tabloids for years to come in one way or another.
Here we are now, 15 years later, and the professional and creative partnership between West and Jay-Z has collapsed, and to take into consideration the gossip that's emerged, it's either because of money or because the former Austin Powers soundtrack contributor and closet organizer they married just don't get along. So what exactly happened? And how did we get here?
Trouble first appeared last October when West claimed that he and Jay-Z were supposed to appear on a track on Drake's album Views, but didn't because Views was an Apple Music exclusive and Jay-Z owns Tidal. Then in November, West went on a series of infamous rants at concerts in California in which he pontificated on a number of topics including Hillary Clinton, Barack Obama, but more relevantly Jay-Z and Beyonce.
"Jay-Z, call me bro, you still ain't call me," he said at one point. "I know you got killers, please don't send them at my head. Jay-Z call me. Come to me like a man."
West also struck out at Beyoncé, claiming that she had refused to perform at the MTV Video Music Awards unless she won Video of the Year, an accolade for which West was also nominated.
Then, well, a whole lot of other things happened, the world turned, and the public mostly remained in the dark about what exactly was going on between the house of Kardashian-West and the house of Knowles-Carter until the release of Jay-Z's 4:44 last week. On the track "Kill Jay Z," the rapper addressed the feud directly for the first time:
But you ain't a saint, this ain't kumbaye But you got hurt because you did cool by Ye You gave him 20 million without blinking He gave you 20 minutes on stage, f— was he thinking? "F— wrong with everybody?" is what you saying But if everybody's crazy, you're the one that's insane.
There's now two main theories purporting to explain what, exactly, the breaking point was between West and Jay-Z, one notably more probable than the other, and one notably more sexist.
1. It's A Very Complicated and Sort of Boring Situation Involving Tidal Contracts
West released his last album The Life of Pablo as a Tidal exclusive, and has provided other exclusive content to the service including music videos and streams of his Yeezy fashion shows. According to a Billboard report, West says Tidal owes him $3 million after Pablo netted 1.5 million new subscribers to the service. Tidal, however, maintains that West didn't provide quite enough exclusive videos. As of this afternoon, Billboard sources claim that West's exclusivity arrangement with Tidal has now been terminated.
2. Their Wives Don't Like Each Other
The other theory, advanced by Page Six and other tabloid sources, is that, well, the pairs relationship faltered because their wives don't get along.
"[Kanye's] rant was really about Kim and Beyoncé not being BFFs. Kanye is frustrated that his wife does not have a better relationship with Beyoncé. He wanted to put that pressure on Jay. It's like, 'We're cool and we do business together, and now our wives should be friends?'" says the Page Six source.
The source adds that Beyoncé is "a Southern, God-fearing woman" who "may not have much in common with Kim." (For the record, Kim Kardashian does give 10 percent of her earnings to her church and charity. So, whatever the case may be, everyone involved does love Jesus, even if they don't all love Yeezus).
Hmmm, so either the two men's complicated 17-year long partnership is in tatters because of business situations that they and they alone are responsible for entering or, conversely, somehow it's all the fault of the women in their lives.
We're going to go with theory number one as the most likely (and, notably, least sexist).
Though, we would like to hold on to one little detail from that Page Six item as possible fact. "Their relationship is familial . . . I'd be very surprised if they didn't work together or have some kind of relationship in the future," added one of their anonymous sources. Here's hoping.
Kanye West Just Wants to Bring Joy to the World Like Will Ferrell in 'Elf':