Keeping Up With Kanye West and Everything He's Done in the Last Four Chaotic Days
Since Thursday, the music and fashion icon has voiced his opinions on Donald Trump and Beyoncé, posted 99 photos on Instagram for a Maison Margiela "installation," and cancelled the rest of his tour. Hang on tight.
---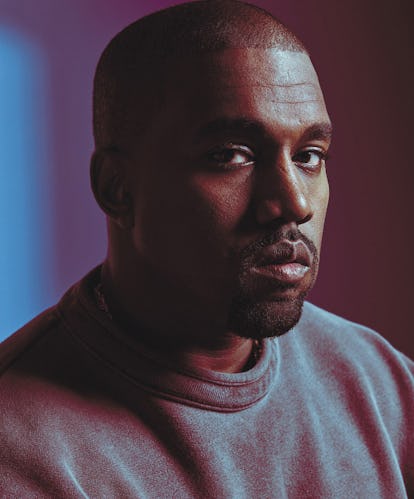 Photographs by Mario Sorrenti, Styled by Edward Enninful
Every second of every minute in the life and mind of Kanye West offers the possibility of both divine creation and total destruction. And this weekend was no different.
It all began at his Saint Pablo Tour on Thursday night in San Jose, California, when he told the audience that not only did he skip voting, but if he had, he "would've voted on Trump."
He then went on to explain that the way Trump captivated the nation was what he identified with most. "There's nonpolitical methods to speaking that I like, that I feel were very futuristic," he said. "And that style, and that method of communication, has proven that it can beat a politically correct way of communication."
As for Trump's politics, however, West reportedly said he still supports Black Lives Matter, women's rights, and gay marriage, but doesn't feel it's his responsibility as a black person to talk about, or bear the burden of racism any longer. "This world is racist, OK? Let's stop being distracted to focus on that as much," he said. "It's just a f–king fact. We are in a racist country. Period."
In the end, he tried to offer an optimistic view for the future: "Sometimes things that you might think are bad need to happen, in order for change to f–king happen," he said. "Sometimes you might have to not get your way to really understand what to do in the future, to be able to get your way."
Of course though, West didn't stop there. On Saturday night at his Sacramento show, he continued to think out loud, saying in short that Obama "couldn't make America great," because he was forced by the public to be perfect. And that Hillary Clinton wasn't able to remain relevant (like he has, naturally).
Then, he veered off our nation's politics and into music industry politics, saying that Beyoncé "hurt" him when she allegedly said she wouldn't perform at the most recent VMAs unless she won Video of the Year over him. "In my opinion…now don't go dissing Beyoncé, she's great," he said, backtracking for a brief moment. "Taylor Swift is great. We are all great people. We are all equal. But sometimes we be playing the politics too much and forget who we are just to win."
He then added that Jay Z should call him.
Before dropping the mic, West had a moment of both self-awareness and clairvoyance: "Press, get ready to write your passive aggressive, LeBron James racist comments, Season 4, racist comments," he said. "Get ready to have a field day, press! Get ready! Get ready, because the show is over."
But the show wasn't over!
On Sunday evening, West — who joined Instagram in September with a single, cryptic post — suddenly uploaded 99 pixellated images of vintage Maison Martin Margiela looks. No captions. This is all while his wife, Kim Kardashian is still on a seven-week hiatus from Instagram following her Paris robbery, and just hours after his sister-in-law, Kendall Jenner, re-joined the platform after jumping ship last week.
His frequent collaborator, Eli Russell Linnetz, referred to the barrage as an "installation" on his own account, but many commenters saw it as an unsuccessful distraction from the events that had transpired earlier. The thing about West though is that it's impossible to know what he's thinking until he tells you, explicitly. And even then it can be difficult.
We will not be hearing from West again anytime soon though, as it was announced on Monday morning that the rest of his Saint Pablo Tour dates, including at least 20 shows, would be cancelled. Perhaps he has nothing left to say; perhaps he feels his silence now speaks louder than words.
One window we have into West's current state of mind can be found in an interview he did recently with Surface magazine, which was published in full on Sunday. "I don't think people are going to talk in the future," he said. "They're going to communicate through eye contact, body language, emojis, signs."
If the Margiela images were of West's own doing, they might be read as him telling his audience that there is a vulnerable, volatile, and creative mind behind his words. That there's the way clothes and sentences look and feel on the surface, and then there is their intent. Like the late designer, West's output is oftentimes jarring and what one might consider "incorrect." But his goal is always to keep us questioning. Whether or not his fans will keep turning to him for answers, however, is a different story.
For now, if we had to express our feelings about West in a single emoji, it would be [thinking face.]