Solange Knowles Re-Introduced Herself as a Powerful Performance Artist at the Guggenheim Last Night
"An Ode To" was black performance art and a powerful statement.
---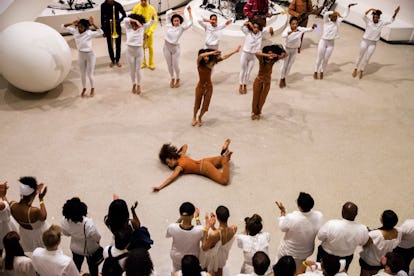 Krisanne Johnson / Red Bull Content Pool
Last night, the R&B singer Solange presented "An Ode To," a black Gesamtkunstwerk. It was, to me, performance art with a set list. Staged in the rotunda of the Guggenheim Museum in New York as part of the Red Bull Music Academy Festival, it examined the themes of Solange's latest, groundbreaking album, A Seat at the Table.
From the upper reaches of the museum, she began by walking single file with a group of young black performers, spiraling down through the ornate, ramped galleries. Intermittently, trumpets and horns blared a lone, husky note. She silently moved pass Bjork, Thelma Golden, Glenn Ligon, Questlove, and her friend, Janelle Monae, toward an audience, resembling art world Orishas, dressed in all white, looking godly, without their cellphones, per her request. Wearing monochrome costumes designed by Telfar Clemens, she began with the sensual opening lines of "Rise:" "Fall in your waaaays so you can crumble/Fall in your waaaays, so you can sleep at niiight."
This was the introduction of Solange Knowles, the artist.
Long before Solange embarked on her museum tour she was known for collaborating with contemporary black artists. In her debut performance on SNL, we saw our televisions transmit images of the 29-year-old Houston native, wearing a braided halo designed by the artist Shani Crowe.
On the cover of her 2012 album True, she appeared as one of the painter Mickalene Thomas's muses. "Thank you #lynetteyiadomboakye for being a great source of inspiration and courage during my writing process," the recording artist posted on Instagram, dedicating A Seat at the Table to the British-Ghanaian painter of fictive black figures. She has also collaborative with the multimedia artist Rashaad Newsome and the artist and filmmaker Arthur Jafa.
"An Ode To," however, is different. It is a vision conceived as art by Solange herself. The site-specific "An Ode To" evolved out of "Scales," an earlier performance work presented at the Menil Collection and Perez Museum earlier this year. The sociopolitical concerns, the anger and the celebration of the album were expressed within an aesthetic landscape of abstraction and conceptualism that is aligned with the Guggenheim's collecting practices and mission.
Last night, Solange sang in front of a pair of large-scale white geometric sculptures that she designed, creating a minimalist register to accompany the way she and her performers moved. Nat Trotman, the Guggenheim's curator of performance and media and the project's point person, told me the artists Brendan Fernandes and Elad Lassry and James Turrell were all references for the performance. This clarified why she had the performance moved up a few hours than planned last night; she wanted perform as light filled the space.
"Performance at its core is about letting time and bodies exist in space in an ephemeral way," said Trotman. "Solange is interested in highlighting the cultural authority of museums with her body in a very specific way." For nearly a hour, we watched transfixed, by, yes, her sound but mostly by the black bodies in rapturous motion as a barefoot Solange sang "Weary," "Cranes in the Sky," and a cover of the Motown singer Syreeta's "Black Maybe," the 1972 song produced by her then-husband, Stevie Wonder.
Solange and her backup singers would coo a few lyrics, step off the mics and tap their sides, chests, and push their hands through the air, at times recalling the performance art of Kanye West's frequent collaborator, Vanessa Beecroft, as well as the Judson Dance Theater's 1960s experiments with geometric forms and abstraction and the Guggenheim's first live art commission, Meredith Monk's 1969 performance Juice, that, like "An Ode To," heavily employed the museum's signature ramps.
Beneath a hanging baby Alexander Calder mobile, the choreography seemed to get looser as the experimental live art progressed. During "FUBU," she walked into the crowd, got face-to-face with a few of the black viewers and a black museum guard, and delivered the song's exalted chorus: "All my n—-s in the whole wide world/ Tell them n—-s that it's all of our turn/This us, some shit is a must/ Some shit is for us." It rang out as both rally cry and affirmation.
Soon after, Solange bounced around, dropped to floor, kicked and screamed, seemingly turning private agony public. Moments later, there she was twerking exuberantly against a wall. The crowd, which was mostly subdued throughout the performance, went wild. I wondered, What exactly was this black woman trying to tell us about black pain and triumph? About exclusion?
It was not lost on me, nor likely some present, that she choose to do this at the Guggenheim, a museum that mounted its first solo show by a black artist (Carrie Mae Weems: Three Decades of Photography and Video) just three years ago. Was this performance a seat at the table?
"When Solange approached us about performing in the museum, it was something that we all wanted to do immediately," Trotman said. "Something we have been trying to do in the curatorial department is tear down some of the walls down of perceptions. We are very interested in making the museum an inclusive and open space for a wide variety of people."
When the performance was over, Solange jogged back down the museum's ramps to give a speech. She said thank you and told us to hold our communities tight. She said that, as a woman of color, she will keep fighting "to tear the f—ing walls down."
Because after all, she added, "We built this shit."
Meet the chameleons of the art world: