After Melodrama, Lorde Confronts Some Internet Drama, Compares Celebrity Friendships to Autoimmune Diseases
An off-the-cuff comment in The Guardian comparing her celebrity friendships to allergies or autoimmune diseases has sparked Twitter backlash.
---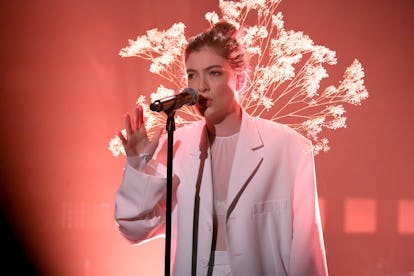 NBC/Getty Images
Four years after her breakout debut at 16, Lorde's second album Melodrama finally emerged Friday. And, all surrounding the much-anticipated (and now much-lauded) release, she's opened up to the New York Times Magazine, appeared several times on Rookie's podcast, hosted by her friend Tavi Gevinson, and spoken with "All Things Considered" and Apple Music's tastemaker DJ Zane Lowe.
The latest in her whirlwind press tour is an in-depth feature with the Guardian, discussing maturing under the spotlight, what she's been up to since the 2013 release of Pure Heroine, and, naturally, a segue into her relationship with other famous people like pop phenom Taylor Swift, who Lorde—née Ella Yelich-O'Connor—has described as "a mom with no kids." (Swift hosted Lorde's 20th birthday party late last year.)
In the newest interview, Lorde compares maintaining certain high-profile friendships to going out with a friend with "very specific allergies. There are certain places you can't go together. Certain things you can't do." (The piece contextualizes this as a discussion about being friends with Swift.) The singer continues her off-the-cuff simile, "It's like having a friend with an autoimmune disease." It's pithy, a little wry, blunt and forthcoming—in short, it's trademark Lorde, at least as far as she's presented herself publicly. But it's at this last comment that certain observers have taken issue.
"I wonder how @selenagomez feels about this," one Twitter user wrote, tagging Gomez. (Gomez has been open about her struggle with the autoimmune syndrome Lupus.) "What an incredible ignorant analogy to make @lorde."
In a tweet late Monday evening, Lorde maintained she had not explicitly mentioned Swift, but still apologized for the insensitivity of the analogy. "Regardless, I f—ed up & that was really insensitive. I'm sorry." She followed it with a rose emoji.
One of the collective internet's favorite pastimes will always be discerning all the ways a successful young woman might be un-woke, taking such small gaffes as examples. After all, it is Swift who has been the magnet for controversy, not her younger pop star friend. But this could set an example for a fun new game show: drama or melodrama?
Certainly, comparing a friendship to a medical disorder might be a bit over the top, and could be construed as insensitive by those afflicted with the disorder, but as a person with "very specific allergies" who my friends can't take anywhere, I relate to the comparison.
Next time they want to go out for Thai food, I'll politely decline, the reluctant Taylor Swift of my inner circle. (Can I be the Lorde, though, please?) And, for now, I presume Lorde and Swift are texting furiously about the matter, giggling that one of them would describe the other as some kind of pox.
Nicole Kidman's favorite birthday had a sexy fireworks display: