Since Taylor Swift Didn't Host a Summer Bash, the Model Set Partied In Paris Instead
All of the party pictures you may have missed.
---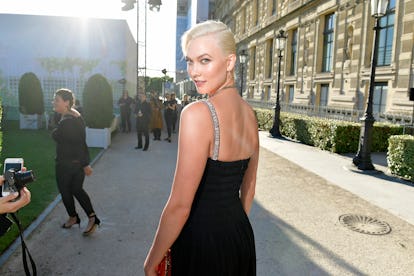 Victor Boyko
This week, a giant, American-flag sized hole was left in the party scene as Taylor Swift skipped her annual model-fest of a Fourth of July bash, leaving the Hadids and Klosses of the world to find other plans. Luckily, with Paris Haute Couture in full swing, the City of Lights was full of acceptable bashes, including Christian Dior's celebration of 70 Years of Creation, Vogue Foundation's annual dinner, and a cocktail to toast the debut of Peter Dundas's debut eponymous collection. Meanwhile, back in the States, one lone Insta-girl still managed to celebrate the birth of America, as Hailey Baldwin helped to kick off Revolve's summer house in the Hamptons. Here, a look at all of the party pictures you may have missed this week.
The face of Dior beauty, Bella Hadid, attended the house's new exhibition celebrating 70 Years of Creation at the Musee des Arts Decoratifs.
Jennifer Lawrence opted for a festive look for the occasion, donning a fringed number by the house.
Elizabeth Olsen, on the other hand, chose something a bit more casual, in a white t-shirt and printed pants.
Expect to see a whole lot of these two in the coming weeks; Valerian and the City of a Thousand Planets co-stars Dane DeHaan and Cara Delevingne kicked off movie press at the Vogue Foundation dinner.
Also in attendance was Delevingne's pal, Kendall Jenner, donning a sleek mini-dress.
Lauren Santo Domingo and Moda Operandi hosted a cocktail party to celebrate the launch of Dundas, which brought out a flock of models, including Lily Donaldson.
Also in Paris, Maison Chloé opened with an inaugural exhibition, Femininities – Guy Bourdin, drawing out celebrities like Isabelle Huppert.
Jewelry designer Noor Fares held an intimate dinner that was attended by fashion regulars like Bianca Brandolini d'Adda.
And Sofia Coppola, who made the couture rounds this season, attended a dinner to celebrate the launch of Fabrizio Viti's cruise collection.
Sienna Miller attended a party to celebrate the launch of Rockins new Selfridges pop-up shop.
And Hailey Baldwin held it down back in the States, attending the kick-off of Revolve in the Hamptons on the 4th of July.
Watch all of W's top videos, here:
Brie Larson, Celine Dion, Katy Perry and More Front Row Celebrities at Paris Haute Couture
Jennifer Lawrence, Natalie Portman and Robert Pattinson attends the Christian Dior Haute Couture Fall/Winter 2017-2018 show as part of Haute Couture Paris Fashion Week on July 3, 2017 in Paris, France.

Bertrand Rindoff Petroff
Celine Dion attends the Christian Dior Haute Couture Fall/Winter 2017-2018 show as part of Haute Couture Paris Fashion Week on July 3, 2017 in Paris, France.

Stephane Cardinale – Corbis
Elle Fanning attends Miu Miu Cruise Collection show as part of Haute Couture Paris Fashion Week on July 2, 2017 in Paris, France.

Dominique Charriau
Brie Larson attends the Rodarte Haute Couture Fall/Winter 2017-2018 show as part of Haute Couture Paris Fashion Week on July 2, 2017 in Paris, France.

Pierre Suu
Elizabeth Olsen attends the Christian Dior Haute Couture Fall/Winter 2017-2018 show as part of Haute Couture Paris Fashion Week on July 3, 2017 in Paris, France.

Bertrand Rindoff Petroff
Actress Kirsten Dunst attends the Rodarte Haute Couture Fall/Winter 2017-2018 show as part of Haute Couture Paris Fashion Week on July 2, 2017 in Paris, France.

Pierre Suu
Bella Hadid attends Miu Miu Cruise Collection cocktail & party as part of Haute Couture Paris Fashion Week on July 2, 2017 in Paris, France.

Dominique Charriau
Felicity Jones attends the Christian Dior Haute Couture Fall/Winter 2017-2018 show as part of Haute Couture Paris Fashion Week on July 3, 2017 in Paris, France.

Stephane Cardinale – Corbis
Joan Smalls and Kendall Jenner attend Miu Miu Cruise Collection cocktail & party as part of Haute Couture Paris Fashion Week on July 2, 2017 in Paris, France.

Dominique Charriau
Kirsten Dunst attends the Christian Dior Haute Couture Fall/Winter 2017-2018 show as part of Haute Couture Paris Fashion Week on July 3, 2017 in Paris, France.

Victor Boyko
Actresses Tracee Ellis Ross and Melissa George attend the Schiaparelli Haute Couture Fall/Winter 2017-2018 show as part of Haute Couture Paris Fashion Week on July 3, 2017 in Paris, France.

Stephane Cardinale – Corbis
Milla Jovovich attends Miu Miu Cruise Collection show as part of Haute Couture Paris Fashion Week on July 2, 2017 in Paris, France.

Pierre Suu
Alexa Chung attends Miu Miu Cruise Collection show as part of Haute Couture Paris Fashion Week on July 2, 2017 in Paris, France.

Victor Boyko
Gwendoline Christie attends Miu Miu Cruise Collection show as part of Haute Couture Paris Fashion Week on July 2, 2017 in Paris, France.

Pierre Suu
Millie Brady and Stacy Martin attends Miu Miu Cruise Collection cocktail & party as part of Haute Couture Paris Fashion Week on July 2, 2017 in Paris, France.

Pascal Le Segretain
Model Winnie Harlow attends the Christian Dior Haute Couture Fall/Winter 2017-2018 show as part of Haute Couture Paris Fashion Week on July 3, 2017 in Paris, France.

Stephane Cardinale – Corbis
Models Doutzen Kroes and Kendall Jenner attend Miu Miu Cruise Collection cocktail & party as part of Haute Couture Paris Fashion Week on July 2, 2017 in Paris, France.

Dominique Charriau
Actress Jennifer Lawrence attends the Christian Dior Haute Couture Fall/Winter 2017-2018 show as part of Haute Couture Paris Fashion Week on July 3, 2017 in Paris, France.

Stephane Cardinale – Corbis
Aymeline Valade attends Miu Miu Cruise Collection show as part of Haute Couture Paris Fashion Week on July 2, 2017 in Paris, France.

Pascal Le Segretain
Bianca Jagger and fashion designer Alber Elbaz attend the Christian Dior Haute Couture Fall/Winter 2017-2018 show as part of Haute Couture Paris Fashion Week on July 3, 2017 in Paris, France.

Bertrand Rindoff Petroff
Elle Fanning attends Miu Miu Cruise Collection show as part of Haute Couture Paris Fashion Week on July 2, 2017 in Paris, France.

Dominique Charriau
Gemma Arterton, Laetitia Casta and Jennifer Lawrence attend the Christian Dior Haute Couture Fall/Winter 2017-2018 show as part of Haute Couture Paris Fashion Week on July 3, 2017 in Paris, France.

Bertrand Rindoff Petroff
Marisa Berenson attends the Christian Dior Haute Couture Fall/Winter 2017-2018 show as part of Haute Couture Paris Fashion Week on July 3, 2017 in Paris, France.

Bertrand Rindoff Petroff
Actress Natalie Portman attends the Christian Dior Haute Couture Fall/Winter 2017-2018 show as part of Haute Couture Paris Fashion Week on July 3, 2017 in Paris, France.

Dominique Charriau
Angelababy attends the Christian Dior Haute Couture Fall/Winter 2017-2018 show as part of Haute Couture Paris Fashion Week on July 3, 2017 in Paris, France.

Bertrand Rindoff Petroff
Actor Robert Pattinson attends the Christian Dior Haute Couture Fall/Winter 2017-2018 show as part of Haute Couture Paris Fashion Week on July 3, 2017 in Paris, France.

Stephane Cardinale – Corbis
Louis Vuitton's executive vice president Delphine Arnault, Peter Marino and Karlie Kloss attend the Christian Dior Haute Couture Fall/Winter 2017-2018 show as part of Haute Couture Paris Fashion Week on July 3, 2017 in Paris, France.

Bertrand Rindoff Petroff
Actress Rossy De Palma attends the Christian Dior Haute Couture Fall/Winter 2017-2018 show as part of Haute Couture Paris Fashion Week on July 3, 2017 in Paris, France.

Stephane Cardinale – Corbis
Actress Gabriella Wilde attends the Christian Dior Haute Couture Fall/Winter 2017-2018 show as part of Haute Couture Paris Fashion Week on July 3, 2017 in Paris, France.

Bertrand Rindoff Petroff
Lou Doillon attends Miu Miu Cruise Collection show as part of Haute Couture Paris Fashion Week on July 2, 2017 in Paris, France.

Dominique Charriau