Sorry Taylor Swift, We're Most Excited About What These 5 Celebrities Are Doing for the 4th of July
From Katy Perry to David Geffen.
---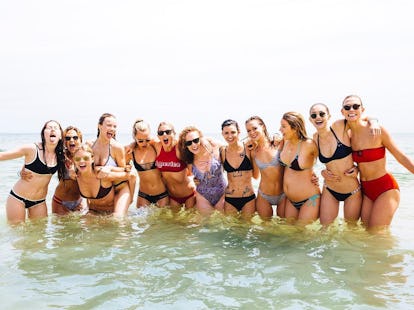 Taylor Swift / Instagram
Every summer since 2014, Taylor Swift has taken it upon herself to throw the most Instagram-friendly, celebrity-filled, over-the-top July 4th extravaganza at her Rhode Island compound. Last year's guests included a very-pregnant Blake Lively and her husband Ryan Reynolds, the Haim sisters, as well as models Martha Hunt, Karlie Kloss, Cara Delevingne, and Gigi Hadid. Of course, Tom Hiddleston was also there in all his "I heart T Swift" tank top. There were pool floats and slip n' slides and plenty of patriotism. The sun always shined, until it didn't.
Swift was at the top of the celebrity girl squad food chain, until last summer—just days after the July 4th holiday—when Kim Kardashian publicly exposed Swift on Snapchat for being ingenuous regarding her interactions with Kanye West. Swift tried to defend herself both on Instagram and in her speech at the Grammy Awards, but the Internet failed to take her side this time, instead reducing her to the snake emoji.
Today, Swift is still battling more bad blood than good, and has spent the past year safely removed from the spotlight. However, in the meantime, a feud with fellow pop icon Katy Perry has been stewing. Needless to say, Perry was never invited to the July 4th party.
So, we have to wonder if Swift will come out of hiding this summer to resume her Independence Day festivities. (According to Instagrams from Rhode Islanders, the slip n' slide is already inflated.) But even if she's ready to put herself out there, Instagram may not be interested.
So, we're proposing five Taylor Swift alternatives to follow this weekend who also have friends in high places—and who know how to have some good ol' summer fun.
Who: Reese Witherspoon
Why: She's America's favorite blonde and knows how to throw a party. Also, her friendship with Big Little Lies co-star, Laura Dern, is the best on Instagram.
Who: DJ Khaled
Why: Everyone loves him, and obviously, his son Asahd Khald.
Who: David Geffen
Why: He's always got famous friends aboard his yacht, from Mariah Carey to Tom Hanks to Leonardo DiCaprio.
Who: Donatella Versace
Why: The fashion designer is the queen of Instagram. And her clique includes Zayn, Gigi, and a bunch of male models….
Who: Katy Perry
Why: Well, she's the firework. And while we're not taking sides, a Katy Perry July 4th party would feel deliciously vengeful.
Gigi Hadid Really Loves Her Squad: