Zayn Malik Is Embracing Life As a Farmer
Look for him in rural Pennsylvania.
---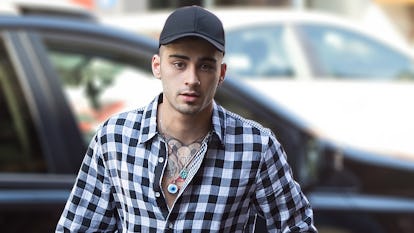 Gotham/Getty Images
You probably haven't seen much of Zayn Malik out and about lately. Turns out it's because he's moved to the middle of nowhere to recreate The Simple Life. Except with out television cameras or Nicole Richie. Instead, he's busy milking cows and trying to find peace and some time for just himself.
In a new profile with Billboard, the usually media-shy Malik was candid about his need to decompress outside of the public eye and live that temporary life of simplicity.
"I'm taking things at my own pace, eating well, not going too crazy," former One Direction member explained. "Making sure we have dinnertime."
For reasons unbeknownst to us common folk, that meant living for the better part of the summer and fall on a "working farm" in rural Pennsylvania with a private studio nearby for if, and when, any musical inspiration should strike. "[The farm] is just out of the way and feels grounded," he said. "There's not a lot of things around. I do a lot of farm work. Yeah, yeah, I take the horses out and feed the cows and that kind of stuff. It's cool. I've always been ­interested in animals."
Malik reckons he fancies the farm life so much because it reminds him of his hometown in England's countryside, and he's had a "rotating group of friends, family, and collaborators" join him in Pennsylvania since day one to revel in the laid-back lifestyle. This elite Farm Crew includes everyone from his parents to his music associates to his girlfriend, Gigi Hadid. Or as he puts it about his lady love: "It helps that she's really organized. Thank God! Because I'm really not, so she helps organize my ­schedule around seeing her."
Related: Zayn Malik Taps Bella Hadid, His Girlfriend's Sister, to Star in His Versus Versace Campaign
The Gigi Hadid Runway Workout!: