Director Christopher Nolan Didn't Understand the One Direction Fandom When He Cast Harry Styles, Actor, in Dunkirk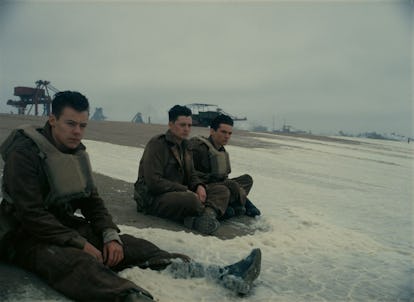 Courtesy Warner Bros.
When Christopher Nolan, the acclaimed English director of such modern classics as the dark Batman trilogy, Inception, Memento, and The Prestige, cast former One Direction member Harry Styles in his new World War II film Dunkirk, he didn't quite grasp how famous his young actor really is. Nor, it seems, did Styles's co-star Mark Rylance, a celebrated Shakespearean actor who previously starred in the miniseries Wolf Hall and the Spielberg-directed period drama Bridge of Spies.
"My daughter had talked about him. My kids talked about him, but I wasn't really that aware of it," Nolan told the Associated Press this weekend, explaining that Styles, who makes his big-screen debut with the role, "fit the part wonderfully" and "had earned a seat at the table." This means he also likely did not foresee the response set off by Styles cutting off his famed hair for the role.
Styles's role is a small one, especially by comparison with the starring role he played in One Direction. "When we put the cast together, we had some established names: Kenneth Branagh, Mark Rylance, Tom Hardy, Cillian Murphy," Nolan told the Los Angeles Times earlier this year. "But for the guys on the beach, we really wanted young unknowns." Cue the search for a "young unknown": According to Nolan, Styles was just one of thousands who lined up to audition. "He's not that unknown," Nolan admitted, "but he'd never done anything as an actor before." (Exactly how much Styles was "not that unknown," Nolan would soon come to learn.)
Rylance also learned of the mythos of One Direction via a younger relative: His 11-year-old niece "was just more excited than anything I've ever done because I was going to be acting with Harry Styles," he said. Once upon a time, Rylance's Bridge of Spies co-star Tom Hanks, now 61, would have garnered such a response—but as far as teen idols go, he's cleared the way for the 23-year-old Styles.
Styles, who has had a busy year between his debut solo album and Dunkirk; appears in the film alongside Nolan's regular collaborators like Tom Hardy of Mad Max: Fury Road and Cillian Murphy of Peaky Blinders, who previously co-starred in Inception and each have their own particular fandom. (In addition to screen time, Styles, Hardy, and Murphy also have shared, at one time or another, the title of "Internet's Boyfriend." As much as the Dunkirk rescue saga is already an extraordinary tale, perhaps even more extraordinary is how good-looking the Allied soldiers seem to have been.) Strategic or not on Nolan's part, it's a clever move to harness the power of the fandom to advance the film: Styles told the Associated Press his bandmates, as "big fans of Chris," are looking forward to the film—and so too, presumably, are the legions of fans who follow them.
Harry Styles' Fashion Style Evolution: See 32 of the Pop Star's Best Looks
Harry Styles attends the "DUNKIRK" premiere in New York City.

Getty
Harry Styles attends "Dunkirk" Premiere at Ocine on July 16, 2017 in Dunkerque, France.

Getty
Harry Styles attends the 'Dunkirk' World Premiere at Odeon Leicester Square on July 13, 2017 in London, England.

Getty
Promoting his new album, Styles wears a red plaid suit out in London.

Getty
Styles stays committed to Gucci in a logo sweatshirt while out in Paris in 2017.

Getty
Styles performs on NBC's "Today" at Rockefeller Plaza wearing a shocking pink suit.

Getty
Harry Styles performs "Sign of the Times" in a Gucci suit on Saturday Night Live.

Getty
Styles shows off his dramatic haircut, but keeps it classic in his fashion choices with a perfect fitting black suit and crisp white shirt.

Getty
For the BBC Music Awards, Styles wore black and white vertical striped pants and a black shirt. Here he is on the red carpet with his bandmates from One Direction.

Getty
Not ever afraid to take a risk on the red carpet, Styles wears a floral Gucci suit with wide-legged trousers.

Getty
Styles greets his adoring fans in a navy spring coat and gray jeans on his way into BBC Radio 2.

Getty
Fearlessly wearing a Gucci geometric print two-piece suit and black leather boots, Styles attended an event in London.

Getty
Styles wears a bold Saint Laurent bomber jacket to perform One Direction's latest single as part of Good Morning America's summer concert series.

Getty
Attending the Capital FM Summertime Ball with One Direction, Styles wears a chevron-printed shirt with a skinny scarf.

Getty
Styles attends the Glam Rock Christmas Party in London in a revealing black shirt and long, striped trousers.

Getty
Taking a major fashion risk on the red carpet, Styles wears a Lanvin striped suit and black boots.

Getty
Performing with One Direction at the 2014 American Music Awards, Styles wears a gold embellished jacket and low-rise jeans.

Getty
Styles, along with the other boys of One Direction, attend the Royal Variety Performance with the Royal family. Styles wears an animal print jacket over a black low-cut shirt.

Getty
Styles goes full rock-and-roll at LAX in all black jeans and t-shirt, accessorized with a blue scarf, wide-brimmed hat, and sunglasses.

Getty
At the launch for One Direction's fragrance, Styles wears a oversized plaid shirt, unbuttoned in his usual manner, tight jeans, and a large hat.

Getty
Seen out with friends (Hi, Ed Sheeran), Styles wears a Calvin Klein sweatshirt and a head scarf wrapped around his famous locks.

Getty
For the 2013 British Fashion Awards, the London megastar shows up in a sheer black shirt, blazer, and a scarf.

Getty
Styles wears a dark wool coat over an animal print shirt and black jeans at the Burberry Spring/Summer 2014 show.

Getty
For the World Premiere of One Direction This is Us, Styles wears a heart print Burberry shirt under a black suit.

Getty
Styles, showing off his tattoos in an unbuttoned shirt, and Miley Cyrus pose together backstage at the 2013 Teen Choice Awards.

Getty
Seen in Miami Beach to film a One Direction music video, Styles steps out in unbuttoned plaid shirt and a tan hat.

Getty
Styles gets buttoned up in a double-breasted suit and patterned shirt at a dinner in London.

Getty
Harry Styles' fashion for a 2012 taping of the Late Show With David Letterman with his band One Direction featured a monochromatic ensemble completed by leather moto boots.

Getty
True to the trends, Styles wears a blazer with pushed up sleeves over a gray shirt at BBC Radio 1 Teen Awards.

Getty
Styles goes casual with black jeans, a gray t-shirt and Converse while hanging out with Nick Grimshaw at the Shoreditch House in London.

Getty
Nicole Kidman, Milo Ventimiglia, and James Franco sing the Spice Girls' "Wannabe":