Harry Styles Finally Speaks in Newest Dunkirk Trailers
The actor gets to do some actual acting.
---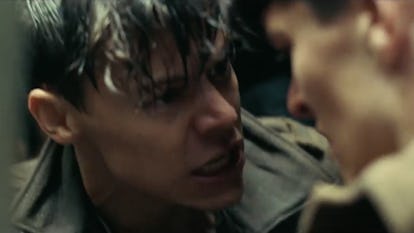 Warner Brothers
Dunkirk is one of the most anticipated movies of the summer. It's the latest from Christopher Nolan, a populist auteur at the top of his game, the rare blockbuster that has shun overuse of CGI in favor of practical effects, an ambitious embrace of film formats both old and new, and a possible Oscars contender.
It is also, and perhaps most importantly for a certain crowd, the acting debut of Harry Styles. Now, new trailers for the World War II blockbuster released this week show the former One Direction singer actually speaking.
In past trailers for the epic film, Styles can be seen sitting dramatically on a beach, swimming in the ocean, and, oh yeah, possibly drowning. But now, for the first time, we see Styles (or "Alex," as he's listed in the IMDB credits) talking to other characters in two brand new scenes.
The film also features some big Hollywood stars, including Tom Hardy, Cillian Murphy, Kenneth Branagh, and Mark Rylance, who have been quite, ahem, candid about the press focus on Harry's role in the film. Warner Brothers has been relatively vague on the exact size and nature of Harry's role, but judging by the amount of screen time he's getting in these trailers, it's probably a safe bet that we will be blessed with plenty of Harry come July 21, when Dunkirk hits theaters.
Earlier this year, director Christopher Nolan discussed his decision to cast the former One Direction singer in the film. "When we put the cast together, we had some established names…. But for the guys on the beach, we really wanted young unknowns. He's not that unknown, but he'd never done anything as an actor before. So he auditioned. I auditioned literally thousands of young men with different combinations of young men. And he had it."
And these two new clips certainly prove that: Harry, you've got that one thing. But we already knew that, didn't we?
For the full trailers, watch below:
Related: How Harry Styles Transformed His Wardrobe From Average Teenager to Risk-Taking Solo Artist
See What's Trending in W Video:
Taylor Swift, Harry Styles, and More Love Wearing Glitter Shoes
Katy Perry arrived at Nickelodeon's 23rd annual Kid's Choice Awards in a pair of sparkly wedges that matchd her dress.

Getty Images
Paris Hilton attended 2006 American Music Awards in a ladylike pair of Mary Janes.

Getty Images
Selena Gomez supported then-boyfriend Justin Bieber at the premiere of his film Justin Bieber: Never Say Never in towering stilettos.

Getty Images
Hailee Steinfeld jazzed up an otherwise plain ensemble with a pair of silver pumps.

Getty Images
A fresh-faced Elle Fanning attended the 2011 Children of Chernobyl's Children at Heart Gala in a sweet pink dress and matching heels.

Getty Images
Before she was an Academy Award winner, Emma Stone stopped by the 2011 National Board of Review Awards Gala in sparkly peep-toes.

Getty Images
In the midst of her Red world tour, Taylor Swift performed at JingleBall in silver oxfords.

Getty Images
Nicki Minaj wore a relatively toned down look, in a white mini-dress and towering platforms.

Getty Images
Harry Styles, center, stood out during One Direction's Saturday Night Live Performance in Saint Laurent boots.

NBC
Hanne Gaby Odiele spiced up a classic LBD with hot pink, square-toed boots.

Getty Images
Blake Lively stepped out in New York City in a pair of iridescent pink boots.

Getty Images
Sarah Jessica Parker matched her cobalt blue dress with a pair of shoes by her own design.

Getty Images
Gigi Hadid dressed up denim earlier this year in a pair of gold Saint Laurent boots.

Getty Images
Rihanna nabbed a pair of Saint Laurent Fall 2017 slouch boots straight off the runway.

Courtesy Saint Laurent