Zayn Malik Taps Bella Hadid, His Girlfriend's Sister, to Star in His Versus Versace Campaign
Zayn Malik and Gigi Hadid have fully welcomed Versace into their relationship, as evidenced by Malik's new family-friendly Versus campaign.
---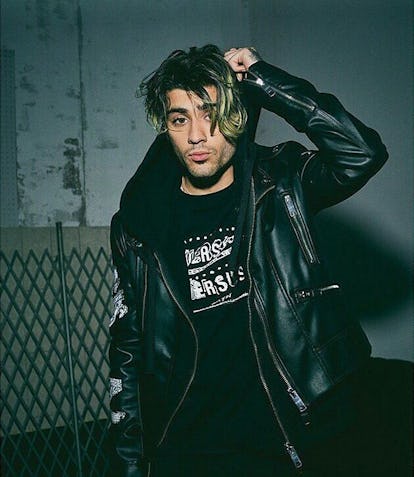 Versus Versace
Zayn Malik does not want you to think of him and Gigi Hadid as a "power couple," as he told the Evening Standard on Monday—never mind that there's really no other way to describe the pair. Among their extracurriculars are stepping in front of and behind the camera for one of fashion's biggest houses—like when Hadid shot Malik in a campaign for Versus Versace, along with the model Adwoa Aboah, earlier this year.
That may be par for the course for supermodels these days—Kendall Jenner has also recently photographed Kaia Gerber, Cindy Crawford's look-alike teen daughter, for Love magazine—but this week, Malik has proved himself at the top of the supermodel dynasty with a new Versus campaign starring himself and Gigi's sister, Bella, modeling some of the 10 mens and womenswear looks he designed for his new capsule collection, which consists of mostly Zayn-stamped bras and nylon track pants, as well as an on-trend fanny pack.
It's safe to say, then, that Malik has come a long way from even just last year, when Donatella Versace did not mince words in telling the New York Times that she "was not exactly a fan of that band," as in One Direction, when they first met via Gigi's introduction. Thanks to the fact that he treated Gigi "like a gentleman," though, Versace came around to deciding that together they made for some "very nice young people"—and even offered Malik a spot as a creative director, which he quickly accepted. ("He's smart to do it with me," Versace added.)
Malik, for his part, told the Standard that he's "wanted to do something in fashion for a while, even if it was just to bring out a couple of T-shirts," though he ended up working with Donatella specifically because "You can't f— with Versace." Plus, he was guaranteed some insider help along the way: "She's very good, and she definitely assisted me," he said of contributions from Gigi, who's not only something of a pet of Donatella's, but also has her own collection with Tommy Hilfiger.
As it turns out, though, the pair doesn't really talk about all "that s—." Instead, they spend time as a "normal couple," watching TV, laughing, cooking food, and cooking pies in particular; Malik took care to boast that he can "cook a mean chicken and sweetcorn pie, with Alfredo sauce," complete with his own rolled out pastry. Let's hope he's also a pro at making burgers, given Gigi's addiction and Bella's preferred method of celebrating.
Bella Hadid Is a Lady In Waiting in Haute Couture
Fendi Haute Fourrure coat and boots; Philip Treacy London veil.

Photographs by Venetia Scott, Styled by Edward Enninful
Giambattista Valli Haute Couture dress and boots; Buccellati bracelet. Beauty note: Dreams are within reach thanks to Essie Gel Couture nail polish in Sheer Fantasy.

Photographs by Venetia Scott, Styled by Edward Enninful
Valentino Haute Couture cape dress and bodysuit; Chopard rings.

Photographs by Venetia Scott, Styled by Edward Enninful
Photographs by Venetia Scott, Styled by Edward Enninful
Armani Privé coat; Tiffany & Co. necklace.

Photographs by Venetia Scott, Styled by Edward Enninful
Photographs by Venetia Scott, Styled by Edward Enninful
Maison Margiela Artisanal Designed by John Galliano dress.

Photographs by Venetia Scott, Styled by Edward Enninful
Photographs by Venetia Scott, Styled by Edward Enninful
Maison Francesco Scognamiglio dress.

Photographs by Venetia Scott, Styled by Edward Enninful
Atelier Versace coat and dress; De Beers necklace.

Photographs by Venetia Scott, Styled by Edward Enninful
Givenchy Haute Couture by Riccardo Tisci bodysuit; Messika Paris cuff; Roger Vivier sandals.

Hair by Odile Gilbert at Exposure NY; makeup by Stéphane Marais for Dior at L'Atelier NYC; manicure by Julia Villanova at ArtList. Model: Bella Hadid at IMG Models.

Produced by Michael Lacomblez at Louis2; lighting director: Ryan O'Toole; photographer's assistant: Josie Hall; lighting assistant: Callum Toy; fashion assistants: Ryann Foulke, Dena Giannini, Rasaan Wyzard, Suzanna Spertsyan; hair assistants: Fanny Fraslin, Sadek Lardjane; printing: Daren Catlin at Bayeux; retouching: Hempstead May.

Photographs by Venetia Scott, Styled by Edward Enninful
Related: Gigi Hadid and Bella Hadid Protest Donald Trump's Anti-Immigration Policies in New York
Gigi Hadid Reveals the Secret to Her Signature Runway Walk: