Zayn Malik's Versus Versace Capsule Collection Finally Has a Release Date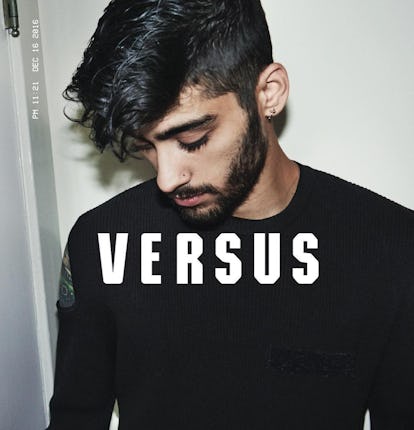 zayn/Instagram
Zayn Malik was first announced as a collaborator with Versus Versace in October, but there was no release date for the collection—until now. Today, the singer-turned-designer took to Instagram to share that the collaboration will finally drop on June 19.
Malik even posted a short video clip that gives a sneak peek into what we can expect in just a few short weeks. From the video, there appears to be a range of pieces, from jeans to crop tops, hoodies, and chunky heels alike. Most items seem to be graphically branded and keep to the black-white-red color range.
Though his caption was cryptic, it had all the information we needed to know: "19.09 #zaynxversus." Notice received, calendars marked.
The singer and his girlfriend, model Gigi Hadid, are huge fans of the brand. It was Hadid who officially introduced Malik to designer Donatella Versace. In an interview with The New York Times, Versace remembered that the first time she met the singer, she "was not exactly a fan of that band [One Direction]. But then I met him again when he started to date Gigi, who I work with all the time. And he impressed me very much—he was so mature, so thoughtful, treated her like such a gentleman. They are very nice young people, a lovely couple, in fact. And then he told me how much he loved fashion. It was then I knew he was the right face for what I had in mind." What's more, Hadid photographed Malik for the Versus Versace spring 2017 ad campaign that debuted a few months ago.
Although Malik has been involved with the brand for the past few months, this will be his first time stepping into the role of designer. While we wait for the full collection to be revealed on June 19, fingers are crossed for more hints like this one.
Now, if we can only get that inevitable Harry Styles x Gucci capsule.
Related: Zayn Malik Teases Versus Versace Capsule Release Date on Instagram
Gigi, Bella, and More Models of the Moment Hit the Versus Versace Runway in Donatella-Approved Party Gear
A scene from Backstage at Versus Versace Fall 2017 show

Photo by Asia Werbel
A scene from Backstage at Versus Versace Fall 2017 show

Photo by Asia Werbel
A scene from Backstage at Versus Versace Fall 2017 show

Photo by Asia Werbel
A scene from Backstage at Versus Versace Fall 2017 show

Photo by Asia Werbel
A scene from Backstage at Versus Versace Fall 2017 show

Photo by Asia Werbel
A scene from Backstage at Versus Versace Fall 2017 show

Photo by Asia Werbel
A scene from Backstage at Versus Versace Fall 2017 show

Photo by Asia Werbel
A scene from Backstage at Versus Versace Fall 2017 show

Photo by Asia Werbel
A scene from Backstage at Versus Versace Fall 2017 show

Photo by Asia Werbel
A scene from Backstage at Versus Versace Fall 2017 show

Photo by Asia Werbel
A scene from Backstage at Versus Versace Fall 2017 show

Photo by Asia Werbel
A scene from Backstage at Versus Versace Fall 2017 show

Photo by Asia Werbel
A scene from Backstage at Versus Versace Fall 2017 show

Photo by Asia Werbel
A scene from Backstage at Versus Versace Fall 2017 show

Photo by Asia Werbel
A scene from Backstage at Versus Versace Fall 2017 show

Photo by Asia Werbel
A scene from Backstage at Versus Versace Fall 2017 show

Photo by Asia Werbel
A scene from Backstage at Versus Versace Fall 2017 show

Photo by Asia Werbel
A scene from Backstage at Versus Versace Fall 2017 show

Photo by Asia Werbel
A scene from Backstage at Versus Versace Fall 2017 show

Photo by Asia Werbel
A scene from Backstage at Versus Versace Fall 2017 show

Photo by Asia Werbel
A scene from Backstage at Versus Versace Fall 2017 show

Photo by Asia Werbel
A scene from Backstage at Versus Versace Fall 2017 show

Photo by Asia Werbel
A scene from Backstage at Versus Versace Fall 2017 show

Photo by Asia Werbel
A scene from Backstage at Versus Versace Fall 2017 show

Photo by Asia Werbel
A scene from Backstage at Versus Versace Fall 2017 show

Photo by Asia Werbel
A scene from Backstage at Versus Versace Fall 2017 show

Photo by Asia Werbel
A scene from Backstage at Versus Versace Fall 2017 show

Photo by Asia Werbel
A scene from Backstage at Versus Versace Fall 2017 show

Photo by Asia Werbel
A scene from Backstage at Versus Versace Fall 2017 show

Photo by Asia Werbel
A scene from Backstage at Versus Versace Fall 2017 show

Photo by Asia Werbel
Gigi Hadid Had a Kobe Bryant Cake at Her Best Birthday Party Ever: