Real Talk With Model Activist Adwoa Aboah
The Calvin Klein face is empowering young women through her Instagram account and forthcoming website Gurl Talk.
---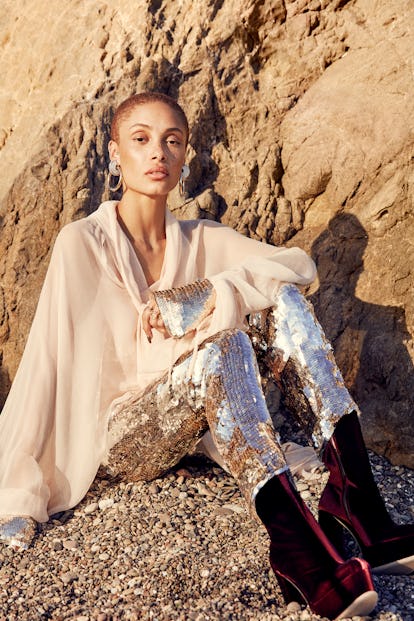 Photographer: Olivia Malone Stylist: Deborah Afshani Stylist: Sam Milner
Social media has plenty of downsides—bullying and unrealistic depictions of the female form are just a couple that come to mind. But it an also be a tool for change. Under her Instagram handle Gurls Talk, the 23-year old model Adwoa Aboah is empowering young women and broaching topics like the gender pay gap, reproductive health, and even masturbation. And her feed is just the start. This year, Aboah, the daughter of Camilla Lowther, founder of the talent agency CLM, plans to launch a site of the same name where the model will post essays by a range of personalities, covering issues of mental health, beauty, addiction, and cultural appropriation.
The idea for Gurls Talk came in 2014 after the London native emerged from a stint in rehab for drugs, alcohol, and depression with the realization that not all girls have the resources to get help. Now based in Los Angeles, the Ghanian-American-English beauty continues to model, most recently walking for DKNY, Fendi, and Marc Jacobs and starring in a Calvin Klein campaign, all to support of her social activist endeavors.
What was the impetus for Gurls Talk, and what are your plans for its future? I bought the domain name quite a while ago. I got sober in 2014, and through my recovery, and being in and out of hospitals, it was kind of this realization that I had quite a lot of responsibility to give back because I had been helped by all sorts of women throughout my journey. And there were very clear tools I had been given along the way, about opening up, sharing stories, giving back, and being honest. There was this newfound realization that I'd never been taught any of these things at school. The concentration is only on the academic side of things. And I wasn't academic at all. I just really believe there has to be a middle ground between dealing with emotions and educating on mental health and addiction and eating disorders, as well as teaching kids how to do their times tables. So I think that's where it started.
On the Gurls Talk Instagram feed, you post images that cover everything from feminist icons to female reproductive health. How will you build on that? The long-term plan is that I want it to be part of schools, to be part of the curriculum—an hour or half an hour out of one day where these girls have someone come in and workshop and mentor [them] on self body image; and to also bring in women from other walks of life. But I don't want it to seem like I'm bringing in someone or putting someone on my website who's just lecturing at these girls, telling them who to be and what to wear and what's appropriate. It's about opening up a conversation and getting people from opposing sides. So [if] I want to do something on cultural appropriation, and I'm still in the middle on where I stand on that, it's not about pointing the finger. When I put up a [Instagram] post about the Kardashians, I thought long and hard about it because it's not about me going, "They're in the wrong. They shouldn't be doing that."
A lot of the girls [I shot for a series of videos] talked about beauty and all these things that are not in schools anymore. So it's really interesting for me to hear what's going on, and also to hear about things from when I was in school that are still going on. When I went back on Instagram [after being off the Internet while in rehab] I started putting out, in my opinion, good content. I started thinking carefully about what I was going to put out there. And taking into consideration that I might have girls of 13 and up following me, and maybe looking up to me and looking to me maybe as a role model. I started finding people who were inspiring me, an artist or an activist or an 18 year-old girl who lives in Canada who speaks about her sexuality, what happened to her when she was younger—this openness. And I think there was part of me when I first got sober that was so against social media; it was really interesting to talk to all the girls I've been meeting through it. I'm building up this amazing team of women, which is what it's all about. Instead of fighting it, you may as well use it in a good way.
How did you get into modeling as a teenager and in what ways did that affect your beauty ideals? I started modeling for independence. The idea that I could be financially independent from my parents was just the most amazing thing, and still is. I'm so entirely grateful that I can fund Gurls Talk and get to do all these amazing things through modeling. I went to private school; I've been given so much and my parents always look after me. But there has been just an amazing dynamic in my family—it's the same with my sister—because of that. All of us being kind of able to do our own thing, and make our own choices because we make our own money. But beauty? I think I never really realized until I started kind of sorting my life out, getting sober and dealing with my mental health issues, that I didn't realize how detrimental modeling had been to the ways in which I looked at myself. I definitely grew a second skin and protected myself and learned how deal with rejection, but I think after a while, when you're being judged against everyone else and you're continuously judging yourself against everyone else, it definitely started to break me down, for sure.
And I also think it was the same as what all these girls said [in my videos of them], the word "beauty" is such a gray area. It's changing. The most amazing thing for me is when I open up a magazine and I see someone I could be friends with and looks, maybe, slightly like me. And I think that's the same with young girls. Because there needs to be diversity. In private school I definitely judged myself against the lighter-skinned girls. I wanted to have different hair. I wanted to fit in I thought that was more beautiful. But I think that's changing completely; there are so many girls who are being themselves. Self-love and everything that comes with feeling beautiful within and without, whatever you want to call it, is definitely something I continuously fight for. It's not easy for me because I think I'm just drawn to putting quite a lot of pressure on myself. I'm lucky—I'm older and I've done a lot of work on myself. But for other girls it must be really difficult. Because it is such a strange world, the fashion industry.
It is. How did growing up surrounded by the fashion world shape your worldview? Because I would be around so many people in the fashion industry, there's this kind of dialogue. People would always say, "Oh your daughter is so beautiful. Is she a model?" And it was so strange for me to hear because I felt so not beautiful inside. I felt so uncomfortable and I was so shy until I started really experimenting with drugs and alcohol. Until I was about 14, I was so shy … so it's always slightly kind of overwhelming. And I heard things and saw things, the magazines and the people and the parties and the fashion shows. And it was slightly confusing … I think there's always been a lot of talk about the diversity of the modeling industry, or the weight issues in the modeling and fashion industry. People want you to do something about it, but then you also see it from the inside and you see it's not really changing.
To my friends at that time and the people at my school, I lived such a different life. I think I always wanted slightly a more normal one with parents who weren't going to New York for fashion week, who were around to go on sports trips and stuff like that. I remember I had this therapist who, when I would try to explain to her the ways in which my parents or friends would talk, couldn't understand because she didn't know that world at all. It's such a weird and wonderful world [fashion], and I'm so grateful to be part of it, but I do think it was slightly confusing at the time.
How are you approaching modeling now, and how has your experience changed compared to when you were a teenager? There's this new sense of confidence I have, I suppose. So if I don't get that job that I really wanted, I don't dwell in it like I used to. When I go into a room and I meet so-and-so photographer or this casting director, I just feel more confident. So I say if they don't want me, it's fine. I don't really want them. I just don't really care. It's kind of like not caring and caring all at the same time.
You care about it if it makes sense, but you don't care if it doesn't work out. Yeah, because for anyone who's been in those dark places and you never feel like you're going to get out of it, those small things don't really matter anymore. It's all about looking at the bigger picture. I know modeling isn't forever, but someone said to me the other day, "I looked at your photos and your eyes looked different." And I thought, "What do you mean?" And they were like, "You look different in photos." And that's probably true. I just feel a lot stronger now. And I'm just going to take it while it's here, and I know that I can use the connections and the finances for a bigger thing, which is Gurls Talk.
Beyond the financial support to Gurls Talk, do you feel like your continuing to model is helping to support the content side as well, with respect to beauty and diversity? It always takes someone to tell me for me to look at it like that. So you know when the [December 2015] Italian Vogue cover came out, and the amazing emails and messages I got from some of the girls that wrote to me through Gurls Talk about how inspirational and iconic that was for them, I didn't look at it like that. I was so excited that I'd gotten an Italian Vogue cover and that it was my big break, I suppose. But it was important to them.
Have you noticed a big change in the industry itself now versus when you were 16 in terms of diversity? I think there's definitely been a change because you're seeing girls who are being themselves. I think that was the thing with the Italian Vogue cover. People were like, "It looks like you, like you're just being you." And I love that. Obviously, [with] fashion, the beauty of it is the extravagant and the unrealistic, but there is a lovely side of it happening, I think, where girls are being shot as they are and photographers aren't spending vast amounts of money photoshopping. But I'd like to see more diverse women on covers. I think maybe that's going to take some time, but the conversation needs to keep on going. People need to keep on talking about it. When the shows happen and suddenly you go on social media, or I talk to people I know and they're like, "Why were there no black girls in this show? Why were there none in this show?" There are definitely changes that need to keep on happening.
Photos: Real Talk With Model Activist Adwoa Aboah
Adwoa Aboah wears Chloé top and pants; Chanel earrings; Rosa de la Cruz London ring (middle finger, throughout); Miu Miu boots; all other rings, her own (throughout).

Photographer: Olivia Malone Stylist: Deborah Afshani Stylist: Sam Milner
Altuzarra top and skirt; Erickson Beamon earrings.
Hair By Maranda for Kerastase at The Wall Group; Makeup by Kali Kennedy for Dior at Art Department; Manicure by Whitney Gibson for Formula X at Nailing Hollywood; digital technician: Dustin Edwards; photography assistant: Brook Keegan; fashion assistant: Kirsten Layne Alvarez.
Roberto Cavalli blazer; 3.1 Phillip Lim dress; Proenza Schouler bag; Maria La Rosa socks; Jimmy Choo shoes; her own bracelets (throughout).

Photographer: Olivia Malone Stylist: Deborah Afshani Stylist: Sam Milner
Aboah with her boyfriend, the photographer Tyrone Lebon, in the California desert, 2015.
Courtesy of Aboah
Adwoa Aboah and Cara Delevingne in "Ladies of London" photographed by Alasdair McLellan, styled by Jane How; W magazine October 2014.
Hair By Maranda for Kerastase at The Wall Group; Makeup by Kali Kennedy for Dior at Art Department; Manicure by Whitney Gibson for Formula X at Nailing Hollywood; digital technician: Dustin Edwards; photography assistant: Brook Keegan; fashion assistant: Kirsten Layne Alvarez.