Victoria's Secret Fashion Show 2017 Sets Harry Styles, Miguel, and More as Performers
We guarantee you will recognize at least one of these people.
---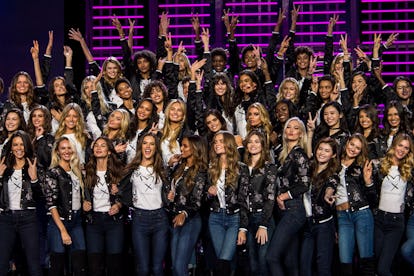 Photo credit should read CHANDAN KHANNA/AFP/Getty Images
After weeks of speculation (and a few days of drama), the Victoria's Secret Fashion Show in Shanghai has finally confirmed its musical guests: Harry Styles, Leslie Odom, Jr, Miguel and Jane Zhang. Turns out at least one-third of those rumors that Harry Styles, Katy Perry and Taylor Swift would all perform proved to be correct. Let's break it down!
Harry Styles: you know who Harry Styles is! The former One Direction member, star of Dunkirk and ex-paramour of many a Victoria's Secret catwalker (Kendall, Taylor…) was rumored to be in the running for the headlining spot after the positive reception to his first solo album. Fans have already demanded that he wear wings.
Leslie Odom, Jr: he won a Tony for his role as Aaron Burr in the smash-hit musical Hamilton and has since then released two albums (a Jazz record and a collection of Christmas songs). You might also recognize him from Nationwide commercials. He's great.
Miguel: a Grammy-winning singer-songwriter who incorporates a range of styles into his music. His soulful, bedroom-playlist worthy are also particularly apt for a lingerie fashion show. Surely you've heard "Adorn" by now.
Jane Zhang: After winning third place on a Chinese TV singing competition, Zhang has gone on to national pop stardom and gained notoriety for singing in something called the "whistle register." No idea what that is but maybe we'll find out at the show?
"We are incredibly thrilled to have [these performers] with us," Ed Razek, executive producer of the Victoria's Secret Fashion Show told People.
For those keeping tabs, this means that the four performers mentioned have all been cleared by the Chinese government (although Zhang, being a resident of China, presumably had no problem getting around the country). A handful of models, plus would-be performer Katy Perry, were recently denied entry because of social media posts that could be construed in ways the Chinese government doesn't like. And for unknown reasons, model Gigi Hadid (girlfriend of Zayn Malik, another former One Direction member) won't be there, either.
But who cares! Harry Styles is performing!
Related: Gigi Hadid and Zayn Malik Celebrated Their Two-Year Anniversary With a PDA-Filled Instagram
All the Victoria's Secret Angels Are Working Out and Sightseeing in Shanghai
Lais Ribeiro and Pharrell Williams pose together in Shanghai, China, a few days before the annual Victoria's Secret Fashion Show, November 2017.

@laisribeiro
Maria Borges snaps a selfie immediately after arriving in Shanghai, China, for the Victoria's Secret Fashion Show, November 2017.

@iammariaborges
Lais Ribeiro tries on the $2 million "fantasy bra" in Shanghai, China, just days before the big show, November 2017.

@laisribeiro
On her first night in Shanghai, China, before the Victoria's Secret Fashion Show, Gizele Oliveira, naturally, wore her Victoria's Secret pajamas.

@giizeleoliveira
Frida Aasen also opted for Victoria's Secret pajamas in Shanghai, China, November 2017.

Frida Aasen / Instagram
Maria Borges wakes up with a cup of coffee in Shanghai, China, November 2017.

@iammariaborges
Gizele Oliveira in Shanghai, China, before the Victoria's Secret Fashion Show, November 2017.

@giizeleoliveira
Gizele Oliveira fits in a late workout ahead of the Victoria's Secret Fashion Show after landing in Shanghai, China, November 2017.

@giizeleoliveira
Kelly Gale touches down in Shanghai, China, a few days before the Victoria's Secret Fashion Show, November 2017.

@kellybellyboom
Lais Ribeiro and her family take in a traditional tea ceremony in Shanghai, China, as part of their time exploring the city in advance of the Victoria's Secret Fashion Show, November 2017.

@laisribeiro
Josephine Skriver emerges from her final fitting for the Victoria's Secret Fashion Show in Shanghai, China, November 2017.

@josephineskriver
Estelle Chen, the Chinese-French Victoria's Secret rookie, is returning to China with her mother, who will also attend the Victoria's Secret Fashion Show, November 2017.

Estelle Chen / Instagram
Alessandra Ambrosio gets a last-minute workout in ahead of the Victoria's Secret Fashion Show in Shanghai, China, November 2017.

@alessandraambrosio
Bella Hadid poses with the rest of the Victoria's Secret Shanghai models at the Mercedes-Benz Arena, November 2017.

@bellahadid
Models Ming Xi and He Sui in Shanghai, China, November 2017.

@mingxi11
Josephine Skriver explores Shanghai, China, before the annual Victoria's Secret Fashion Show, November 2017.

@josephineskriver
Josephine Skriver and Adriana Lima, in matching Victoria's Secret uniforms, take the bus while sightseeing in Shanghai, China, November 2017.

@josephineskriver
Maria Borges, doubled, poses in her Victoria's Secret Shanghai t-shirt in Shanghai, China, November 2017.

@iammariaborges