Gigi Hadid and Zayn Malik Celebrated Their Two-Year Anniversary With a PDA-Filled Instagram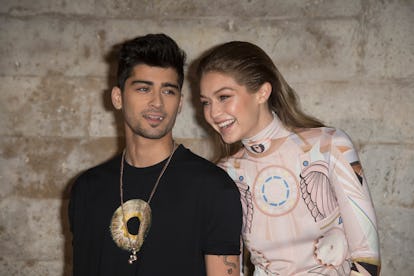 Getty Images
In the past two years, a lot has happened in pop culture: Donald Trump was elected president, Rihanna became a makeup mogul, and multiple new Kardashians have been conceived and born; and, of course, one of the greatest love stories of our time began: the couple affectionately referred to as Zigi.
Gigi Hadid and Zayn Malik started dating in November 2015. The supermodel and former member of One Direction's romance began with missed meetings at parties and the Victoria's Secret Fashion Show. But once they did finally meet, Hadid said, they bonded over viral videos like every other millennial couple.
So how does one of the world's most famous couples celebrate two years of young love? On social media, of course. Hadid posted a video of the two kissing during their intimate date night on her Instagram with the caption "2 years with my favorite human." Save for a cocktail with a strawberry garnish and a chandelier in the background, there are no other clues about their celebrations, but it's quite possible that they simply stayed home. Malik has been noticeably absent from the public eye in recent months, choosing to live on a "working farm" in rural Pennsylvania where he "take[s] the horses out and feed[s] the cows and that kind of stuff."
For her part, Hadid has been out in full force, promoting her makeup collaboration with Maybelline, hitting the town with her sister, Bella, and shutting down Islamophobia on the Internet. Next up, Hadid will soon depart for Shanghai, where this year's Victoria's Secret Fashion Show will tape.
Now while two years might not be that long in the grand scheme of things, for a Hollywood couple—and a young one, at that—it is practically eons. And in a year that we've lost some of our most beloved celebrity couples, it is nice to see that one is still going strong.
Related: Supermodel Gigi Hadid Has the Perfect Off-Duty Style in Her Genes
Watch Gigi Hadid dramatically read "Popular":