Gigi Hadid and Zayn Malik Fell In Love Over Viral Videos, as Millennials Do
Apparently, Gigi Hadid and Zayn Malik fell in love thanks to their shared love of the "Apparently Kid."
---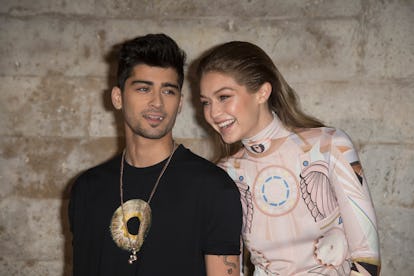 Getty Images
Gigi Hadid and Zayn Malik may be one of the world's most famous couples, but how exactly does one of the world's busiest and buzziest models and an in-demand international pop star get together? Well, on one hand, the story is exactly as flashy and fascinating as one would expect. It involves missed connections at fashion shows and after parties. On the other hand, it's totally mundane and completely millennial. When they did finally start seeing each other they bonded over their shared love of viral videos.
Stars! They're just like every other twentysomething couple.
Hadid revealed the meet-cute tale during her first appearance on Ellen DeGeneres' talk show (which, as she says, was one of her three big goals in life alongside appearing on the cover of Vogue and on The Food Network).
"We actually met at a friend's birthday party a few years ago and then he was in New York to come to the Victoria's Secret show last year, I think, and ended up not coming," Hadid said. "I was like I'll play it cool. I'll go to the after party…he wasn't there."
The pair did eventually end up going on an official date, and DeGeneres asked how long they "played it cool" once they had some one-on-one time.
"We played it cool for like ten minutes and then I was like, 'You're really cute,'" Gigi recalled. "We connected like really quickly. We have kind of the same sense of humor and started sharing videos."
The vital video that really did it for the couple was one of Noah Ritter, perhaps better known as "The Apparently Kid." He's the Wilkes-Barre, Pennsylvania tyke who achieved notoriety for his appearance on a local news segment.
Apparently, aside from trotting the globes for photo shoots and fashion shows and concert tours and indulging in extracurriculars like designing high-end shoe lines, the pair is just like every single other young couple. Though, because they are world-famous, they do get the perks of having Noah Ritter himself record a special message for them. Ellen has all sorts of connections.
Elsewhere in the interview, Hadid talked about her twenty appearances on covers of international Vogue, and DeGeneres wondered if Hadid one day hopes to break Lauren Hutton's record of 26 appearances. Though, because fact checking is the latest media fad, we should point out that Hutton's record is just for American Vogue covers. Hadid still has a way to go to break the international record. Kate Moss has over 300 and counting covers across the globe, but, hey, Moss doesn't have a personal message from the Apparently Kid.
Gigi Hadid made her runway debut at the Desigual fashion show during Mercedes-Benz Fashion Week Fall 2014.
Photo by Getty Images.
By the following season she was walking the runway for Marc Jacobs, although she was almost unrecognizable in a black wig with short bangs.
Photo by Getty Images.
For the Jean Paul Gaultier Spring 2015 show during Paris Fashion Week, Gigi's blonde hair was given a very big blowout.
Photo by Getty Images.
That same season, Gigi also made her debut on the Chanel runway wearing shiny gold tights and shoes.
Photo by Getty Images.
For Fall 2015, it was back to (very unusual) black wigs for Jeremy Scott's New York show.
At Milan Fashion Week Fall 2015, Gigi stole the show in a Max Mara camel coat and nothing else.
Gigi was on a roll in Milan, closing the Moschino show in a ball gown covered in graffiti.
Photo by Getty Images.
She also showed off her more seductive side in a tight Emilio Pucci leopard dress and black choker.
Photo by Getty Images.
And finally joined the flock of supermodels at Dolce & Gabbana.
Photo by Getty Images.
In Paris, she walked for Balmain, solidifying her serious runway presence.
Photo by Getty Images.
Watch Gigi Hadid talk about the one celebrity that still leaves her starstruck: