Gigi Hadid Slams Islamophobe on Twitter
"You're a f**king moron."
---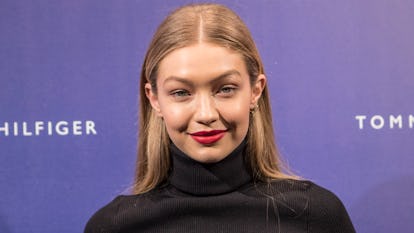 Xavi Torrent/WireImage/Getty Images
There's a new crusader against the alt-right movement on social media, and her name is Gigi Hadid.
The model — who maintains an active presence on Twitter, but mostly shies away from general political talk — took a firm stance on Wednesday afternoon by fighting back against comments made by alt-right "political activist" and online attention seeker Laura Loomer. In the aftermath of the tragic terrorist attack that befell New York City on Tuesday, Loomer took to Twitter to vent her disgust that two women were openly wearing hijabs on a street nearby to where the attacks occurred. (The attacker has been confirmed to be Muslim.) "Muslims are out in full force at the scene of the NYC #ISIS attack today rubbing it in everyone's face. Aimlessly walking around in hijabs," Loomer wrote. "You'd think they'd have the decency to not walk around in hijabs @ cross street of the attack. But they don't. I bet they're loving this." Not even an hour later, Hadid sharply responded to the tweet for all of her followers to see: "Laura, I hate to give you the attention, but I need to tell you- You're a f**king moron."
Hadid has slowly become more vocal about her political views over the past year. In January when she protested President Trump's anti-immigrant policies. (Her sister, Bella, joined her for the march in New York City, and they both sported "Love Trumps Hate" pins.) She even rocked a glamorous hijab on the inaugural print cover of Vogue Arabia in March while discussing her religion. "Being half-Palestinian, it means the world to me to be on the first-ever cover(s) of @voguearabia," she wrote at the time, "and I hope that this magazine will show another layer of the fashion industry's desire to continue to accept, celebrate, and incorporate all people & customs and make everyone feel like they have fashion images and moments they can relate to & learn and grow in doing so."
Keep fighting the good fight, Gigi!