Celebrities Support New York City Following Attack: "You Are Strong …Nothing Will Ever Bring You Down!"
"You Are Strong ...Nothing Will Ever Bring You Down!"
---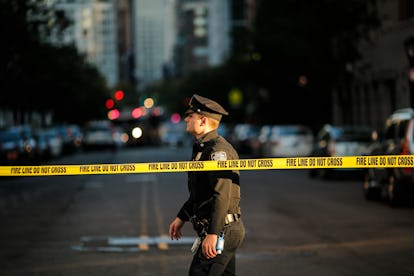 Kena Betancur/Getty Images
Today, New York City was hit by an attack that left at least eight people dead — six at the scene — and at least 11 injured after a rental Home Depot truck plowed into civilians in a bike lane in lower Manhattan near the World Trade Center, as CNN reports. Shortly after, Mayor Bill de Blasio issued a statement, saying, "This was an act of terror, and a particularly cowardly act of terror aimed at innocent civilians. We know that this action was intended to break our spirit. But we also know New Yorkers are strong. New Yorkers are resilient and our spirit will never be moved by an act of violence and an act meant to intimidate us." It didn't take long after news spread of New York City's deadliest terrorist attack since 9/11, according to Buzzfeed, for celebrities to offer words of support. Everyone from Taylor Swift to Jared Leto took to social media to do so.
"I love you New York," the pop singer and former ambassador of the city wrote on Instagram stories, along with a broken heart emoji.
"Sending love to NYC on this tragic + heartbreaking day," tweeted Jared Leto.
Patricia Arquette focused on the families who lost loved ones in the terrorist attack. "This is a terrible day," she tweeted. "Families will be mourning their loved ones tonight. This is an action is the worst of mankind. #NYC"
Josh Groban, on the other hand, tweeted from not far away from the attack, where he heard residual gun shots — perhaps the bullet shot by an NYPD police officer that pieced the abdomen of the suspect. "Oh my god I just heard gun shots and ran with my dog. Downtown," he tweeted. "I hope everyone's ok. Was half a block from me, didn't see it but heard 8-10 quick rounds fired off. Be safe with your kids out there. I'm shaking. That's the corner I was supposed to have my coffee but my dog pulled me into the park half a block away 10 min before shooting. Devastated for the victims and their families tonight & inspired by the spirit of this city. Sirens and trick or treaters everywhere. ??"
See other reactions to the tragedy from celebrities below.
[#Twitter: https://twitter.com/billyeichner/status/925465970386255872]
[#Twitter: https://twitter.com/HillaryClinton/status/925515496576962562]
Meanwhile, New York residents Donald Trump and his wife Melania Trump were quick to respond on their own Twitter accounts — much faster than they addressed Hurricane Maria's disastrous effect on Puerto Rico. "In NYC, looks like another attack by a very sick and deranged person. Law enforcement is following this closely. NOT IN THE U.S.A.!," Trump tweeted.
"My heart breaks for #NYC today. Thoughts & prayers as we monitor the situation," Melania Trump tweeted.
See What's Trending in W Video: