Fashion Insider: Alessandro Dell'Acqua
Alessandro Dell'Acqua talks lingerie, maximalism, and his new gig at Brioni.
---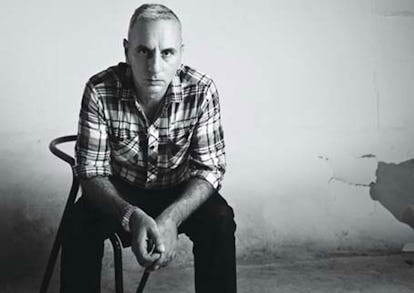 Alessandro Dell'Acqua has been a devoted friend to women since he first took scissors to nude chiffon and launched an eponymous line in 1996. His pursuit of pure and simple prettiness has remained unaltered throughout the many freelance gigs he's held—from La Perla and Borbonese to Malo and Iceberg. The Naples-born, Milan-based designer is now re-emerging after opening his own label, No. 21 (think pared-down but sexy classics), and landing at Brioni, where he is breathing fresh air into the brand's women's wear collection.
Do you feel schizophrenic working for both Brioni and No. 21? I'm mentally well organized, so it's easy to go from Brioni's verybourgeois Italian woman to my customer, who is younger and sexier. It also helps that Brioni orders fabrics that cost 120 euros per meter. I would not—actually, could not—do that for my own line.
What's the secret to keeping a freelance gig? Over the past 25 years, I've worked for nearly everyone in Italy. You need to be trusted by the company and have carte blanche. A halfway job just doesn't work.
Why did you say yes to Brioni? It's been a love story between us from the start. They were enthusiastic about finding new cuts and fabrics, and I am super excited to take a more traditional approach.
What have you learned? I have seen things I haven't seen since being at Genny and Versace two decades ago: people working by hand, every detail labored over, sartorial collars and buttonholes. No one works like that anymore.
What is the most overhyped trend in fashion? Vulgar maximalism.
Are you a believer in the new minimalism cult? Yes and no. I find some details interesting, but I haven't seen a true road for minimalism. It's cleaned up but missing the concept.
Is it time to retire lingerie and sheer clothes? A little bit, yes. It sort of bores me now. But if I don't do it, my clients complain. The trick is to force myself to make it new.
Your fashion hero? The only woman who says anything new is Miuccia Prada. She stimulates all of us designers to risk and create.
What style e-mail would you send to women around the world? Return to elegance, please! It's been way too long. And I don't want to see anyone looking up to TV or show-business women. I'm sick of them.
Footer: Dell&Rsquo;Acqua: Oskar Cecere; Runway: Fairchild Archive