Alessandro Dell'Acqua: A Man For All Seasons
Five years after losing his namesake label, the designer has a new gig at Rochas and a line of his own.
---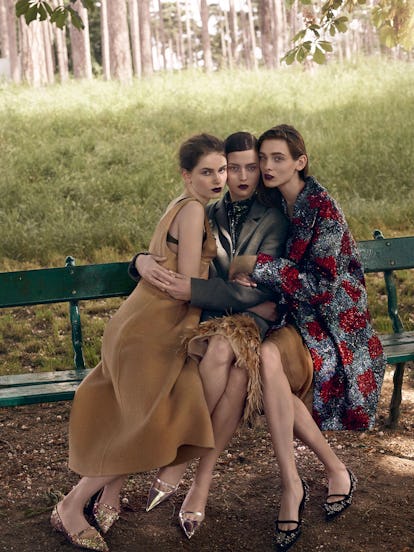 "Courageous" is how fashion folk ____ describe a designer who slashes hemlines or adds a few bondage straps. But Alessandro Dell'Acqua showed old-school courage five years ago, when he risked his career to defend creative autonomy, walked away from his eponymous label, and, at age 46, started over from zero. "There was a moment when every door was closed in my face," recalls the Naples-born designer, whose clothes have been worn by style icons as varied as Anna Dello Russo and Michael Jackson. Dell'Acqua is a film fanatic whose tastes range from Italian neorealism to Hollywood dramas, and there is a touch of cinematic justice in his recent return to the scene. Not only has No. 21—the label he started four years ago—won accolades and sprouted a men's line, but Dell'Acqua also saw a lifelong dream fulfilled when he was named creative director of Rochas last year.
"For me, it's like a coronation. It has given me a whole new way of living, a lot of motivation and energy, as if I were 20 again," says Dell'Acqua, whose slight figure and sculptural Neapolitan face give him a boyish look despite his silver-streaked hair. It's a wet spring afternoon in Milan, and the soft-spoken designer, just back from a hectic week of work travel around Italy, looks surprisingly relaxed as he pauses to have a coffee in his Città Studi showroom. Behind him are racks displaying pieces from the two labels. It's quite a contrast: sumptuous, architectural, slightly decadent, very French Rochas; and young, sexy, streetwise, consummately Italian No. 21. "When I am working for No. 21, I only think of 21. When I am creating a collection for Rochas, No. 21 doesn't exist. Different woman, different situation," he says. "I have always done a lot of things at once."
Dell'Acqua's versatility grows out of his three-decade journey through every possible realm of Italian fashion. As a kid in 1970s Naples, he was fascinated by the work of famous film costumers. Soon he was spending his allowance on fashion magazines and hanging around the city's few upscale shops. At 13, he became a part-time apprentice for a legendary Neapolitan dressmaker. And after graduating from the Accademia di Belle Arti in Naples, he set off for Milan, following in the footsteps of other ambitious Southern Italians like Domenico Dolce and Gianni Versace. "Perhaps we in the South have a strong desire to make it because we lack so much," he says. "There are not many ways to express yourself culturally. And the women there have a huge influence."
Armed with a portfolio of sketches and an address he found in a newspaper, Dell'Acqua talked his way into the Via Brera showroom of his favorite designer, Enrica Massei, and was hired on the spot. He further educated himself by moving around from designer to designer "to absorb everything I could," he explains. "I'd get promoted to top assistant and then move on. It served me well over the years, because I remember everything."
So began Dell'Acqua's very active career as Milan's man for all seasons, the hidden talent who could—and did—design high-end ready-to-wear during a series of posts and consulting gigs for companies as diverse as Genny (he was head designer when he was 23), La Perla, Borbonese, Iceberg, Les Copains, Max Mara, Malo, and Brioni.
Dell'Acqua launched his own ready-to-wear label in 1996. His signature was eroticized elegance: layered black, beige, and nude chiffon transparencies that evoked lingerie. It drew on memories of hot summer days when the women in his family used to walk around the house in their underwear, "completely free and uninhibited"—an atmosphere echoed in one of his favorite noir films, 1995's l'Amore Molesto, in which the heroine wanders through Naples in a satin slip. The lingerie look was peppered with sharp tailored pieces, conveying a theatrical glamour that caught on with the show business crowd: For Michael Jackson's ill-fated 2009 This Is It tour, Dell'Acqua came up with gold-sequined trousers for the performer.
Around the turn of the millennium, Dell'Acqua branched out into men's wear, accessories, and fragrance. But in June 2009, he issued a press release stating that the upcoming collections were being produced without his approval because of creative disagreements with his production company, Cherry Grove. Dell'Acqua severed ties with Cherry Grove and—in a fate similar to that of Jil Sander, Helmut Lang, and Roland Mouret before him—lost the rights to the eponymous fashion house he'd worked so hard to build. Today, the Alessandro Dell'Acqua label exists with no connection to the designer.
Understandably, it was a bitter period for Dell'Acqua. "It was a big drama for me," he says. "Not to have your name is like not having a piece of your body." He was unemployed, having lost his position as head designer of Malo—also the property of Cherry Grove—and his elderly parents were seriously ill. (Both passed away in the spring.) "The world of fashion forgets very quickly. For six months, I sat at home and heard from nobody. It certainly changes your way of thinking about people you thought were close to you."
He put together a proposal for an edgier, more casual ready-to-wear line, but none of the major Italian manufacturers he approached were willing to invest. "I went to all the big companies with a detailed plan, a good name, years of experience, and everyone said, 'Yes, yes, you're great, but we have no faith in this kind of project.' " Still, Dell'Acqua, who describes himself as very stubborn, persisted, making the rounds of "medium, then small, then very small" production companies. Meanwhile, he applied for freelance gigs and ended up taking a two-year creative-director post at Brioni and then moved to Les Copains for a year. Finally, he found a tiny family-run company in Bergamo willing to produce a no-frills collection of just 30 pieces.
The new label, which made its debut in Milan in 2010, was christened No. 21, for Dell'Acqua's birthday, and also his lucky number. The line was immediately well received: Less romantic than the designer's original label, it focused more on day clothes rather than evening wear, playing with ideas of masculinity and femininity and mixing high-tech textiles with traditional fabrics. In two years, No. 21 outgrew the Bergamo factory, and the major fashion producer Gilmar stepped in, allowing Dell'Acqua to expand into men's wear.
In the summer of 2013, Dell'Acqua got the call from Rochas. "It was completely out of the blue, and when they said they were thinking of me, I told myself, 'Don't get your hopes up—after all, you're not so young anymore.' But all my life I had dreamed of heading up a French house, and I have always particularly loved the femininity of Rochas. But the bizarre thing is that my first boss, Enrica Massei, is married to Franco Penè, who owns the company that produces Rochas—so we met again after 25 years. It was destiny."
His first collection this past January was inspired by the rigorous forms and Gothic sensibility of classic French film noir: Voluminous coats and sheath dresses took on a decadent twist, with lashings of crystals and accessories thick with jet spikes. In the showroom in Milan, Dell'Acqua shows me one of his Rochas favorites: a duchesse silk satin coat in a camel color close to his beloved beige and pink flesh tones, glittering with shards of Swarovski crystal. It contrasts with a standout piece from No. 21: an oversize motorcycle jacket in green plaid wool that imperceptibly segues into a border of velvety gray sheepskin. "No. 21 is for daytime and the street; and Rochas is cinema, darkness, grandeur, and dreams," Dell'Acqua says, like a parent praising two very different children.
It's time for Dell'Acqua to get on with his busy afternoon of vetting shoes and accessories for the spring 2015 collections of both labels. (He will give no hints, except to say that the theme is "lightness.") He exudes the buzz of true contentment for a designer—the thrill of having too much to do—but at the same time, his dark eyes retain the watchful expression of a survivor.
Before he says goodbye, Dell'Acqua confides a deeper reason for his satisfaction: Both of his parents—his biggest fans—lived long enough to see what he calls his "rebirth." "When I was younger, I was completely carefree, but now I have more awareness of what I'm doing," he says, glancing down the table at a spiky Rochas pump. "I've learned that you never know how things will turn out. You need to have the courage to take a risk."
Photos: Alessandro Dell'Acqua: A Man For All Seasons
Alessandro Dell'Acqua, with models wearing his debut collection for Rochas. Photograph by Sean and Seng; styled by Ondine Azoulay.
Models wearing fall 2014 No. 21. Photograph by Sean and Seng; styled by Ondine Azoulay.
Rochas runway look from fall 2014. Photograph by CNP Montrose.
Rochas runway look from fall 2014. Photograph by CNP Montrose.
No. 21 runway look from fall 2014. Photograph by CNP Montrose.
No. 21 runway look from fall 2014. Photograph by CNP Montrose.
No. 21 runway look from fall 2014. Photograph by CNP Montrose.
No. 21 runway look from fall 2014. Photograph by CNP Montrose.
Hair by Alessandro Rebecchi at ArtList; makeup by Gemma Smith-Edhouse for Estee Lauder at Total Management. Production: Ben Faraday at octopix.fr. Digital Technician: James Anastasi. Photography assistants: Christian Bragg, Antoine Chaillet. Fashion assistants: Florie Vitse, Fiona Hicks. Models: Kasia Jujeczka, Tabea Weyrauch, Emmy Rappe at IMG Models; Lena Hardt, Carolina Thaler at Viva Model Management; Irma Spies at Oui Management, Isis Battaglia at Metropolitan Models.