Alexa Ray Joel, Daughter of Billy Joel and Christie Brinkley, Is Engaged
She'll tie the knot with Ryan Gleason.
---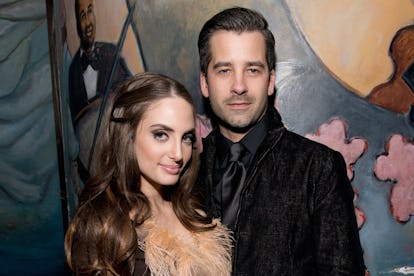 Noam Galai/Getty Images
She's got a way about her! Alexa Ray Joel, daughter of singer-songwriter Billy Joel and Sports Illustrated Swimsuit Issue legend Christie Brinkley, is engaged to her boyfriend, New York-based restaurateur Ryan Gleason.
The couple announced the news on New Year's Day via Instagram, posting pictures of the beachside proposal and emerald cut ring. "Luckiest guy in the world!!!!" Gleason captured an image of his hand in hers, while Alexa wrote simply, "?⚓️?."
The 32-year-old singer-songwriter also revealed details of his exact words and her reaction, writing, "~He said to me: 'Before I met you, my world was in black and white. You colored it in between the lines.' It was the most beautiful thing anybody's ever said to me. How could I possibly say no to that?!?!~ ???" She continues, "…So I was completely taken off-guard, dumbstruck, and shell-shocked- and FOR ONCE in my life, I had absolutely no words, and I couldn't speak… I just kept staring at this ridiculously exquisite ring- and he was just hysterically laughing at me!!! ???"
The day after the announcement, Brinkley added her congratulations on Insta, posting a picture of the happy couple with the effusive caption, "Under the largest moon on the year, my little Moonbeam got engaged, and I am over the moon with joy for these two…Ryan is the sweetest, kindest, hard working man who sincerely loves and adores my precious Alexa Ray so I love him too and while we have always thought of him as family soon he really will be ! What [a] beautiful way for our family to start the New Year…. Celebrating their L❤️VE !!!"
Gleason is a partner is several trendy hotspots in New York City, including cocktails and charcuterie compound Drexler's (the signature cocktail: The Trophy Wife) and Industrial Revolution-themed gastropub Boulton and Watt. For her part, Joel did dabble in her mother's profession (she followed directly in her footsteps by serving as the spokesmodel for Prell shampoo), but ultimately followed her father's path into music. The couple has been dating since 2013.
Related: When He's Not with Nina Agdal, Jack Brinkley-Cook Spearfishes and Keeps Up with His Mom Christie Brinkley's Instagram
A Celebration of Supermodel Christie Brinkley and Her All-American Beauty
Brinkley attended "The Face of the 80's" television special taping in 1982 with bold eyes and lips and her iconic blonde waves.

Photo by Getty.
The supermodel's natural beauty shines through at the celebration of her sportswear and swimwear collection, Russ Togs, Inc. in 1983.

Photo by Getty.
Brinkley wore her blonde locks in wavy curls with a red lip at the Covenant House's Christmas Party in 1989.

Photo by Getty.
With her newly cropped hairstyle, Brinkley rocked bold, voluminous curls with a mauve lip at the Seventh Annual Rock and Roll Hall of Fame Induction Ceremony in 1992.

Photo by Getty.
Wearing her hair in swept over soft curls with sun-kissed skin, Brinkley attended the Fragrance Foundation's 24th Annual FiFi Awards in 1996.

Photo by Getty.
Brinkley radiated elegance at the The White House Correspondents Dinner in 2002 with luminous skin and shoulder length curls.

Photo by Getty.
Exuding old Hollywood glam, Brinkley stepped out at the AAFA American Image Awards in 2005 with her classic, voluminous curls, dewy skin and a nude lip.

Photo by Getty.
Wearing her hair in relaxed curls with bangs, Brinkley keeps her look natural with radiant skin at the Opening of The Tribeca Film Festival Premiere of SOS: Short Film Program in 2007.

Photo by Getty.
Brinkley debuted platinum blonde locks at the Tea Party Angels launch in 2009.

Photo by Getty.
Brinkley channeled the '50s with voluminous curls and a bold red lips a the premiere of The Ides of March in 2011.

Photo by Getty.
At the Celebrity Autobiography in 2015, Brinkley wore her loose waves middle parted with a light pink lip.

Photo by Getty.
Wearing her shoulder length hair softly tousled, with a bold eye and a red lip, Brinkley attended the 30th FN Achievement Awards in 2016.

Photo by Getty.