When He's Not with Nina Agdal, Jack Brinkley-Cook Spearfishes and Keeps Up with His Mom Christie Brinkley's Instagram
The 22-year-old aspiring actor, who's already following in Leonardo DiCaprio's footsteps in more ways than one, talks growing up in and hanging around the Hamptons.
---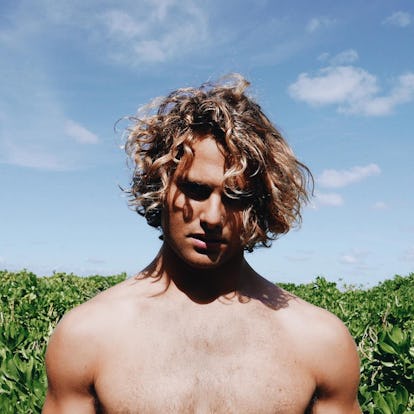 Courtesy of @jackbrinkleycook
"I have nothing [against] male modeling—it just wasn't for me," said Jack Brinkley-Cook, who, like his supermodel mother Christie Brinkley and his model sister Sailor, is signed to an agency—two, in fact, Untitled Entertainment and Abrams Artists. Instead, though, Brinkley-Cook is pursuing acting rather than the family bread and butter.
After a giving marketing a go at Emerson College for a year, Brinkley-Cook pivoted and studied at the Lee Strasberg Theater and Film Institute in New York, where he graduated last year and he is now dreaming of working in theater or shooting Western movies, like Taylor Sheridan's "amazing" film Wind River, which he'd just caught in the city the previous night.
But Brinkley-Cook is only based in the West Village for half of the year: He grew up in Bridgehampton, and has made a point to maintain ties out East ever since. "The Hamptons is home for me," he said sincerely. "My friends and I go back every single weekend from Memorial Day to Labor Day, for the most part, and I try to get out there once or twice a month in the winter, just to sort of escape the city."
Given that his favorite activities out there are surfing, hanging out, and grabbing drinks with his friends, it's no surprise that Brinkley-Cook can usually be found in Montauk—and specifically in its mainstay, the Surf Lodge. (That also happens to be where he was first spotted publicly with the newly single Nina Agdal, another model and Surf Lodge regular who seems to have replaced her ex, one Leonardo DiCaprio, with Brinkley-Cook.)
Brinkley-Cook has "nothing to say" about summer flings, but he does have plenty to offer about his fitness regime in and around Montauk, where, despite all the notorious partying, he says it's "the easiest thing in the world" to stay active. In addition to being a surfer, Brinkley-Cook and his crew of Hamptonites are some of the area's biggest spearheads in spearfishing, a sport Montauk's water is typically thought to be too murky for, and which they first took up by accident, when Brinkley-Cook and his buds headed to the local dive shop after pushing his teeny 24-foot boat to its limit and ended up walking with a couple of spear guns.
"We didn't have luck at first, but a couple of tries later, we started getting some fish and then"—no pun intended—"we ultimately were hooked," he said.
As Brinkley-Cook well knows, Agdal, for one, is a fan of Whole Foods, and the aspiring actor takes care to watch his diet, too—in part thanks to his model family. "I'm definitely grateful to have their influence when I eat," he says of his mom and his sisters, who are all a combination of "super healthy," vegan, and gluten-free. Not that their influence is overpowering: In addition to having a sweet tooth, Brinkley-Cook says he eats "100 percent" of the fish he catches—and makes sure to hit the local restaurants, too.
"I keep it fairly clean, but I eat a ton," he said. "Like, I literally order three or four entrées. Well, I've been known to, but I usually order at least two. I'm starving, always. So hungry."
Still, you won't find any food pics on Brinkley-Cook's Instagram—he leaves most of the 'gramming to the rest of his fam—and especially his mom, who's something of a pro. (She was, after all, the one to teach Mariah Carey about the importance of good lighting.)
"I follow a bunch of surfing accounts that are great, but it's nice to see my fam on there and try to keep up with what my mom is doing," Brinkley-Cook said. "It's funny because sometimes I'll be thinking, 'What's my mom up to? And I'll go to her Instagram and it's like, oh, she's in the garden, there she is!'"
Find out more about where Brinkley-Cook usually hangs these days himself with his guide to his favorite spots in Montauk, here:
Go-to hang-out spots: Well, I go surfing during the day, but to hang out and grab drinks, my friends and I will go to Surf Lodge. And Happy Bowls is great for a snack during the day—that's kind of our go-to.
Best surfing spots: There's a bunch; it's highly dependent on the direction of the wind, and the direction and size of the swell. If you're west of Montauk, the best thing is just to scour the beaches for the best sand bar. In Montauk, Ditch Plains is ultimately the most consistent and one of my favorite breaks in the world.
Favorite place to spearfish: There's this bluff that's like 100 feet tall and which we actually just swim to right off shore. We eat 100 percent of the fish we catch, which is funny, because in New York City I'll never order fish, but I find the variety of fish in Montauk and the Hamptons to be the best ever. I love striped bass; I love fluke; I love tuna. On Sunday, my boys and I always barbecue.
Go-to workout regime: Out there, we primarily surf and spearfish, but we also do a bit of sailing and wake-boarding and running around outdoors. We try to surf every day. In the city, I spend time at the gym, I try to lift, but out there it's all spent outdoors. For me, getting out there is all about spending as much time in the water as possible. I actually find I stay the most active out there.
A Celebration of Supermodel Christie Brinkley and Her All-American Beauty
Brinkley attended "The Face of the 80's" television special taping in 1982 with bold eyes and lips and her iconic blonde waves.

Photo by Getty.
The supermodel's natural beauty shines through at the celebration of her sportswear and swimwear collection, Russ Togs, Inc. in 1983.

Photo by Getty.
Brinkley wore her blonde locks in wavy curls with a red lip at the Covenant House's Christmas Party in 1989.

Photo by Getty.
With her newly cropped hairstyle, Brinkley rocked bold, voluminous curls with a mauve lip at the Seventh Annual Rock and Roll Hall of Fame Induction Ceremony in 1992.

Photo by Getty.
Wearing her hair in swept over soft curls with sun-kissed skin, Brinkley attended the Fragrance Foundation's 24th Annual FiFi Awards in 1996.

Photo by Getty.
Brinkley radiated elegance at the The White House Correspondents Dinner in 2002 with luminous skin and shoulder length curls.

Photo by Getty.
Exuding old Hollywood glam, Brinkley stepped out at the AAFA American Image Awards in 2005 with her classic, voluminous curls, dewy skin and a nude lip.

Photo by Getty.
Wearing her hair in relaxed curls with bangs, Brinkley keeps her look natural with radiant skin at the Opening of The Tribeca Film Festival Premiere of SOS: Short Film Program in 2007.

Photo by Getty.
Brinkley debuted platinum blonde locks at the Tea Party Angels launch in 2009.

Photo by Getty.
Brinkley channeled the '50s with voluminous curls and a bold red lips a the premiere of The Ides of March in 2011.

Photo by Getty.
At the Celebrity Autobiography in 2015, Brinkley wore her loose waves middle parted with a light pink lip.

Photo by Getty.
Wearing her shoulder length hair softly tousled, with a bold eye and a red lip, Brinkley attended the 30th FN Achievement Awards in 2016.

Photo by Getty.
Related: Nina Agdal Drinks Dirty Martinis—And Fresh Green Juice
A Visual History of the Best of Celebrity Fashion in the Hamptons: