Christie Brinkley Taught Mariah Carey About the Importance of Good Lighting
And that's not the only thing we learned from episode two of Mariah's World.
---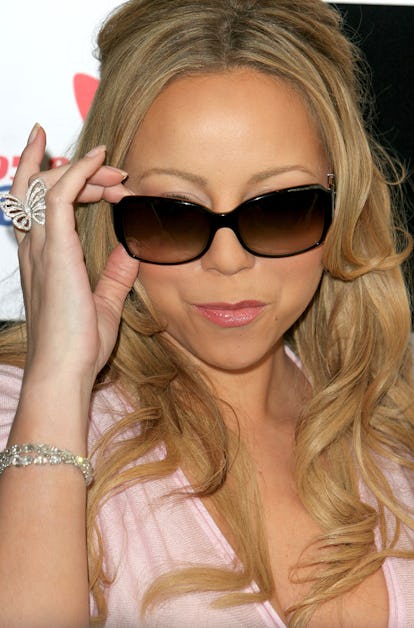 FilmMagic/Getty
Mariah Carey hates elevators.
In episode two of Mariah's World, the "docuseries" that premiered on E! last week, Carey exits her London "hotel" (it's more like a mansion), with trepidation. Before entering the elevator with her team, she hits a shaky high note: "Eleeeevatooor liiiighting!" She sighs and adjusts her sunglasses. "Elevators and lighting; I don't like them." If there's one thing Carey hates more than elevators, however, it's taking the stairs.
In episode one, Carey made it clear that she will not be seen in fluorescent lighting without sunglasses. "Christie Brinkley taught me that when I first met her," she revealed in episode two. The story goes: It was the '80s and they were in an elevator with Brinkley's then-husband, Billy Joel when Brinkley whipped out her oversized shades. "She cares about this?" Carey said to herself, thankful to have found a kindred diva spirit. "Okay, I'm never going anywhere with bad lighting." And the rest is history.
Here, 10 other tidbits we learned from episode two of Mariah's World.
1. Someone once told her that drinking beer out of a straw gets you drunk faster. Carey shares this wisdom with her backup dancer, Tanaka, who drops by her dressing room for a drink before the first show of their tour. Tanaka is rumored to be Carey's new beau in the wake of her breakup with fiancé James Packer, and they were recently spotted kissing Taylor Swift and Tom Hiddleston style on the beach. The show loves to fuel these flirtations with staged interactions such as this one, in which Tanaka is most often shirtless.
2. When she was married to her first husband, Tommy Mottola, she had to ask permission to leave the house. Carey opens up about her damaging first marriage to the music executive Tommy Mottola, who she was involved with at the age of 19. She said he never let her leave their house, and that their relationship is what inspired her song, "Butterfly." In Mottola's memoir, he admitted that their marriage was "absolutely wrong and inappropriate" and that he's "truly sorry for any discomfort or pain that all of my good intentions inevitably caused."
3. Her manager Stella Bulochnikov's 12-year-old daughter does all her social media. "A 12-year-old makes the best social media manager because a 12-year-old is who we're appealing to," explains Bulochnikov. "All the kids do all day is surf the web." Apparently, her daughter is even on the payroll.
4. The left side of her face is her "bad side." Early in Carey's career, a makeup artist thought she was helping by telling her this. Clearly, it's stuck with her.
5. Her fans want her to be late. If a diva arrives on time, does she really arrive at all?
6. She knows your sign. Carey is definitely into astrology. She's such an Aries.
7. She knows what a Minion looks like. Carey's twins draw her pictures and lay them out on the table for her when she comes home from a show. One night, Carey recognized a drawing of a Minion and is moved by it.
8. She has a rose gold iPhone The big one, of course.
9. She's still friends with her backup singer, Mary Ann Tatum. They've been best friends since the beginning and bond over being single moms from New York.
10. She hates elevators. See above.