Leonardo DiCaprio Is Single Again, After a Breakup with Model Nina Agdal
After parting ways with the 25-year-old model, the actor is now in need of a new someone to Citi Bike with.
---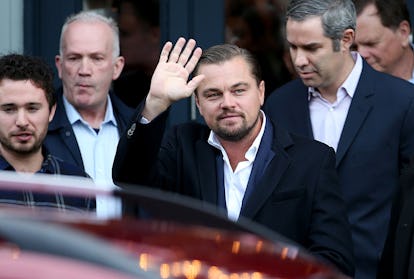 Jane Barlow/Getty Images
After a year full of lounging on yachts in Ibiza and cruising through New York on Citi Bikes, Leonardo DiCaprio and the model Nina Agdal have reportedly called it quits. A source close to the couple says that the couple has the lofty goal of staying friends, and that they actually broke up a few days ago, meaning not long after they were spotted making out a week ago in downtown New York.
DiCaprio, 42, and Agdal, 25, first met earlier in 2016 at an Oscars after-party hosted by Madonna, and started getting together publicly in May. After their cruise through Ibiza and an excursion through the Hamptons (where DiCaprio's Range Rover was tragically rear-ended) that summer, the pair quickly turned up everywhere from dinner in New York with Rihanna and Cara Delevingne to French Polynesia (with DiCaprio's mother) to the shores of Cancún. (If all that sounds a little extravagant, remember that DiCaprio was, after all, essentially king of the world last year.)
Leonardo DiCaprio's Evolution from Teen Heartthrob to Oscar-Winning Actor
The actor's career began to take of with his role in 'What's Eating Gilbert Grape' in 1993. At the Hollywood premiere he gave complete '90s layering style with opting for a black suede jacket, black t-shirt, under a black knit sweater, tucked into blue slacks with a tan cut belt.

Getty Images/WireImage
DiCaprio stole the hearts of many teenage girls in a prom-ready black three-piece suit and colorless button-down shirt at the 51st Annual Golden Globes.

Getty Images/WireImage
At his 1996 premiere for Romeo and Juliet, the actor turned heads as he walked the red carpet with his girlfriend and co-star Claire Danes. He looked cool and relaxed in a navy blue four-button satin suit with a plain white button down shirt, with the first few buttons left undone.

Getty Images/WireImage
At the Hollywood premiere of his career-changing film Titanic, Leonardo DiCaprio debuted what would soon become his sartorial red carpet style. Dressed in a navy pantsuit, with a silver silk button-down and a dark grey tie, the actor looked dapper and fresh.

Getty Images/WireImage
At the 55th Golden Globes, the actor went for a classic tuxedo, a vest, and a bow tie.

Getty Images/WireImage
At the 2002 Gangs of New York premiere, DiCaprio not only debuted his new film but also a mature red carpet suit style. He opted for a charcoal grey tailored suit, white button-down and antique gold tie for a more "grown-up" look.

Getty Images/FilmMagic
Off the red carpet, DiCaprio likes to keep his looks simple and comfy. At the New York premiere of George Butler's Going Upriver: The Long War of John Kerry he paired his dark blue denim jeans with a white Kerry & Edward graphic T-shirt, black open shirt and a pair of grey Nike sneakers. He completed this relaxed look with a backward styled baseball cap.

Getty Images
A couple months later, the actor returned to his formal red carpet look at the premiere of his film The Aviator. He looked quit dashing styled in his go-to black suit look paired with a white button down and grey tie.

Getty Images/FilmMagic
Exuding classic elegance in a black tuxedo look with perfectly coiffed hair, DiCaprio owned the red carpet of the 77th Annual Academy Awards.

Getty Images/WireImage
Leonardo DiCaprio fused his relaxed off-duty style with his red carpet sartorial as he posed for the Body of Lies photocall in Paris in 2008. He made a navy blue V-neck sweater look super chic by pairing it with striped gray slacks and black leather dress shoes.

WireImage
The actor looked incredibly handsome and well dressed in a black suit look with a polka dot blue tie, as he posed on the red carpet of the L.A. premiere of Revolutionary Road.

Getty Images/WireImage
DiCaprio wore a patterned gray blazer, relaxed white button-down shirt and gray slacks for a more stylish look at the 12th Annual AFI Awards in 2012.

Getty Images
At the 2010 world premiere of his film Inception, Leonardo DiCaprio looks debonair dressed in yet another black suit paired with a black and white striped tie.

Getty Images/WireImage
Spotted walking the streets of New York in October 2013, Leonardo DiCaprio reverts back to his basic street style. Pairing a navy crewneck sweater with light blue denim jeans, blue slip on sneakers and gray ivy cap, allowed him to stroll the city incognito.

Getty Images/FilmMagic
At the 7th Annual Oceana's Annual SeaChange party, DiCaprio added a pair of casual sneakers and a beard to a tailored black suit.

Getty Images/FilmMagic
DiCaprio looked suave as he arrived to the 2015 premiere of his film The Revenant in a black suit paired with a white and black graphic polka dot tie.

Getty Images
The actor looked like Hollywood royalty dressed in an elegant black tux for the 88th Annual Academy Awards. He completed his look with a black bow tie and shiny patent leather oxfords–and an Oscar.

Getty Images/WireImage
DiCaprio may simply be looking for time to, say, devote to fighting climate change, but given his track record, it doesn't seem like he'll be model-less for much longer. Agdal is the latest in a long line of models DiCaprio has dated; in the month that he started seeing Agdal, the ever elusive actor was also spotted publicly with two other models, Roxy Horner and Georgia Fowler. (Victoria's Secret models—not to mention those under 25—are a particular favorite: He's also dated Toni Garrn, Gisele Bündchen, Erin Heatherton, Anne V, and Bar Refaeli.)
As for Agdal, she'll no doubt find a new someone to spoon with soon. And if not, as of earlier this month, there's now at least three more Leo's out there on the loose to contend with, too.
Related: Jet Set Supermodel Nina Agdal Always Wears Tracksuits On Planes
Big Spoon or Little Spoon? Model Nina Agdal Answers the Important Questions: