Fragrance Tips from Diana Vreeland's Grandson
Alexander Vreeland on the grooming lessons he picked up from D.V.
---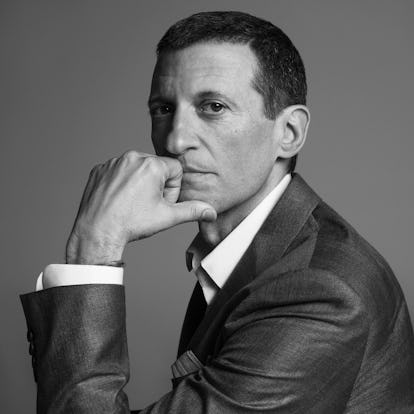 What did Alexander Vreeland learn from his legendary grandmother, Diana Vreeland? Certainly to have an appreciation for fragrances. The executor of her estate and founder of Diana Vreeland Perfums — and as importantly, the husband of Lisa Immordino, co-director of the acclaimed documentary about his grandmother's life, The Eye Has to Travel – Vreeland keeps an otherwise simple grooming ritual: no fancy products in his medicine cabinet (in fact, few products if any), a standing appointment at his barber's, and the same cologne since his teens.
What's your first grooming memory?
My very first grooming memory is standing in front of my bathroom mirror as a teenager learning to shave with a single blade razor.
What was your first cologne experience?
I started to wear Eau Sauvage by Dior at the age of 16. I had just moved to Paris and was in love with the scent.
Describe your daily grooming routine:
My daily grooming routine is pretty minimal. I do not own a hair brush or a comb. I wash my hair and let it dry on its own. The only thing I put on my skin is sunscreen during the summer months.
If we opened your medicine cabinet, what would we find?
You would find La Roche Posay sunscreen and Q-tips.
What's currently in your Dopp kit?
My electric toothbrush, Crest toothpaste, Reach dental floss, melatonin, Clinical Strength unscented deodorant and my navy blue Harry's razor.
Is there one product you can't live without?
Vivaciously Bold by Diana Vreeland. I have worn a Guerlain Vetiver fragrance for the past 30+ years and now I am wearing our newest one from the collection that launches in Febraury.
Is there a woman's fragrance that melts you?
Simply Divine by Diana Vreeland. My mother used to wear a Tuberose fragrance and I have a special softness for them.
Are there any women's products you envy?
A pedicure.
Women's products—or beauty rituals – you pity?
Dying one's hair.
Where do you get your hair cut and beard trimmed?
I see Eric at Neighborhood Barbershop on 439 East 9th street. I have an appointment with him every 2 to 3 weeks.
What beauty look on women do you love?
I love a woman who has barely any makeup on, or none at all.
What beauty look on women do you scratch your head at?
I will never understand the appeal of long fake nails.