For Alexander Wang, One Model Got a Pink Hair Transformation Dubbed "Rose Quartz"
Why it's time to think of hair color as makeup.
---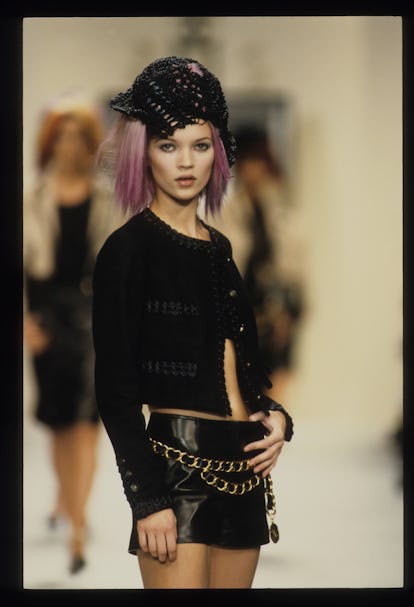 Guy Marineau
The Wang Squad has developed a reputation for radical hair cuts and colors over the past few seasons, thanks to an ongoing collaboration between the designer Alexander Wang and trendsetting hairstylist Guido Palau. The spring 2018 hair, however, was relatively chill.
"It's much more about the girls just being themselves," explained Palau, who subtly enhanced the models' natural texture.
In a sea of natural beauty, though, 19-year-old Austrian model Stella Lucia stood out after she was tapped by Wang for a Kate Moss '90s pink hair revival, best seen on the Chanel Spring 1994 runway. "The idea was a slightly angry color," explained colorist and Redken's new global color creative director Josh Wood backstage in the abandoned TriBeCa shop where a star-studded lineup of models went through hair, makeup, and nails before one of several pop-up shows in the streets of New York. Eventually, the likes of Bella Hadid, Kendall Jenner, and Kaia Gerber ended up in Bushwick, emerging from a party bus on the street-cum-runway for what was dubbed Wang Fest.
"We started with a gray base and layered Shades EQ Pastel before adding different colors," Wood said, with the result being a multi-dimensional hue that he lovingly dubbed, rose quartz.
Why pink? "Pink is is a very flattering color," and very popular request among the cool kids at his London salons. "You can have a very personalized shade of pink to suit your complexion, it's not just one shade." The less literal layer of color was not only soft and wearable but changeable.
"You can really wear your hair color like it's makeup. Stella can be one color today and another color tomorrow," he said. As for what Stella Lucia's hair was like before the Wang transformation?
"I bleached it," she reminded us. "I like this; it's cool. I might change it, I might go back to bleach." And with change in mind, she can do just that.
The Best Behind-the-Scenes Photos of New York Fashion Week Spring 2018
Inside the VFILES show on Wednesday, September 6th at Barclays Center during New York Fashion Week. Photographed by Serichai Traipoom for W Magazine.

SERICHAI TRAIPOOM
Inside the VFILES show on Wednesday, September 6th at Barclays Center during New York Fashion Week. Photographed by Serichai Traipoom for W Magazine.

SERICHAI TRAIPOOM
Inside the VFILES show on Wednesday, September 6th at Barclays Center during New York Fashion Week. Photographed by Serichai Traipoom for W Magazine.

SERICHAI TRAIPOOM
Inside the VFILES show on Wednesday, September 6th at Barclays Center during New York Fashion Week. Photographed by Serichai Traipoom for W Magazine.

SERICHAI TRAIPOOM
Kaia Gerber making her debut at Calvin Klein Show on Thursday, September 7th at the Calvin Klein headquarters during New York Fashion Week . Photographed by Serichai Traipoom for W Magazine.

SERICHAI TRAIPOOM
Inside the VFILES show on Wednesday, September 6th at Barclays Center during New York Fashion Week. Photographed by Serichai Traipoom for W Magazine.

SERICHAI TRAIPOOM
Inside the VFILES show on Wednesday, September 6th at Barclays Center during New York Fashion Week. Photographed by Serichai Traipoom for W Magazine.

SERICHAI TRAIPOOM
Inside the Calvin Klein show on Thursday, September 7th at Calvin Klein Headquarters during New York Fashion Week. Photographed by Serichai Traipoom for W Magazine.

SERICHAI TRAIPOOM
Inside the VFILES show on Wednesday, September 6th at Barclays Center during New York Fashion Week. Photographed by Serichai Traipoom for W Magazine.

SERICHAI TRAIPOOM
Inside the Adam Selman show on Thursday, September 7th at Skylight Clarkson during New York Fashion Week. Photographed by Serichai Traipoom for W Magazine.

SERICHAI TRAIPOOM
Tinashe at the VFILES show on Wednesday, September 6th at Barclays Center during New York Fashion Week. Photographed by Serichai Traipoom for W Magazine.

SERICHAI TRAIPOOM
Inside the VFILES show on Wednesday, September 6th at Barclays Center during New York Fashion Week. Photographed by Serichai Traipoom for W Magazine.

SERICHAI TRAIPOOM
Inside the VFILES show on Wednesday, September 6th at Barclays Center during New York Fashion Week. Photographed by Serichai Traipoom for W Magazine.

SERICHAI TRAIPOOM
Inside the VFILES show on Wednesday, September 6th at Barclays Center during New York Fashion Week. Photographed by Serichai Traipoom for W Magazine.

SERICHAI TRAIPOOM
Inside the Adam Selman show on Thursday, September 7th at Skylight Clarkson during New York Fashion Week. Photographed by Serichai Traipoom for W Magazine.

SERICHAI TRAIPOOM
Inside the Adam Selman show on Thursday, September 7th at Skylight Clarkson during New York Fashion Week. Photographed by Serichai Traipoom for W Magazine.

SERICHAI TRAIPOOM
Inside the Adam Selman show on Thursday, September 7th at Skylight Clarkson during New York Fashion Week. Photographed by Serichai Traipoom for W Magazine.

SERICHAI TRAIPOOM
Inside the Calvin Klein show on Thursday, September 7th at Calvin Klein Headquarters during New York Fashion Week. Photographed by Serichai Traipoom for W Magazine.

SERICHAI TRAIPOOM
Inside the Tory Burch show on Friday, September 8th at the Cooper Hewitt during New York Fashion Week. Photographed by Serichai Traipoom for W Magazine.

SERICHAI TRAIPOOM
Inside the Tory Burch show on Friday, September 8th at the Cooper Hewitt during New York Fashion Week. Photographed by Serichai Traipoom for W Magazine.

SERICHAI TRAIPOOM
Tory Burch SS18. Photographed by Serichai Traipoom for W Magazine.

SERICHAI TRAIPOOM
Inside the Tory Burch show on Friday, September 8th at the Cooper Hewitt during New York Fashion Week. Photographed by Serichai Traipoom for W Magazine.

SERICHAI TRAIPOOM
Inside the Tory Burch show on Friday, September 8th at the Cooper Hewitt during New York Fashion Week. Photographed by Serichai Traipoom for W Magazine.

SERICHAI TRAIPOOM
Inside the Tory Burch show on Friday, September 8th at the Cooper Hewitt during New York Fashion Week. Photographed by Serichai Traipoom for W Magazine.

SERICHAI TRAIPOOM
Inside the Brandon Maxwell show on Friday, September 8th at The Doubles Club during New York Fashion Week. Photographed by Serichai Traipoom for W Magazine.

SERICHAI TRAIPOOM
Inside the Brandon Maxwell show on Friday, September 8th at The Doubles Club during New York Fashion Week. Photographed by Serichai Traipoom for W Magazine.

SERICHAI TRAIPOOM
Inside the Brandon Maxwell show on Friday, September 8th at The Doubles Club during New York Fashion Week. Photographed by Serichai Traipoom for W Magazine.

SERICHAI TRAIPOOM
Inside the Brandon Maxwell show on Friday, September 8th at The Doubles Club during New York Fashion Week. Photographed by Serichai Traipoom for W Magazine.

SERICHAI TRAIPOOM
Inside the Brandon Maxwell show on Friday, September 8th at The Doubles Club during New York Fashion Week. Photographed by Serichai Traipoom for W Magazine.

SERICHAI TRAIPOOM
Inside the Brandon Maxwell show on Friday, September 8th at The Doubles Club during New York Fashion Week. Photographed by Serichai Traipoom for W Magazine.

SERICHAI TRAIPOOM