Alexander Wang Brought Back the 80's Banana Clip and Ruby Red Hair
At the designer's Fall 2018 show during NYFW.
---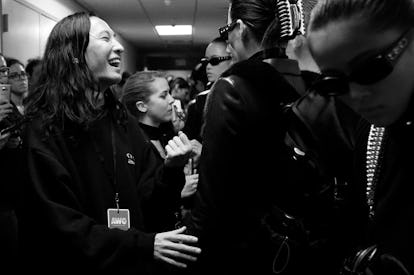 @alexanderwangny
Alexander Wang and his team developed quite the reputation for some of New York Fashion Week's most memorable beauty transformations, by being daring with radical cuts and color. In seasons past, we've seen everything from model Stella Lucia's purple quartz hair at the Spring 2018 show to the edgy boy cuts of Fall 2017 to the choppy platinum blonde beach waves of Spring 2017.
After premiering his Fall 2018 collection on Saturday at the old offices of Condé Nast in Times Square, Wang's 80's corporate-inspired aesthetic came with minimally understated makeup and the return of the banana hair clip, with models showcasing their greased-back, slick up dos decorated with oversized silver Alexander Wang-imprinted banana clips. As hairstylist Guido Palau explained, "The hair is a take on how it was set in the 80's. The idea is she is sort of corporate, smart, and Alex has done this take on the ironic banana clip of that period. I want it to feel very dynamic and tough," adding,"I love the way that something is reintroduced into fashion; we at look at it again in a different way."
Legendary makeup artist Diane Kendal, using Nars Cosmetics, said of the theme: "This season it's all about power. [Wang] wanted the girls to look really strong but not too made up." Breaking down the dramatically understated makeup, Kendal explained that,"We are contouring and highlighting, really sculpting the face. I always think it's nice to get that contrast between a highlight on the top of the cheekbone and then the contour underneath, that really gives you a really nice sculpted feel, and you can do it quite naturally."
And while Wang stayed true to his aesthetic of structured minimalism, it wouldn't be in a true Wang fashion not to unveil a daring transformation. Taking to the runway to showcase her showstopping makeover,South Korean model EZ flaunted her bleached brows and ruby red pixie cut created by Redken's Global Color Creative Director, Josh Wood. "We layered a couple different reds to get this rich, garment red ruby color," Wood explained. And in sharing the color scheme for this season's fall color palette, Wood added,"All the color palette for hair this year is very dark, lot of natural Asian brunettes. There are no bleach blondes, there is no real overtly blonde hair, it's either dark brunette or red, there's no in between".
Up Close and Personal with Gigi Hadid, Jourdan Dunn, and More Backstage at New York Fashion Week
Gigi Hadid backstage at the Jeremy Scott Fall 2018 show during New York Fashion Week at Spring Studios in New York City on February 8th. Photo by Serichai Traipoom for W Magazine.

SERICHAI TRAIPOOM
Jourdan Dunn backstage at the Jeremy Scott Fall 2018 show during New York Fashion Week at Spring Studios in New York City on February 8th. Photo by Serichai Traipoom for W Magazine.

SERICHAI TRAIPOOM
Backstage at the Jeremy Scott Fall 2018 show during New York Fashion Week at Spring Studios in New York City on February 8th. Photo by Serichai Traipoom for W Magazine.

SERICHAI TRAIPOOM
Roos Abels backstage at the Jeremy Scott Fall 2018 show during New York Fashion Week at Spring Studios in New York City on February 8th. Photo by Serichai Traipoom for W Magazine.

SERICHAI TRAIPOOM
Jourdan Dunn backstage at the Jeremy Scott Fall 2018 show during New York Fashion Week at Spring Studios in New York City on February 8th. Photo by Serichai Traipoom for W Magazine.

SERICHAI TRAIPOOM
Slick Woods backstage at the Jeremy Scott Fall 2018 show during New York Fashion Week at Spring Studios in New York City on February 8th. Photo by Serichai Traipoom for W Magazine.

SERICHAI TRAIPOOM
Backstage at the Tory Burch Fall 2018 show during New York Fashion Week at the Bridge Market in New York City on February 9th. Photo by Serichai Traipoom for W Magazine.

SERICHAI TRAIPOOM
Teddy Quinlivan and Kiki Willems backstage at the Tory Burch Fall 2018 show during New York Fashion Week at the Bridge Market in New York City on February 9th. Photo by Serichai Traipoom for W Magazine.

SERICHAI TRAIPOOM
Sara Grace Wallerstedt backstage at the Tory Burch Fall 2018 show during New York Fashion Week at the Bridge Market in New York City on February 9th. Photo by Serichai Traipoom for W Magazine.

SERICHAI TRAIPOOM
Tory Burch backstage at the Tory Burch Fall 2018 show during New York Fashion Week at the Bridge Market in New York City on February 9th. Photo by Serichai Traipoom for W Magazine.

SERICHAI TRAIPOOM
Selena Forrest on the runway at the Tory Burch Fall 2018 show during New York Fashion Week at the Bridge Market in New York City on February 9th. Photo by Serichai Traipoom for W Magazine.

SERICHAI TRAIPOOM
On the runway at the Tory Burch Fall 2018 show during New York Fashion Week at the Bridge Market in New York City on February 9th. Photo by Serichai Traipoom for W Magazine.

SERICHAI TRAIPOOM
On the runway at the Tory Burch Fall 2018 show during New York Fashion Week at the Bridge Market in New York City on February 9th. Photo by Serichai Traipoom for W Magazine.

SERICHAI TRAIPOOM
On the runway at the Tory Burch Fall 2018 show during New York Fashion Week at the Bridge Market in New York City on February 9th. Photo by Serichai Traipoom for W Magazine.

SERICHAI TRAIPOOM
Backstage at the Jason Wu Fall 2018 show during New York Fashion Week at Spring Studios in New York City on February 9th. Photo by Serichai Traipoom for W Magazine.

SERICHAI TRAIPOOM
Backstage at the Jason Wu Fall 2018 show during New York Fashion Week at Spring Studios in New York City on February 9th. Photo by Serichai Traipoom for W Magazine.

SERICHAI TRAIPOOM
Backstage at the Jason Wu Fall 2018 show during New York Fashion Week at Spring Studios in New York City on February 9th. Photo by Serichai Traipoom for W Magazine.

SERICHAI TRAIPOOM
Backstage at the Jason Wu Fall 2018 show during New York Fashion Week at Spring Studios in New York City on February 9th. Photo by Serichai Traipoom for W Magazine.

SERICHAI TRAIPOOM
Backstage at the Jason Wu Fall 2018 show during New York Fashion Week at Spring Studios in New York City on February 9th. Photo by Serichai Traipoom for W Magazine.

SERICHAI TRAIPOOM
On the runway at the Jason Wu Fall 2018 show during New York Fashion Week at Spring Studios in New York City on February 9th. Photo by Serichai Traipoom for W Magazine.

SERICHAI TRAIPOOM
On the runway at the Jason Wu Fall 2018 show during New York Fashion Week at Spring Studios in New York City on February 9th. Photo by Serichai Traipoom for W Magazine.

SERICHAI TRAIPOOM
On the runway at the Jason Wu Fall 2018 show during New York Fashion Week at Spring Studios in New York City on February 9th. Photo by Serichai Traipoom for W Magazine.

SERICHAI TRAIPOOM
Backstage at the Matthew Adams Dolan Fall 2018 show at Spring Studios during New York Fashion Week in New York City on February 9th. Photo by Serichai Traipoom for W Magazine.

SERICHAI TRAIPOOM
Backstage at the Matthew Adams Dolan Fall 2018 show at Spring Studios during New York Fashion Week in New York City on February 9th. Photo by Serichai Traipoom for W Magazine.

SERICHAI TRAIPOOM
Backstage at the Matthew Adams Dolan Fall 2018 show at Spring Studios during New York Fashion Week in New York City on February 9th. Photo by Serichai Traipoom for W Magazine.

SERICHAI TRAIPOOM
Backstage at the Matthew Adams Dolan Fall 2018 show at Spring Studios during New York Fashion Week in New York City on February 9th. Photo by Serichai Traipoom for W Magazine.

SERICHAI TRAIPOOM
Backstage at the Matthew Adams Dolan Fall 2018 show at Spring Studios during New York Fashion Week in New York City on February 9th. Photo by Serichai Traipoom for W Magazine.

SERICHAI TRAIPOOM
Backstage at the Bottega Veneta Fall 2018 show at the American Stock Exchange during New York Fashion Week in New York City on February 9th. Photo by Serichai Traipoom for W Magazine.

SERICHAI TRAIPOOM
Backstage at the Bottega Veneta Fall 2018 show at the American Stock Exchange during New York Fashion Week in New York City on February 9th. Photo by Serichai Traipoom for W Magazine.

SERICHAI TRAIPOOM
Backstage at the Bottega Veneta Fall 2018 show at the American Stock Exchange during New York Fashion Week in New York City on February 9th. Photo by Serichai Traipoom for W Magazine.

SERICHAI TRAIPOOM